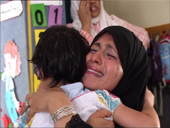 Israel/ Palestine | 2007 | 74 minutes | Color | DVD | Arabic, Hebrew | Subtitled | Order No. 09933
SYNOPSIS
How does a Palestinian woman in Israel survive an abusive husband? When Gaza-born Khitam's abusive Arab Israeli husband divorces her and gains custody of her six children, she suddenly finds herself fighting two heart-breaking battles: against the Sharia Muslim court to get her children back, and against the state of Israel, which considers her an illegal resident and denies her protection in a shelter for battered women. 3 TIMES DIVORCED is a fascinating and disturbing look at a civil and religious legal system that denies women the right to get a divorce independent of their husbands. It highlights the bind that abused women find themselves in when their immigration status is contingent upon marriage. With remarkable access and an unflinching lens that never sensationalizes, award-winning filmmaker Ibtisam Salh Mara'ana captures Khitam's astonishing courage as she faces an impossible situation with no country or court to protect her.
PRESS
"A powerful story of a woman trying to stand up for herself in a country whose legal system does not see her as an equal."
"An important, disturbing document by a courageous filmmaker in search of justice. The film is immediate and raw, but Mara'ana also finds meaning and poetry in simple act[s]."
"This excellent and concise docu-drama is highly recommended for classes interested in social and gender relations as well as legal systems dealing with rights between men and women. Political science professors may use this film to demonstrate religious/social constraints upon law and social order."
SCREENING HIGHLIGHTS AND AWARDS
Doc Aviv Film Festival, Best Israeli Documentary
FIPA-Biarritz, FIPA D'ARGENT Special Prize
New Orleans Middle East Film Festival
CPH:DOX (Copenhagen International Documentary Film Festival)
Birds Eye View Film Festival
ABOUT FILMMAKER(S)
Ibtisam Salh Mara'ana
Ibtisam Salh Mara'ana, a Palestinian Israeli citizen, was born in Paradise in 1975. She studied cinema the school of film and television at the Jewish-Arab academic center of Givat Haviva and has since directed a number of documentaries focused on the women of her native land. Mara'ana began her career directing a number of reports for the programs "Feminine Outlook" and "Arabeska," on Israel's Channel One, and assistant directing films with Simon Bitton, Ram Levi and Duki Dror. Her first film, Paradise Lost, is a documentary about Paradise, her hometown, a small fishing village. Other works by Mara'ana include Wake Up to the Native Land, a film about unrecognized Palestinian villages inside Israel which aired on Israel's Channel Two and 3 Times Divorced, about a Palestinian woman's abuse at the hand of her Arab-Israeli husband.
Mara'ana's most recent film, Lady Kul el-Arab, tells the story of Duah Fares, the first Druze woman to participate in the Lady Kul el-Arab beauty pageant for Arab women. Guided by fashion designer Jack Yaakob, Duah even takes part in the more prestigious Miss Israel contest and works towards an appearance at the Miss Universe Pageant and an international career despite death threats from those in her strictly conservative Druze community. Lady Kul el-Arab was shown at the Massachusetts Multicultural Film Festival and is set to show at the 2009 International Documentary Film Festival, Amsterdam. (08/09)
Subject Areas
RELATED LINKS
Shopping Cart