Death Metal Grandma
Leah Galant
Death Metal Grandma follows the story of 96 year old Holocaust survivor, former WW2 spy and famous songwriter Inge Ginsberg as she decides to pursue a new career: Death Metal.
SYNOPSIS
97 year old Holocaust Survivor, Inge Ginsberg, rose to fame as a songwriter for legendary musicians such as Doris Day, Dean Martin and Nat King Cole.
DEATH METAL GRANDMA follows Inge Ginsberg's journey to break out as a performer of death metal music and as she prepares for an America's Got Talent Audition. The short documentary interweaves the rich personal history of Inge's life as she attempts to merge her personal lyrics with the contemporary genre of Death Metal.
Director Statement
Stories like Ms. Ginsberg's are deeply important to me. My Jewish grandparents escaped Nazi Europe, but died before I was old enough to appreciate the stories of what they experienced. And the benefits of cross-generational relationships work both ways: Just as I learned so much from "Death Metal Grandma," I know Ms. Ginsberg was energized by our team. Women like her have so much to teach us and are asking for our attention. It's up to us to listen.
- Leah Galant
Supporter Statement
"No matter what happens with the audition, if there's a message from the film, it's that one should never give up on their dreams."
-Solzy At the Movies: Best Short Doc:

ABOUT FILMMAKER(S)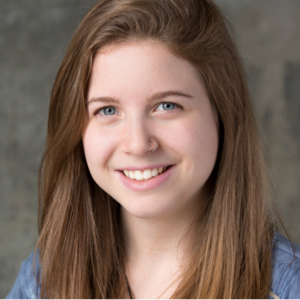 Leah Galant
Leah was a 2017 Sundance Ignite Fellow which offers an intensive year long mentorship program for emerging filmmakers.

Her work has been featured on the NY Times, The Atlantic, Cosmopolitan Magazine, Salon, and MovieMaker Magazine.

Leah was named Variety magazine's "110 Students to Watch in Film and Media" while a student at Ithaca College for her work on The Providerand Beyond the Wall. The Provider is about the story of a traveling abortion provider in Texas. The Provider won a Student Emmy Award and screened at various festivals including SXSW and Palm Springs Shortfest. Leah was the Fall 2016 inaugural Sally Burns Shenkman Women Filmmaker Fellow at Jacob Burns Film Center where she completed her latest projects Kitty and Ellen (DOC NYC 2017) and Death Metal Grandma (SXSW 2018, Hot Docs 2018).

Leah also has experience as a cinematographer and in post production serving as an editor and assistant editor on various projects.
ABOUT YOUR DONATION
Women Make Movies (WMM), Inc. is a 501(c)(3) non-profit media arts organization registered with the New York Charities Bureau of New York State and accepts charitable donations on behalf of this project. Your donation will be spent by the filmmaker(s) toward the production and completion of this media project. No services or goods are provided by Women Make Movies, the filmmaker(s) or anyone else associated with this project in exchange for your charitable donation.
Your contributions are tax deductible to the fullest extent of the law, and a confirmation of your donation will be sent via email. WMM will send you an acknowledgement letter in the mail to the address listed for tax purposes.
Click to confirm that you are not a member of the production team or file taxes with a member of the production team.