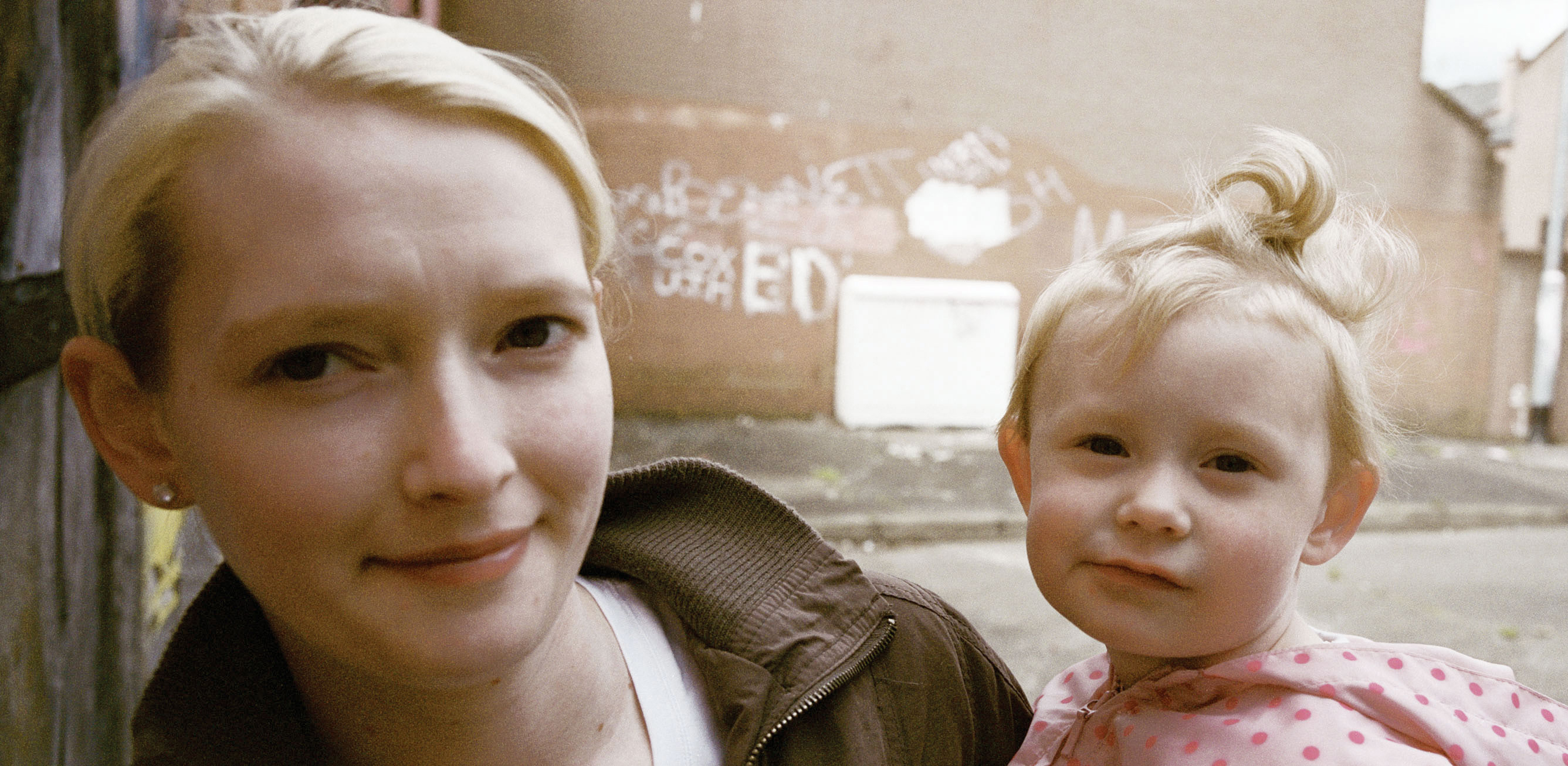 Sweden/Ireland | 2006 | 58 minutes | Color | DVD | Belfast English | Subtitled | Order No. 07920
SYNOPSIS
BELFAST GIRLS is a quiet, powerful story of two young women growing up in a city where neighbors are cut off from each other by permanent concrete and corrugated iron screens. These so-called "peace walls" have also become mental walls, dividing one community from another. Living in different worlds within the same city, Mairéad Mc Ilkenny and Christine Savage share the legacy of 30 years of conflict in Northern Ireland. With insightful clarity, Swedish director Malin Andersson reveals how, in their daily struggles and triumphs, these two strong women have more in common with each other than they have differences. For 20-year-old Catholic Mairéad, childhood memories of brutal arrests of her father at night and a constant fear for her life mix with wonderings what the "other side" looks like. She has never gotten to know a Protestant in her entire life – until the day her flatmate starts a new relationship. Suddenly "the other side" has moved into her house. Christine is Protestant and walks on the other side of the wall, dreaming about a house of her own and a boy to love. When she finally finds him, he's a Catholic. Both girls find the courage to defy the legacy of separation handed down to them, creating a more hopeful future for themselves.
PRESS
"Powerful. Highly recommended as a resource for discussions in European studies, gender studies, religious studies, and women's studies."
"Rarely have the 'existential' divisions within Northern Ireland been depicted with such stark cinematic candor."
"Refreshingly oblique... Intelligent… Andersson achieves a startling intimacy with the characters…This is [a] genuine observational documentary."
"Strikes a chord for the new Northern Ireland, for the new generation that's slowly moving away from almost a century of segregation."
"Intelligent and illuminating…"
SCREENING HIGHLIGHTS AND AWARDS
Prix Europa IRIS, Best Multicultural TV Program
One World Int'l Film Festival
Nordisk Panorama, Denmark
Uppsala Int'l Short Film Festival
Tempo Film Festival, Stockholm
Go Girls! at Symphony Space
ABOUT FILMMAKER(S)
Malin Andersson
Documentary film director and photographer Malin Andersson lives in Ireland and Sweden and works internationally as well as nationally, pitching and filming/directing her own creative documentaries collaborating with international documentary producers.

She works through her company Solas Productions in Newry as well as her Swedish company Malin Andersson Film, based in Malmo.

Andersson acts as a member of EDN, on the advisory board for Film Kontakt Nord and vice chairwoman of the Independent Filmmakers Association in Sweden.

Her debut film BELFAST GIRLS has won numerous nominations and awards and so far been broadcast by 13 broadcasting companies around the world.

She's passionate about mentoring and tutoring and initiating workshops for teenagers in documentary filmmaking.

She first visited Belfast and Derry as a young 18 year old - stayed on - and rooted in the North of Ireland and hasn't looked back since.

Malin is currently working on 6 new documentaries as director, scriptwriter and in some cases also producer. (8/14)
YOU MIGHT ALSO BE INTERESTED IN
I Am a Girl
There is a group of people in the world today who are more persecuted than anyone else, but they are not political or religious activists. They are girls. Being born a girl means you are more likely to be subjected to violence, disease, poverty and disadvantage than any other group on Earth. In I AM A GIRL, we meet 14-year-old Kimsey from Cambodia, forced to sell her virginity at 12; Aziza from Afghanistan, who will be shot if she goes to school; Breani, a teen living in a ghetto of NYC and dreaming of stardom; Katie from Australia, who is recovering from a suicide attempt; Habiba from Cameroon, betrothed to a man 20 years her senior; and Manu from Papua New Guinea, about to become a mother at 14 following her first sexual encounter. As they come of age in the way their culture dictates, we see remarkable heart-warming stories of resilience, bravery and humor. Nominated for four Australian Academy Awards including Best Documentary and Best Director, I AM A GIRL is an inspirational feature length documentary that paints a clear picture of the reality of what it means to be a girl in the 21st century. I AM A GIRL provides practical and ready-to-use resources for educators to address human rights and social justice issues affecting girls in the classroom. Girl Be Heard Education Guides for I AM A GIRL are three units of 25 total lesson plans aligned with US Common Core Curriculum (grades 9-12), to provide a practical and ready-to-use resource for teachers to address human rights and social justice issues affecting girls around the world. Girl Be Heard Education Guides for I AM A GIRL help teachers bring important human rights topics and a future of gender equality to the classroom. For more information, go to:
http://girlbeheard.org/i-am-a-girl-education-guides.
Learn more
Shopping Cart