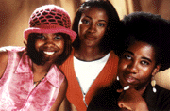 Black, Bold and Beautiful: Black Women's Hair
Canada | 1999 | 40 minutes | Color | DVD | Order No. 00652
SYNOPSIS
Afros, braids or corn rows--hairstyles have always carried a social message, and few issues cause as many battles between black parents and their daughters. To "relax" one's hair into straight tresses or to leave it "natural" inevitably raises questions of conformity and rebellion, pride and identity. Today, trend-setting teens happily reinvent themselves on a daily basis, while career women strive for the right "professional" image, and other women go "natural" as a symbol of comfort in their Blackness. Filmmaker Nadine Valcin meets a diverse group of black women who reveal how their hairstyles relate to their lives and life choices. BLACK, BOLD AND BEAUTIFUL celebrates the bonds formed as women attend to each other's hair while exploring how everyday grooming matters tap into lively debates about self-determination and society's perceptions of beauty.
PRESS
"Amazing that a documentary about hair can say so much about politics, race and culture."
" An entertaining and informative primer on the do's and don'ts of Black hair....Filmmaker Nadine Valcin runs her comb through some of the tangled dilemmas surrounding Black hairstyles."
"The film also examines the mother-daughter relationships often strained by the hairstyles chosen by the younger generation. It's an interesting subject handled earnestly by Valcin."
SCREENING HIGHLIGHTS AND AWARDS
Columbus International Film and Video Festival, Honorable Mention
Festival Vues d'Afrique
The History Channel
Canadian Broadcasting Corporation
ABOUT FILMMAKER(S)
Nadine Valcin
Born in Montreal and now based in Toronto, Nadine Valcin fell in love with cinema after earning a degree in architecture at McGill University. For the past fifteen she has written, directed and produced television programs and magazines. She directed the award-winning documentary Black, Bold and Beautiful (1999) as well as Une école sans frontières (A School without Borders - 2008). She is now focusing on fiction. She directed the historical short Fire and Fury as well as the National Screen Institute Drama Prize winner In Between/Entre deux. She is currently developing two feature film scripts with funding from Telefilm Canada, the drama Trajectoires and the kids' comedy Les Malheurs de Sophie Lachance (Lucky Lucy). She shot the bilingual short drama Ripples/Dérive in the summer of 2013. (8/14)
Jennifer Kawaja
Jennifer Kawaja has produced feature films and television projects with partner Julia Sereny at Sienna Films since 1995, most recently the Can/De Cry of the Owl (Julia Stiles, Paddy Considine) with BBC Films and MACT Productions, and the UK/CAN/SA miniseries "Diamonds" (Judy Davis, James Purefoy, Sir Derek Jacobi) for CBC, Canal+, and ABC. Film credits include HOW SHE MOVE, which premiered at Sundance 2007 (Paramount Vantage/MTV Films, Mongrel Media); TOUCH OF PINK (Kyle MacLachlan, Jimi Mistry), which premiered at Sundance 2004 (Sony Pictures Classics, Mongrel Media); box office hit NEW WATERFORD GIRL, which screened at Sundance, TIFF and Rotterdam. Sienna Films has also produced feature films I, CLAUDIA, MARION, BRIDGE (Molly Parker, Ellen Page), SAINT MONICA and several award winning television projects, such as "One Dead Indian". Prior to joining Sienna, Jennifer produced, wrote and directed various award winning documentaries and TV dramas which have been distributed and broadcast nationally and internationally. (8/14)
Julia Sereny
Julia Sereny founded film production company Sienna Films in 1991. Some of her production credits include: April One, a feature film starring David Strathairn; Black, Bold and Beautiful, a one-hour CBC documentary; the feature-length documentary Erotica: a Journey into Female Sexuality, produced for TV Ontario; and Hidden Children, a documentary series co-produced with October Films and winner of the Gold Plaque at the Chicago International Film Festival. In 1999, Sereny produced New Waterford Girl with her partner, Jennifer Kawaja. New Waterford Girl premiered at the Toronto International Film Festival and was released in Canada through Alliance Atlantis.

As one of two principles (Jennifer Kawaja) at Sienna Films, Julia Sereny has a 20 year history of producing theatrical feature films, TV drama and docs that have garnered much acclaim and commercial success. Prior to Sienna, Julia worked with the NFB, Rhombus Media, Atlantis Films, and CBC in production and project development. She also provided consultation services for productions focusing on international co-productions. (8/14)
Shopping Cart