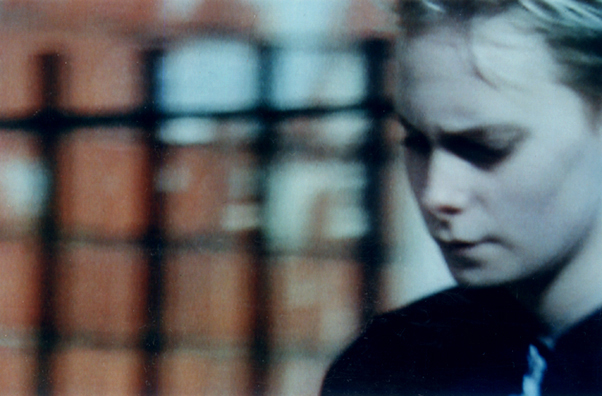 UK | 2000 | 24 minutes | Color | 35mm | Order No. 02746
SYNOPSIS
An experimental documentary which has at its heart a poignant character study of a 17 year-old lesbian living in Newcastle, England, CLOSER innovatively explores the process of documentary filmmaking and boldly challenges traditional forms of storytelling. Produced without a script and in close collaboration with the subject, Annelise Rodger, the filmmaker presents a hypnotizing array of montages and fictive sequences to introduce the day-to-day happenings of this extraordinary person. From the streets of Newcastle – where we find Annelise speaking frankly to the camera about her experiences as a young lesbian – to the emotionally charged reenactment of her coming out to her mother, this highly original film provides a rare auto-portrait where fiction and documentary collide. In the end what emerges is not only a remarkable encounter with a young woman, but also a story that has broader implications about being young, being at the cusp of adulthood, and finding one's identity. A Bridge & Tunnel Production.
PRESS
"...takes documentary film to the next level."
"…a highly stylized film where fiction and documentary collide as 'scenes' from the main subject's life are reenacted for the camera."
"The realism in this riveting experimental documentary will make your heart stop. Gharavi nails the subject of young lesbian identity right on the nose."
SCREENING HIGHLIGHTS AND AWARDS
Outfest, Los Angeles - Grand Prize Winner of the Planetout/iFILM Short Movie Award
One World International Human Rights Film Festival - Czech Radio Award
Chicago Reeling, Honorable Mention
San Francisco, Philadelphia, Toronto, London, Berlin, Austria Gay & Lesbian Film Festivals
Thessaloniki Documentary Film Fesitval, Greece
Cork International Film Festival
Festival Dei Popoli, Florence, Italy
New York Short International Film Festival
International Film Festival, Mannehiem - Heidelberg
Belo Horizonte International Short Film Festival, Brazil
Feminale, Cologne, Germany
Filmes des Femmes, Creteil, France
MIX Brazil Film Festival
ABOUT FILMMAKER(S)
Tina Gharavi
Gharavi is a BAFTA and Sundance-nominated writer and director born in Tehran, now based in Newcastle (UK) and Los Angeles, focused on delivering challenging stories lensed with an observant perspective. Whether filming in the West Bank, Yemen, Sudan, The Channel Tunnel or Gateshead, Gharavi marries her indomitable spirit and humour with a distinct talent to deliver naturalistic performances and manage beautifully observed stories.

Her debut feature, I Am Nasrine, shot in England and Iran, was nominated for a BAFTA in 2013. Sir Ben Kingsley called it "a life enhancing film, an important and much needed film" and it received 4 stars from Peter Bradshaw in The Guardian calling it, "A valuable debut, shot with a fluent kind of poetry" while Deborah Ross in the Spectator described it as"affectionate, humane, tender and, ultimately, optimistic."

Having worked in war zones and in guerrilla filmmaking, her techniques for leadership and achieving goals means she is unafraid to take risks. Her visual approach comes from training as a painter and studying cinema in France, as well as working as an art director and editor. Gharavi's work is set apart by its attention to detail and storytelling perspective married to a commercial and collaborative approach.

Gharavi is currently finalising development on her next feature film Good Iranian, a crime drama set in Europe and Iran, developed by Film 4/BFI and a feature documentary, Tribalism is Killing Us, with Idris Elba. She recently worked on the high-end drama TV show, The Tunnel, and is now engaged developing several projects as well as her first TV series, an Icelandic noir with an intriguing twist.

Gharavi was elected into the BAFTA Academy in 2017. She is represented by Roxana Adle at Independent Talent. (9/18)
Subject Areas
RELATED LINKS
Shopping Cart