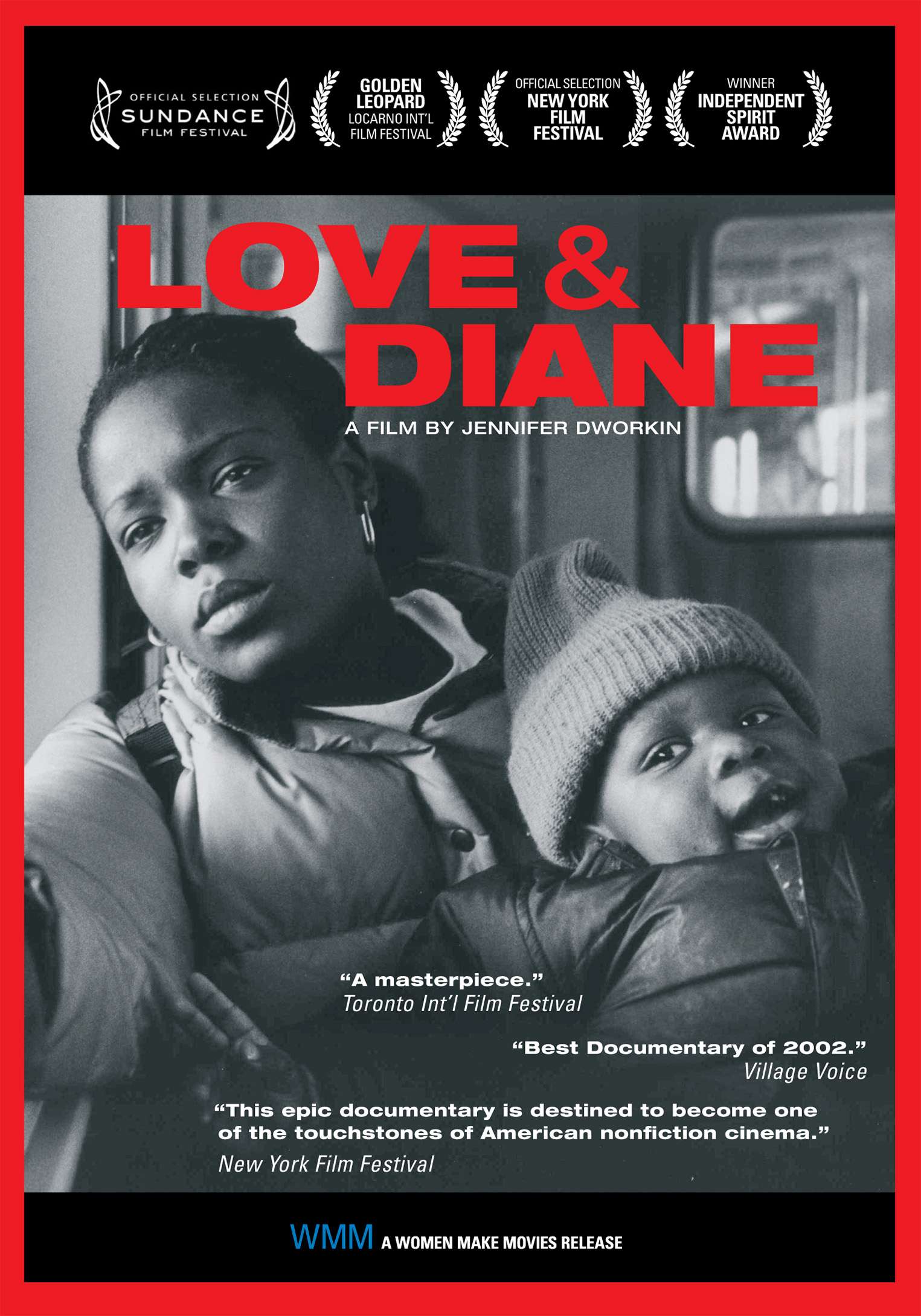 2002 | 155 minutes | Color | 35mm/DVD | Order No. 03814
SYNOPSIS
Jennifer Dworkin's groundbreaking documentary LOVE & DIANE presents a searingly honest and moving examination of poverty, welfare and drug rehabilitation in the United States today. Filmed in New York City over a five-year period, Dworkin documents the struggles of three generations of the Hazzard family as they face a myriad of emotional, financial and personal challenges. LOVE & DIANE is at its heart a highly charged story about a mother and daughter searching for love, redemption and hope for a new future. While caught in a devastating cycle of teen pregnancy and the bureaucracy of an over burdened welfare system, they demonstrate an inspiring resiliency and ability to find strength during the most desperate times. Without falling into stereotypes of welfare and poverty, LOVE & DIANE casts a fair, non-judgmental eye on the Hazzard's and presents a forgotten, but very real, side of the American experience. This film is a presentation of the Independent Television Service (ITVS) with funding provided by the Corporation for Public Broadcasting (CPB).
PRESS
"This epic documentary is destined to become one of the touchstones of American nonfiction cinema."
" Love and Diane is sheer exhilaration, a movie of awesome emotional power and devastating social relevance...such a richly humanizing experience. It is vital, necessary film that deserves the widest possible audience"
"...tremendous emotional force and uncompromising honesty…Dworkin brilliantly uses …form to involve the viewer in a warts-and-all complexity that confounds facile judgment, while creating the frustrating slowness of a system of social services that often nurtures the very ill it attempts to cure"
" Jennifer Dworkin's compelling documentary immerses you so intensely in the problems of the Hazzards...that by the end of its two and a half hours you feel almost like a member of the household."
"Forget about The Bachelor, Fear Factor and Survivor. Love & Diane is the real deal in reality TV. Shot over ten years by first-time filmmaker Jennifer Dworkin, the PBS ...illustrates the seismic effects of addiction, poverty, abandonment and often-abusive foster care."
SCREENING HIGHLIGHTS AND AWARDS
Sundance Film Festival
Dallas Video Festival
Cleveland International Film Festival
PRISM Award Nominee
Independent Spirit Award - DirectTV/IFC Truer Than Fiction Award
Full Frame Documentary Film Festival
The New York Film Festival
Thessaloniki Documentary Film Festival
Locarno International Film Festival - Golden Leopard
One World International Film Festival - Best Documentary
San Francisco International Film Festival
IDFA, International Documentarty Film Festival Amsterdam
Cinema Du Reel Film Festival
Nashville Independent Film Festival
Film de Femmes International Film Festival
Get Reel Black Film Festival
Boston Women's Film Festival
ABOUT FILMMAKER(S)
Jennifer Dworkin
LOVE & DIANE is Jennifer Dworkin's first film. Jennifer was born in New York but grew up in England, returning to the United States for college. She has an MA and is pursuing a PhD in Philosophy at Cornell University but is currently on leave. Her research was on the subject of conscious access and self-knowledge. She is the recipient of several research fellowships and was awarded the 1997 Fellowship for Excellence in Research and Academic Promise in the Cognitive Sciences from Cornell University. Jennifer Dworkin has known some members of the family portrayed in LOVE & DIANE since 1989, when she taught photography workshops for children in NYC Tier II shelter system. These workshops grew into a program teaching kids still photography and filmmaking with Super 8 cameras. She has worked extensively as a volunteer and group leader for several children's charities. Jennifer learned filmmaking in the course of making this documentary (over many years). (09/09)
YOU MIGHT ALSO BE INTERESTED IN
Shopping Cart