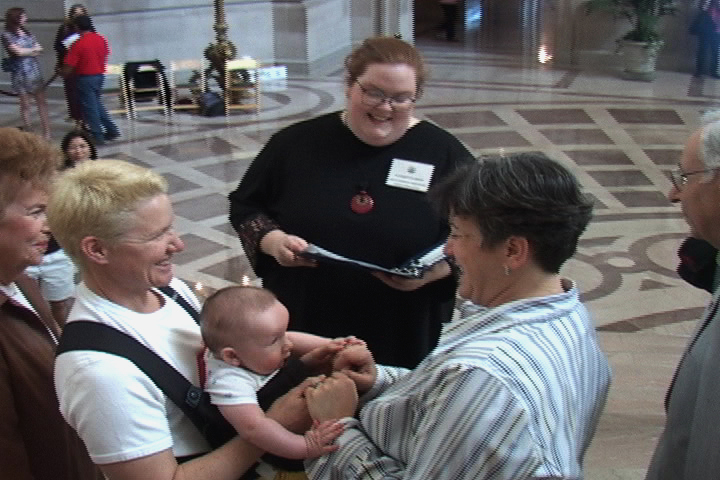 2004 | 26 minutes | Color | DVD | Order No. 05878
SYNOPSIS
As the issue of gay marriage grips the country, this touching documentary follows the heartwarming and historic journey of two Jewish lesbians as they seek to celebrate their commitment to one another. Partners for five years, Farrell and Caren simply want to officially acknowledgment of their relationship like any other couple in love. Supported by their temple community in Nevada, the women put their own personal twist on a Jewish affirmation ceremony by creating their own: a B'rit Ahuvah. Two years later, when San Francisco Mayor Gavin Newsom orders the County Clerk to begin issuing same-sex marriage licenses, Farrell and Caren travel from Nevada with baby in tow to be married at San Francisco City Hall in a civil ceremony. Together with thousands of other hopeful couples, they participate in what has become a defining moment in the ongoing struggle for equality in this country. A story of love, marriage and the Constitution, MY SISTER, MY BRIDE personalizes the current legal debates and serves as a testament to the sheer determination of couples and families fighting for their right to love.
PRESS
"This tender film captures the highs and lows of their journey as a couple, and now a growing family…"
"Burt captures the enthusiasm and joy of the scene at City Hall."
"Recommended…long on heart, courage, and true family and moral values."
"A moving film, one that conveys the exhilaration of the moment, as well as the underlying point: the need to grant equal rights to same-sex couples."
"A good addition to any public or academic library collection. Highly Recommended."
SCREENING HIGHLIGHTS AND AWARDS
San Francisco Jewish Film Festival
Immaginaria International Women's Film Festival
Washington DC Jewish Film Festival
Jerusalem Jewish Film Festival
Maine Jewish Film Festival
Boston Jewish Film Festival
ABOUT FILMMAKER(S)
Bonnie Burt
Bonnie Burt has been documenting Jewish life for over 20 years. Previous works include: A HOME ON THE RANGE: THE JEWISH CHICKEN RANGERS OF PETALUMA (2002), SONG OF A JEWISH COWBOY (2002), ABRAHAM AND EUGENIA: STORIES FROM JEWISH CUBA (1995), and TREES CRY FOR RAIN: A SEPHARDIC JOURNEY (1989). Her videos have been seen at the Museum of Modern Art and at Lincoln Center in New York as well as in film festivals world wide and on television. She lives in the Bay Area with her husband and teenage son. (07/12)
Subject Areas
RELATED LINKS
YOU MIGHT ALSO BE INTERESTED IN
Kings Point
During the 1970s and 80s, thousands of New York's primarily Jewish senior citizens migrated to Kings Point, a retirement community in Florida. Lured by blue skies, sunshine and the promise of richer social lives, they bought paradise for a mere $1,500 down payment. 2013 Academy Award® nominee for Best Documentary (Short Subject), KINGS POINT tracks the stories of five residents of this typical retirement complex who arrived decades ago with their health intact and spouses by their sides. Now that they and their community, comprised primarily of widowed women, face advanced age and mortality, paradise demands a higher price. Through candid interviews the film exposes the dynamic interplay of their desire for independence, need for community, and ambivalence toward growing old. Filmmaker and Emmy® nominee Sari Gilman deftly balances seriousness with humor, providing a bittersweet look at love, loss and self-preservation as well as a deeply empathetic portrait of aging in America and the American Dream's last act.
Learn more
Shopping Cart