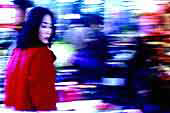 Canada/Korea | 2000 | 22 minutes | Color | 35mm/DVD | Order No. 01721
SYNOPSIS
SUBROSA traces a young woman's journey to Korea, the land of her birth, to find the mother she's never known. This exquisitely crafted drama probes the idealized, often false constructions of cultural and maternal identities wrought by the adoptee's return. SUBROSA tracks the unnamed heroine from a sterile adoption agency office to seedy bars and motel rooms on neon strips, then to a stark U.S. army camp town and the bustling flower markets of Seoul. Though her path to self-destruction and ultimate self-revelation ironically and tragically mirrors that of her imagined biological mother, the past remains elusive to her, the secret intact. Originally shot on digital video, the film captures the grit and garishness of an alien urban landscape while plumbing the melancholy dream space where the character retreats even as she searches for her very life. Brimming with surreal, breathtaking, elegiac imagery, this sensuously rendered tale of loss, love and longing resonates long after its shocking conclusion.
PRESS
"Moves beyond easy ideas about cultural identity to express an almost existential longing, capturing the senses of desire, uncertainty, desperation and salvation with a wondrous luminosity."
"Depicts with great artistry the profound loneliness of the Korean adoptee's search for her irretrievable origins. A compelling and unforgettable film."
SCREENING HIGHLIGHTS AND AWARDS
Toronto International Film Festival
WYBE Through the Lens Series
Feminale Women's Film Festival, Cologne, Germany
ABOUT FILMMAKER(S)
Helen Lee
Helen Lee is an independent filmmaker based in Toronto and Seoul. She emigrated from Korea, where she was born, at age four with her family to Canada.
Lee studied English Literature and Cinema Studies at the University of Toronto, where she was awarded the Norman Jewison Fellowship for further studies in film. She received her Master's Degree in Cinema Studies at New York University and attended the Whitney Museum's Independent Study Program in Critical and Curatorial Studies as a Helena Rubinstein Fellow. Through the Academy of Canadian Film and TV's Director Observer Program, Lee served a directing internship with Atom Egoyan during the making of "Exotica." She completed her film training at the Canadian Film Centre as Director Resident.
Lee has made a number of acclaimed films, all of which premiered at the Toronto International Film Festival. Her first short film, "Sally's Beauty Spot" (1990) received an Award of Excellence at the Ann Arbor Film Festival and is screened widely in Asian American cinema classes. "My Niagara" (1992) was awarded a Special Jury Citation for Best Short Film at TIFF. Her CFC thesis film,"Prey" (1995) was an official selection of the Clermont-Ferrand Short Film Festival. "Subrosa" (2000) received a Director's Citation Award from the Black Maria Film Festival. Lee's debut feature, "The Art of Woo" (2001) was released by Odeon Films/Alliance Atlantis domestically and invited to numerous festivals worldwide.
Prior to filmmaking, Lee was a music critic and contributing editor of the Toronto weekly, NOW Magazine. She also worked in film distribution at DEC Films/Full Frame and Women Make Movies. Lee has taught courses at the Ontario College of Art and Design, served on various juries, and presented numerous guest lectures in Canada and the U.S. Her essay, "A Peculiar Sensation: A Personal Genealogy of Korean American Women's Cinema," was published in Dangerous Women: Gender and Korean Nationalism (New York: Routledge, 1997), and excerpted in Cineaste and reprinted in Screening Asian Americans. She co-edited with Kerri Sakamoto, Like Mangoes in July: The Work of Richard Fung, for the Images Festival. A conversation with Celine Parrenas Shimizu about her film work, "Sex Acts: Two Meditations on Race and Sexuality," appears in Signs: Journal of Women in Culture and Society.
Lee's various film and screenwriting projects have received support from Telefilm Canada, the Harold Greenberg Fund, Canada Council, Ontario Arts Council, Toronto Arts Council, LIFT and other film organizations. In 2002, Lee was a guest of the DAAD's Berliner Kunstlerprogramm in Germany, where she mounted a 3-channel performance-based video installation, "Cleaving" (2002) at the Werkleitz Biennale in Saxony-Anhalt. Her films were also the subject of a mini-retrospective at Kino Arsenal in Berlin. She received the BFC Award at the 2003 Pusan Promotion Plan (PPP), Pusan International Film Festival, and also a Chalmers Award from the OAC in 2004. Currently, she sits on the advisory boards of the Toronto Reel Asian International Film Festival and TIFFG's Cinematheque Ontario. (09/09)
Shopping Cart