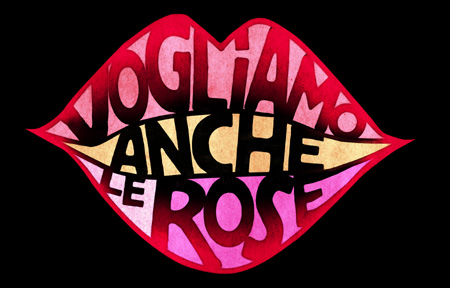 We Want Roses Too (Vogliamo Anche Le Rose)
Italy | 2007 | 84 minutes | Color | DVD | Italian | Subtitled (Italian) | Order No. O949
SYNOPSIS
This stunning visual masterpiece is an exuberant testament to the resolve of women of the '60s and '70s sexual revolution and feminist movement in Italy. Acclaimed director Alina Marazzi takes viewers on a gorgeous storytelling journey through archival footage, advertisements, and colorful images juxtaposed with the true-life struggles and first person narrations of three diverse Italian women: Anita, who is struggling with an oppressive father and the strict rules of her Catholic faith; Teresa, who must resort to a heartbreaking illicit abortion; and Valentina, a militant feminist caught between love and her commitment to the movement. The feminist slogan "We want bread, but we want roses too," was first chanted by thousands of striking female textile workers in Massachusetts in 1912. Marazzi's vibrant film is a celebration of women who fought for a world where both the essentials of bread and the poetry of roses have a place. The artistic and educational, personal and political converge beautifully in this fascinating film that transcends time and culture to reveal many of the universal struggles and inspirations of women's equality.
PRESS
"A treasure trove of perfectly chosen Italian film clips....Intelligently edited, these glimpses of the past eloquently speak for themselves. "
"Intriguing in its form, fascinating in its content... "
"Recommended. Fascinating...transcends time and culture.… From start to finish, bombards viewers with a multitude of images…the creative genius [of which] mirrors the chaos of the women's movement."
"Provides us with a rich basis for comparison, the means to make connections across time and geography that expand our understanding of women's struggles for both bread and roses."
"A much needed first look at the history and development of organized feminism, where issues of longtime concern to women in a church-dominated society are uncannily redolent of renewed struggles facing contemporary Western European and US feminists vis-à-vis the social conservatism fostered in recent years."
"Through visual glimpses of everyday reality, its gendered aesthetic, and fashion, the film gives us an insight into a vernacular of the 1960s and 1970s Italian feminist revolution."
SCREENING HIGHLIGHTS AND AWARDS
BFI London Film Festival
International Documentary Film Festival, Amersterdam
International Film Festival di Locarno
It's All True Int'l Doc Film Festival, Brazil
Int'l Women's Film Festival in Seoul
Seattle Int'l Film Festival
DOK.FEST München
Torino Film Festival
Filmo Int'l Women's Film Festival, Istanbul
ABOUT FILMMAKER(S)
Alina Marazzi
Alina Marazzi has been recognized as one of the most innovative of Italian documentarists within a new generation of directors, having directed several award-winning documentaries presented at national and international film festivals. She teaches courses and workshops on documentary filmmaking in a number of Italian film and art schools as well as guest lecturing at the School of Media Design and Multimedia Arts (Milan). She studied for her undergraduate degree in the UK.

Marazzi's career as an independent filmmaker is characterized by a range of social documentaries which bridge two diverse documentary movements: the 1960s British New Wave and the postwar Italian tradition. Marazzi investigates the relationship between film and cultural identity, exploring events of the recent past and present in Italy through a gendered perspective based on women's biographical experiences. She interrogates the role played by 'technologies of memory' by problematizing the nature of found footage and archival material. Her work posits home movies as a collective mise-en-scène of memory, where not only personal experience but also social, cultural and aesthetic codes are inscribed. Marazzi's most critically acclaimed work is her trilogy on female subjectivity, motherhood, and memory: Un'ora sola ti vorrei (For One More Hour with You, 2002), shown in the UK on BBC4; Vogliamo anche le rose (We Want Roses Too, 2007); Tutto parla di te (2012), starring Charlotte Rampling. The first uses home movies shot by her grandfather to explore the life story of her deceased mother. The second investigates the lives of Italian women of the '60s and '70s through engagement in a powerful dialogue with archival footage, underground and private home movies. The latest portrays the ambivalence of maternity through intermingling visual languages such as fiction, documentary, photography, stop motion.

Bringing Marazzi into Anglophone academia in the current moment constitutes an important consolidation of emerging research; and four recent volumes address her work (Italian Women Filmmakers and the Gendered Screen (Palgrave); Reframing Italy: New Trends in Italian Women's Filmmaking (Purdue UP), both 2013; Love, Mortality and the Moving Image (Palgrave, 2012), and Projected Shadows, Psychoanalytic Reflections on the Representation of Loss in European Cinema (Routledge, 2007)). (8/14)
YOU MIGHT ALSO BE INTERESTED IN
Feminista: A Journey to the Heart of Feminism in Europe
FEMINISTA is a lively and inspiring feminist road movie that explores the largely unrecognized yet hugely vibrant pan European feminist movement.
Learn more
Shopping Cart