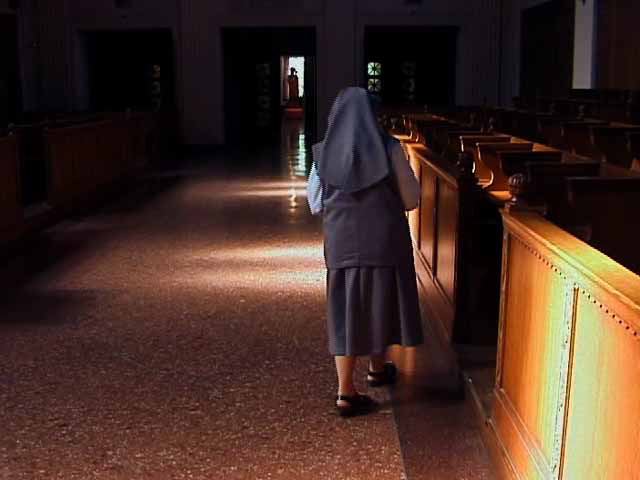 Women of Faith
Women of the Catholic Church Speak
2009 | 60 minutes | Color/BW | DVD | Order No. 10997
SYNOPSIS
This absorbing documentary examines women's decisions to lead religious lives in the Roman Catholic tradition in the post-feminist era. Throughout history, nuns were given certain advantages over other women, while still oppressed within their vocational pursuits. They were taught to read and write, encouraged to pursue music, literature, art, philosophy and spirituality, and officially allowed to escape marriage's powerless role of wife. But why would a woman choose a nun's life today? Individual interviews with seven women provide answers—and explore how rebellion can happen within and outside the Church, how women in the Church reconcile conflicting, religious, personal, and political beliefs, and how they view official Church positions on contraception, homosexuality, and women's ordination as priests. The diverse group includes Poor Clares, contemplative nuns who spend most of their days in prayer, Maryknolls who have served in Central America, and a Roman Catholic Womanpriest. Both timely and insightful, the film provides a rare look at their experiences and current controversies over tradition, change and power within the Catholic Church.
PRESS
"Thoughtful and provocative…Reveals the diversity of the ways in which women engage and grapple with the issues prevalent in the church today."
"Provides rare insight into the history and development of women religious in this country. Students of women's history, church history, and pastoral ministries will all be fascinated by this film."
"Dispels any notion that nuns just blindly accept and follow the dictates of the Roman Catholic Church. Alvin gives us an insider's view of their lives, their opinions, their approach to religion and faith."
"An intimate encounter with women who lived in cloistered communities and the ways they are called to serve."
"A must-see for anyone who cares about the Church and its future."
"Recommended…an interesting study…for those interested in religious studies, women's studies, feminist issues and Catholic studies. It may easily be used in high school classrooms and higher."
"***…Recommended"
"It can be a useful tool in the feminist classroom for understanding not only where women fit in the Catholic Church, but how they act and claim their personhood within a hierarchal institution."
SCREENING HIGHLIGHTS AND AWARDS
Queens Int'l Film Festival
Cape Cod Museum of Art
Boston Museum of Art
Call to Action Conference
Cape Ann Community Cinema
DoctoberFest
ABOUT FILMMAKER(S)
Rebecca M. Alvin
Rebecca M. Alvin, a native New Yorker, started out working toward a career in music, studying at the prestigious Berklee College of Music, when she got sidetracked from a Film Scoring major there to a Filmmaking major at Emerson College in Boston. After her intensely personal student film, UNTITLED (NO.1) won finalist honors at the 1994 Visual Artists Film & Video Competition in San Jose, CA, Rebecca moved on to edit and produce numerous corporate and medical tapes in New York, before returning to more creative pursuits with the 1996 film, VOICES, which screened at the Utah Short Film & Video Festival and elsewhere.

Her first documentary, OUR BODIES, OUR MINDS (Distributor: The Cinema Guild), a feature-length exploration of feminism and sex work, premiered in 2001 at the 20th Annual Women in the Director's Chair International Film & Video Festival in Chicago and has gone on to screen worldwide, from Berlin to San Francisco. Shortly after that, Rebecca completed her Master of Arts degree in Media Studies at the New School for Social Research in New York City and relocated to Cape Cod in 2000. After completing a tribute documentary about Broadway actress Rose Inghram (commissioned by the Rose Inghram Trust), she began work on WOMEN OF FAITH, a film about women and the Catholic Church.

In addition to being a filmmaker, she teaches film at The New School, Curry College and Cape Cod Community College and writes for numerous publications, including Cineaste and the Journal of Film and Video. She is also editor of Provincetown Magazine and founder of the Cape Cod Film Society Screening Series. (8/14)
Subject Areas
RELATED LINKS
Shopping Cart