Buthina Canaan Khoury
Buthina Canaan Khoury is a Palestinian independent filmmaker who established Majd Production Company in Ramallah city in 2000. The company's main objective is to produce documentaries about various crucial Palestinian issues, focusing on women's social and political problems. Khoury received her Bachelor degree in Filmmaking and Photography from the Massachusetts College of Fine Arts in Boston, Ma. Women in Struggle (2004), Maria's Grotto (2007) and Taste the Revolution (2008).Ms Khoury had won many awards including the silver Muhr at Dubai festival in 2007, and she is currently developing her first feature Green Almond. (07/19).
Available Title(s):
---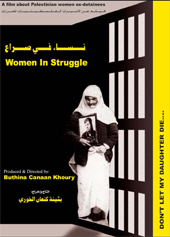 A film by Buthina Canaan Khoury, 2004, 56 min., Color
WOMEN IN STRUGGLE presents rare testimony from four female Palestinian ex-detainees who disclose their experiences during their years of imprisonment ...
Read More
Shopping Cart