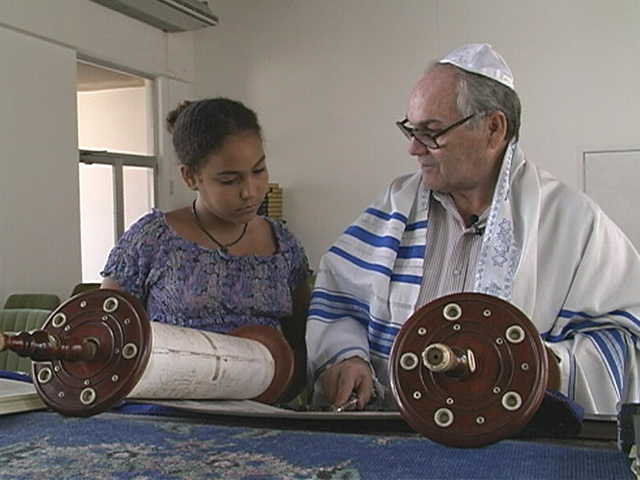 Adio Kerida (Goodbye Dear Love)
2002 | 82 minutes | Color | DVD | Spanish/English | Subtitled | Order No. 03784
SYNOPSIS
Distinguished Anthropologist Ruth Behar (recipient of the MacArthur Fellowship) returns to her native Cuba to profile the island's remaining Sephardic Jews and chronicle her family's journey to the U.S. as Cuban-Jewish exiles. Highlighting themes of expulsion and departure that are at the crux of the Sephardic legacy, Behar seeks reconciliation with Cubans on the island and advocates for the possibility of return and renewal. She debunks myths about the country's Jewish community and unravels the influence of interfaith marriage, Afro-Cuban santería, tourism and the embargo on contemporary Cuban-Sephardic cultural identity. The result is a bittersweet, lyrical, and often humorous portrait of modern-day Cuba that few know exists today. Narrated by Elizabeth Peña.
PRESS
"Personal, poetic, and reflective…offers a glimpse into a relatively unknown realm of the Cuban reality. Recommended."
"A wonderful second-generation exploration of Sephardic emigration and the yearning for return of nostalgic memory, painful 'adioses', and the survival of a rich heritage and vision of life. Ruth Behar's film, like her best anthropological writing, is poignant, humorous, gentle, insightful, smart. One comes away from it both knowing much more and touched in the heart."
"…the best examination of the Jewish Sephardic and Cuban diaspora I have ever seen. It is the artistic and critical work of a brilliant ethnographer…a major contribution to diaspora and mestizaje cultural studies."
"…a moving and insightful film. It traces with sensitivity and love the enduring ties between the Sephardic Cuban-Jews and their homeland."
"With the gaze of a poet and the fortitude of an audacious traveler Ruth Behar reveals, unveils and discovers with her audience the emigrant experience of the Jewish refugees in Cuba."
"Recommended."
"Highly recommended. A well-paced, heartfelt documentary."
"Offers an easy-to-view introduction to a fascinating culture. Libraries with strong Jewish studies collections should definitely have this one."
SCREENING HIGHLIGHTS AND AWARDS
Cine Festival - PREMIO MESQUITE Honorable Mention
East Lansing Film Festival - Documentary Award
San Fran. Bay Area Latino F F - Jury Award
Athens International Film and Video Festival
San Diego Latino Film Festival
Washington Jewish Film Festival
Festival Internacional del Nuevo Cine Latinoamericano, Havana
Miami Film Festival
Ann Arbor Human Rights International Film Festival
Boston Jewish Film Festival
Los Angeles International Latino Film Festival
Cine Accion San Francisco International Latino Film Festival
Vistas Film Festival
New York City Reel Jews Film Festival
Miami Jewish Film Festival
Palm Beach Jewish Film Festival
North Carolina Jewish Cultural Arts Festival
Tulipanes Latino Art and Film Festival
Lenore Marwil Jewish Film Festival
Los Angeles Sephardic Film Festival
ABOUT FILMMAKER(S)
Ruth Behar
Ruth Behar was born in Havana, Cuba, and grew up in New York. She was twenty-six when she received her Ph.D. in cultural anthropology from Princeton University. She is now the Victor Haim Perera Collegiate Professor of Anthropology at the University of Michigan. A writer, a cultural anthropologist, and a modern nomad, she has lived and worked in Spain, Mexico, and Cuba. She is known for her humanistic approach to understanding identity, immigration, and the search for home in our global era. Reviewers say her writings "tug at the heart" and reveal an artistry that allows her "to capture and share intimate stories while preserving their tellers' dignity."

Her personal documentary ADIO KERIDA has been shown in festivals around the world. (8/14)
YOU MIGHT ALSO BE INTERESTED IN
Motherland
How do we decide where is home? Feeling increasingly isolated in her adopted homeland, accomplished documentarian Dai Sil Kim-Gibson (SILENCE BROKEN: KOREAN COMFORT WOMEN) travels to Cuba to unearth stories from a relatively unknown group in the Asian diaspora. On the island, she meets Martha, a woman of Korean descent who identifies herself as Cuban. Like many of her contemporary countrymen and women, Martha possesses family ties that span multiple nations, cultures and politics. Her story inspires Kim-Gibson to travel to Miami to meet Martha's émigré sister and the rest of their mulitcultural family, in a journey that reveals how very different worldviews can co-exist in one family separated by place and ideology. Asking probing questions about identity and economic and social justice, Kim-Gibson explores the ways in which we determine our ethnic, national, and cultural loyalties. The compelling stories in Motherland Cuba Korea USA weave a complex web and illuminate the search for an understanding of "motherland" in a globalized society.
Learn more
Maestra
In 1961, over 250,000 Cubans joined their country's National Literacy Campaign and taught more than 707,000 other Cubans to read and write. Almost half of these volunteer teachers were under 18. More than half were women. Narrated by Pulitzer Prize winning author Alice Walker, MAESTRA (Spanish for teacher) explores the experiences of nine of the women who, as young girls, helped eradicate Cuban illiteracy within one year. Interweaving recent interviews, archival footage, and campaign photos, this lively documentary includes one of the first Cubans of her generation to call herself a feminist and one of the first openly proud members of Cuba's LGBTQI community. With wit and spirit, all recall negotiating for autonomy and independence in a culture still bound by patriarchal structures. Eight years in the making, MAESTRA highlights the will and courage that made the monumental endeavor possible and the pivotal role of women's and youth empowerment in building a new society.
Learn more
Shopping Cart