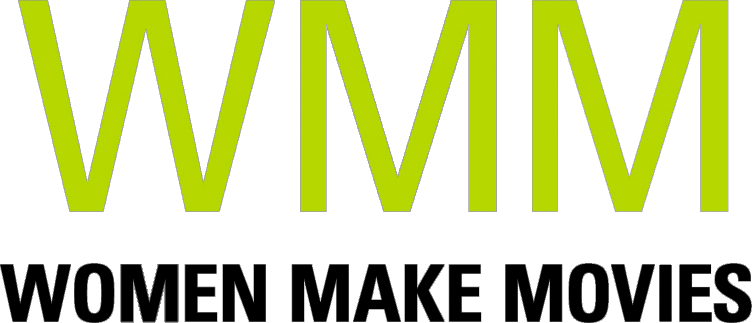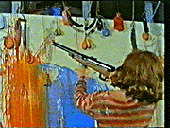 US | 1999 | 10 minutes | Color | DVD | Order No. 00643
SYNOPSIS
Internationally acclaimed photographer and filmmaker Tracey Moffatt takes the viewer on a fast-paced journey through Hollywood's depiction of the artist. Using a wealth of clips from classic cinema bio pics and popular television sitcoms, the voyage spans centuries of art and art-making to reveal how five decades of mainstream media have perceived the creative process and creators themselves. A lively music track underscores the fervor and passion we have come to associate with artists and their typical one-dimensional representations on the large and small screen. Punctuated by recurrent gestures--the confident whisk of the paint brush, the futile laugh of frustration, and the violent destruction of one's own work--this amusing, thought-provoking array of well-known images paints an incisive portrait of the artist as a total Hollywood fabrication.
PRESS
"A Hollywood stereotype of the creative, tormented, suffering 'Artist' as painter is lifted from hundreds of commercial features in this rhythmmic montage. The stages of inspiration, creation, and then destruction of the paintings portray romanticism as a comedy. A wise and very funny piece, brilliantly edited by Gary Hillberg, who was 'commissioned by Tracey Moffatt.' Rather like Hollywood…"
SCREENING HIGHLIGHTS AND AWARDS
ABOUT FILMMAKER(S)
Gary Hillberg
Gary Hillberg was born in Perth, Australia and has been working as an experimental filmmaker and music video producer since the late 1980s. Most recently, he co-directed a series of filmic montages in collaboration with Tracey Moffatt. In 2008, Hillberg and Moffatt presented REVOLUTION, a study of the stereotypes associated with revolution in movies. Hillberg currently lives and works in Melbourne, Australia. (07/09)
Tracey Moffatt
Australian photographer and filmmaker. After graduating from Queensland College of Art, Brisbane (1982), she moved to Sydney, later dividing her time between Sydney and New York. Moffat began her career as an experimental filmmaker and as a producer of music videos, and she continued making films after establishing herself as a photographer. Her concern with power relations is demonstrated in the series Scarred for Life (nine offset lithographs, 1994), which juxtapose photographs of children with text, mimicking the layout of Life magazine during the 1960s. Useless, 1974 (1994; priv. col., see B. Reinhardt, ed., p. 21), shows a young girl cleaning a car in a suburban setting; the text beneath reads 'Her father's nickname for her was "useless."' In the late 1990s she focused on the relationship between Australian Aborigines and white colonial settlers. The highly atmospheric series Laudanum (19 photo-engravings, 1998; Frankfurt, L. A. Gal.) shows the relationship between a woman and her aboriginal servant. Based on Pauline Reage's erotic novel Story of O (1954), it presents two actors posing in a variety of locations around a large house, suggesting sexual and power relations laced with narcotic hysteria. The use of photogravure and deliberately flawed prints heightens the ambience, informed by late 19th century photography as well as by Expressionist Cinematic techniques of shadow and distortion. The typically dreamlike quality of these works creates a space in which actors can embody wider sexual and social conflicts.

In 2017 she represented Australia at the 57th Venice Biennale with her solo exhibition, "My Horizon". Her works are held in the collections of the Tate,Museum of Contemporary Art, Los Angeles, National Gallery of Australia, Art Gallery of South Australia and Art Gallery of New South Wales. She currently lives in Sydney and New York. (03/19)
YOU MIGHT ALSO BE INTERESTED IN
Men: A Love Story
After spending nearly a decade as a journalist documenting young women sold as slaves into the sex trade, award winning filmmaker Mimi Chakarova (
THE PRICE OF SEX
) sets out on a journey across the United States to explore how men feel about women and love. Piecing together a rich tapestry of vignettes, woven from stories shared by men of different races, ages, and socio-economic backgrounds, Chakarova weaves a stunningly honest and unapologetic portrayal of masculinity in America. With a diverse set of subjects from tiny blues bars of the Deep South to hedge funds of Manhattan and from ranchers in New Mexico to farmers in the Midwest, MEN: A LOVE STORY is a poignant and at times unforgettable dark comedy that reveals a deeper multilayered understanding of maleness, sexuality and gender performance in America today.
Learn more
Shopping Cart