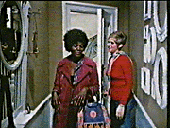 1999 | 10 minutes | Color | DVD | Order No. 00641
SYNOPSIS
It is Hollywood's favorite role for black women: the maid. Sassy or sweet, snickeringly attentive or flippantly dismissive, the performers who play them steal every scene they are in, and Tracy Moffatt's entertaining video collage reveals the narrow margin Hollywood has allowed black actresses to shine in. But shine they do. Giving lip is proven an art form in these scenes from 1930's cinema to present-day movies featuring a remarkable roster of undervalued actresses and their more celebrated white costars. Moffatt and Hillberg's rough, no-budget assembly effectively highlights with familiarity and humor the disturbing realization of how black characters and white characters still interact on screen, under Hollywood's eternally backwards eye.
PRESS
"Maims melodrama forever, excising the hidden history of Hollywood's phantasm of white female stars served by black women extras. Mandatory for any cinema studies class."
"Tracy Moffatt's work delivers a bite that is almost imperceptible, until you realize long after seeing it that she has somehow altered your way of thinking."
"'Lip' is a clever to brilliant rapid montage of scenes from Hollywood movies... these off-hand moments are biting criticism of racial stereotypes and, simultaneously, demonstrate that these wise-cracking maids were nobody's fool."
SCREENING HIGHLIGHTS AND AWARDS
Spelman College Museum of Fine Art, Atlanta
Chicago Filmmakers FF
ABOUT FILMMAKER(S)
Tracey Moffatt
Australian photographer and filmmaker. After graduating from Queensland College of Art, Brisbane (1982), she moved to Sydney, later dividing her time between Sydney and New York. Moffat began her career as an experimental filmmaker and as a producer of music videos, and she continued making films after establishing herself as a photographer. Her concern with power relations is demonstrated in the series Scarred for Life (nine offset lithographs, 1994), which juxtapose photographs of children with text, mimicking the layout of Life magazine during the 1960s. Useless, 1974 (1994; priv. col., see B. Reinhardt, ed., p. 21), shows a young girl cleaning a car in a suburban setting; the text beneath reads 'Her father's nickname for her was "useless."' In the late 1990s she focused on the relationship between Australian Aborigines and white colonial settlers. The highly atmospheric series Laudanum (19 photo-engravings, 1998; Frankfurt, L. A. Gal.) shows the relationship between a woman and her aboriginal servant. Based on Pauline Reage's erotic novel Story of O (1954), it presents two actors posing in a variety of locations around a large house, suggesting sexual and power relations laced with narcotic hysteria. The use of photogravure and deliberately flawed prints heightens the ambience, informed by late 19th century photography as well as by Expressionist Cinematic techniques of shadow and distortion. The typically dreamlike quality of these works creates a space in which actors can embody wider sexual and social conflicts.

In 2017 she represented Australia at the 57th Venice Biennale with her solo exhibition, "My Horizon". Her works are held in the collections of the Tate,Museum of Contemporary Art, Los Angeles, National Gallery of Australia, Art Gallery of South Australia and Art Gallery of New South Wales. She currently lives in Sydney and New York. (03/19)
Gary Hillberg
Gary Hillberg was born in Perth, Australia and has been working as an experimental filmmaker and music video producer since the late 1980s. Most recently, he co-directed a series of filmic montages in collaboration with Tracey Moffatt. In 2008, Hillberg and Moffatt presented REVOLUTION, a study of the stereotypes associated with revolution in movies. Hillberg currently lives and works in Melbourne, Australia. (07/09)
Shopping Cart