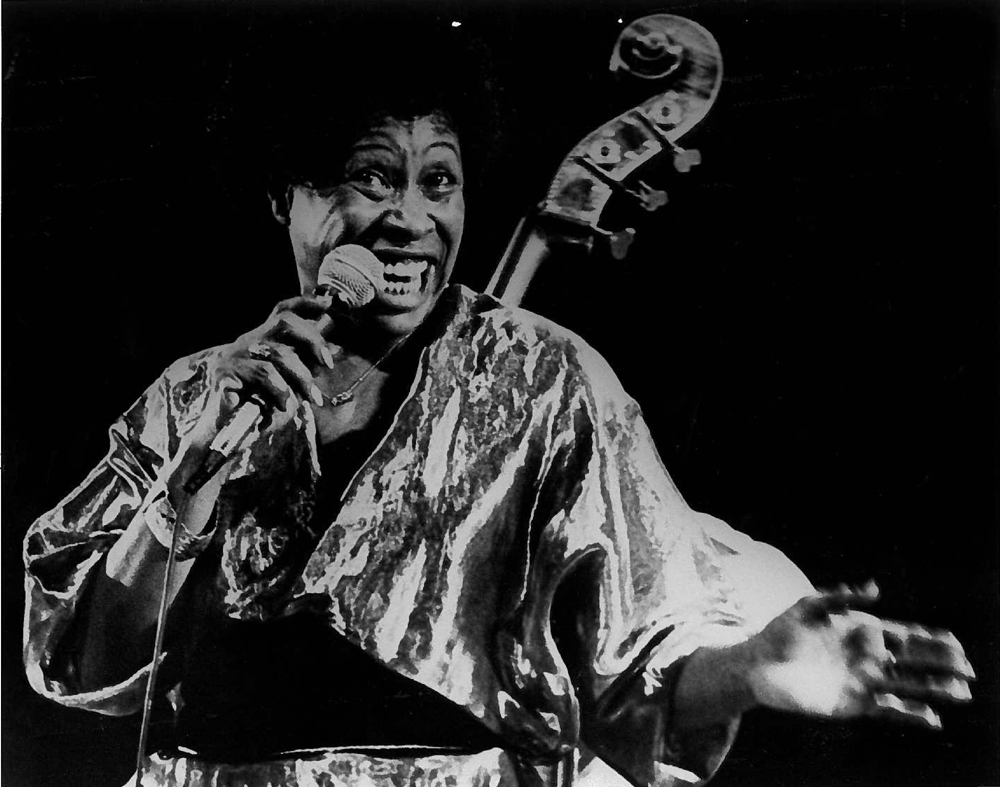 ...But Then, She's Betty Carter
1980 | 53 minutes | Color | 16mm/DVD | Order No. 99075
SYNOPSIS
This lively film is an unforgettable portrait of legendary vocalist Betty Carter, one of the greatest living exponents of jazz. Uncompromised by commercialism throughout her long career, she has forged alternative criteria for success — including founding her own recording company and raising her two sons as a single parent. Parkerson's special film captures Carter's musical genius, her paradoxical relationship with the public and her fierce dedication to personal and artistic independence.
PRESS
"An exciting film from which the audience walks away exhilarated."
SCREENING HIGHLIGHTS AND AWARDS
Berlin Film Festival
Films de Femmes, Creteil, France
Mill Valley Film Festival
Kennedy Center for the Performing Arts
Maysles Cinema
Black Independents Film Festival, Paris
ABOUT FILMMAKER(S)
Michelle Parkerson
Michelle Parkerson is an assistant professor in Film & Media Arts at Temple University and an award-winning independent film/video maker. Her work has been shown widely in festivals and on public television including award-winning documentaries, A Litany for Survival: The Life and Work of Audre Lorde, But Then, She's Betty Carter and Gotta Make this Journey: Sweet Honey in the Rock. Ms. Parkerson has received grants from the Independent Television Service, the Corporation for Public Broadcasting, and the American Film Institute as well as a fellowship from the Rockefeller Foundation. Her work has premiered at the Sundance Film Festival and Gotta Make this Journey: Sweet Honey in the Rock was nominated for a Local Emmy in the category of Public Affairs Documentary. She was awarded the Prix du Public at the Festival International de Creteil Films de Femmes and the Audience and Best Biography Awards at the San Francisco International Film Festival.

She has worked as a visiting professor at Northwestern University and and the University of Delaware and as a lecturer at Howard University and the Institute for Policy Studies in Washington, DC. She has also given lectures at Yale University, the National Film Board of Canada, the Museum of Modern Art (NYC), the Walker Art Center in Minneapolis, the Flaherty Film Seminar, Harvard University, and the National Black Arts Festival. She currently heads up her own DC-based production company, Eye of the Storm Productions. (09/09)
YOU MIGHT ALSO BE INTERESTED IN
Sarabah
Rapper, singer and activist, Sister Fa is hero to young women in Senegal and an unstoppable force for social change. A childhood victim of female genital cutting (FGC), she decided to tackle the issue by starting a grassroots campaign, "Education Without Excision," which uses her music and persuasive powers to end the practice. But until 2010 there's one place she had never brought her message – back home to her own village of Thionck Essyl, where she fears rejection. SARABAH follows Sister Fa on this challenging journey, where she speaks out passionately to female elders and students alike, and stages a rousing concert that has the community on its feet. A portrait of an artist as activist, SARABAH shows the extraordinary resilience, passion and creativity of a woman who boldly challenges gender and cultural norms. It's an inspiring story of courage, hope and change.
Learn more
Shopping Cart