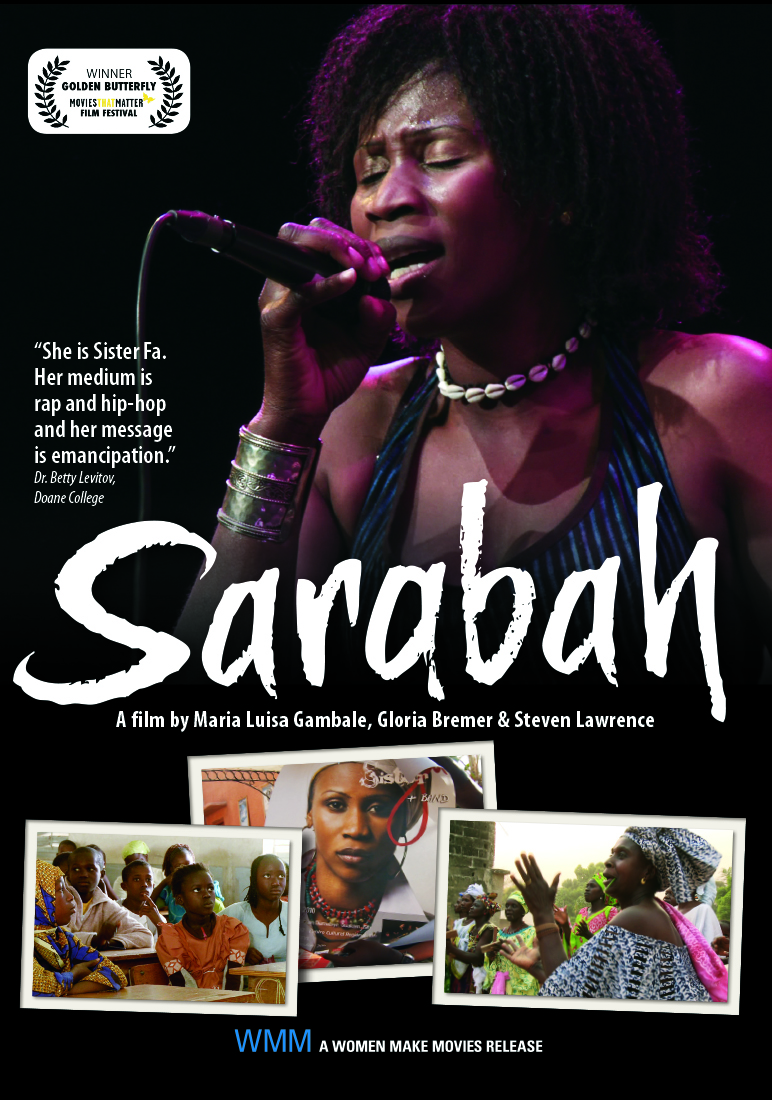 US/Senegal | 2011 | 60 minutes | Color | DVD | French/German/Diola/Wolof | Subtitled | Order No. 111036
SYNOPSIS
Rapper, singer and activist, Sister Fa is hero to young women in Senegal and an unstoppable force for social change. A childhood victim of female genital cutting (FGC), she decided to tackle the issue by starting a grassroots campaign, "Education Without Excision," which uses her music and persuasive powers to end the practice. But until 2010 there's one place she had never brought her message – back home to her own village of Thionck Essyl, where she fears rejection. SARABAH follows Sister Fa on this challenging journey, where she speaks out passionately to female elders and students alike, and stages a rousing concert that has the community on its feet. A portrait of an artist as activist, SARABAH shows the extraordinary resilience, passion and creativity of a woman who boldly challenges gender and cultural norms. It's an inspiring story of courage, hope and change.
PRESS
"Highly recommended. A moving and hopeful documentary..skillfully addresses the complexities of social transformation that challenge traditions and beliefs about women's socialization."
"Give(s) us the exuberance and drive of a young woman artist whose brand of stardom eschews designer gowns and red carpets. She is Sister Fa. Her medium is rap and hip-hop and her message is emancipation."
"For a continent in which almost half the population is under 15 years old, Sister Fa's fierce combination of talent and activism may be the most effective formula for social change."
"Highly recommended… This film does a remarkable job of promoting education about "a painful tradition" without falling into clichés or stereotypes... Beyond this larger story, the film also demonstrates the power of music..."
"The film is a sensitive portrait of a woman whose artistic life has become wholly devoted to the awareness and education music can bring to people...Ultimately hopeful and inspiring, the film depicts strategies for education and organizing using music for social change."
SCREENING HIGHLIGHTS AND AWARDS
WINNER Cine Golden Eagle
Movies That Matter Film Festival, Winner, Golden Butterfly Award
Best Mid-Length Documentary, Montreal International Black Film Festival
Nashville Film Festival
St. John's Int'l Women's Film Festival
Michigan Womyns Music Festival
Berkshire International Film Festival
ABOUT FILMMAKER(S)
Maria Luisa Gambale
Maria Luisa Gambale has worked for the past thirteen years as a cinematographer. She was the Director of Photography and Assistant Producer for the feature-length documentary "Reconstruction," which was shot in Romania in 1998 and distributed to international film festivals in 2001, including the Berlin International Film Festival, the IDFA, and the MoMA Documentary Fortnight. Her main focus is documentary, but she has pursued extensive training in lighting for fiction and has completed photography on three short fiction films. Maria also teaches adults, teenagers and children at the International Film & Video Workshops in Rockport, Maine; the Reelworks Film Lab in New York City; and in elementary schools in Westchester County, New York. She previously volunteered at Witness, a non-profit organization that works with NGOs around the world, using video and internet technology to expose human rights abuse and empower victims. Maria has a BA from Harvard University. (3/11)
Gloria Bremer
A producer, director, and editor, Gloria recently produced "The Mis-Informant," a two-part spoof starring Jack Black as Nathan Spewman, an undercover misconception agent, or a liar for hire. She founded a larger awareness-raising campaign spun around the videos with HCAN. Gloria is currently in production on THE SUN IMAGINES DARKNESS, a feature-length documentary. The film explores how polarized definitions of good and evil result in both tragic and comic fallout through three remarkable storylines. Other recent collaborations include: THE FURIOUS FORCE OF RHYMES, a documentary exploring hip hop as a global voice of activism for Arte and the Smithsonian Channel; "Masters of the Muslim World," a survey of extraordinary musical artists, including KayhanKalhor and Mariem Hassan; and "Blueprint for Accountability: Working the Dark Side" with the Culture Project and LinkTV.

For a few years, Gloria could be found in cypress swamps, kelp forests, and quinzees making science television. She directed the pilot for "SciGirls," a series now on PBS Kids. Before that, she spent four seasons as Creative Director and Series Co-Producer of "DragonFlyTV," again for PBS Kids. She also co-produced SHOOT DOWN, a documentary feature about the political drama of two civilian Cessnas shot down by Cuban MiGs. Gloria briefly fell into the new media rabbit hole, when she became Editor of New Talk.org, an online forum dedicated to live discussions between experts and policymakers on the knottier problems of our time. Gloria's work has been shown on PBS, National Geographic, Discovery, HGTV, ESPN, TNT, and Comedy Central. (07/12)
YOU MIGHT ALSO BE INTERESTED IN
Shopping Cart