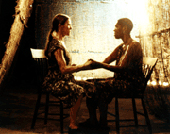 1995 | 85 minutes | Color/BW | 16mm/DVD | Order No. 99427
SYNOPSIS
CONJURE WOMEN is an exciting performance-based documentary exploring the artistry and philosophy of four African American female artists. Celebrated choreographer and dancer Anita Gonzalez was a founding member of and performer with Urban Bush Women and is now Artistic Director of Bandana Women. Robbie McCauley is a critically-acclaimed performance artist and theater director whose personal vision has consistently explored the 'herstory' of Black women. The stunning photography of Carrie Mae Weems captures a variety of images of African Americans. Vocalist and composer Cassandra Wilson (Grammy award winner for Best Jazz Vocalist) has released nine recordings of her work and was acclaimed in the New York Times as "the most important singer to come along in jazz in the last ten years." These four artists use their disciplines to reclaim their 'africanisms', an intuitive experience of what their foreparents had to deny if they were to survive. CONJURE WOMEN is a moving and entertaining record of the work of these remarkable women. It is also, as filmmaker Demetria Royals notes, "telling the story of African Americans in our own distinct and self-defined voices."
PRESS
"In its fusion of performance with personality, Royals' films conjures up an exciting vision of a new power being forged in the self-discovery of these extraordinary artists."
"*** 1/2 Highly recommended. Conjure Women is its own work of art, reminding the viewer of the simmering urgency and strength of the black female artist and of the simple, cathartic power of seeing the self."
SCREENING HIGHLIGHTS AND AWARDS
Maysles Cinema
Twin Cities Black Film Festival
Prized Pieces International Film and Video Award – Cultural Affairs Documentary
Anacostia Museum and Center for African American History and Culture, Smithsonian Institute
Women in the Directors Chair
National Black Arts Festival
American Film Institute
Nationally broadcast on PBS
ABOUT FILMMAKER(S)
Demetria Royals
Demetria Royals is an award-winning independent filmmaker whose work has received support from the Ford Foundation, the National Endowment for the Arts, the Corporation for Public Broadcasting, the National Black Programming Consortium, the Independent Television Service and the American Film Institute, among others. Ms. Royals was a 1999 Artist-in-Residence at the Institute on the Arts and Civic Dialogue (Anna Deavere Smith, Founding Director) at Harvard University. She received an additional residency award, "Artist as Catalyst 2000," from the Mid Atlantic Arts Foundation, as well as grants from the Rockefeller Foundation Multi-Arts Production Fund and the National Endowment for the Arts Multidisciplinary Arts Program. Ms. Royals is the Director/Producer of "MAMA'S PUSHCART: Ellen Stewart and 25 Years of La MaMa E.T.C.," which has won numerous awards and been presented at film and video festivals around the world. Ms. Royals is currently the Director of the Film Program at Sarah Lawrence College, where she had brought a focus on digital storytelling and new media to the program. (09/09)
Louise Diamond
Louise Diamond (Producer) produced and co-edited the performance-based
feature documentaries directed by Demetria Royals, Conjure Women (1995,
85:00, nationally broadcast on PBS in 1997) and, most recently, Brothermen
(2001, 56:00). She is the Executive Producer of Mama's Pushcart: Ellen
Stewart and 25 Years of La MaMa E.T.C (1988, 52:00), which won numerous
awards, including at the San Francisco International Film and Video Festival,
and was broadcast on PBS. Ms. Diamond has produced the videowall
installations by Demetria Royals, Inventing Herself (Mill Valley Film
Festival, CA., 1993; the Brooklyn Academy of Music, NYC, 1995; National Black
Arts Festival, GA., 2002), as well as produced and collaborated with Ms.
Royals on the adaptation of "Mother Courage" in residency workshops, starting
at the Institute on the Arts & Civic Dialogue at Harvard University (1999).
Ms. Diamond earned her Master of Fine Arts degree in Dramatic Writing from
New York University and is a 2002 Packard Future of Children Fellow in
Journalism. (09/20/02)
Subject Areas
RELATED LINKS
YOU MIGHT ALSO BE INTERESTED IN
The Rest I Make Up
A portrait of visionary Cuban-American dramatist Maria Irene Fornes and the story of her unexpected collaboration with filmmaker Michelle Memran.
Learn more
Shopping Cart