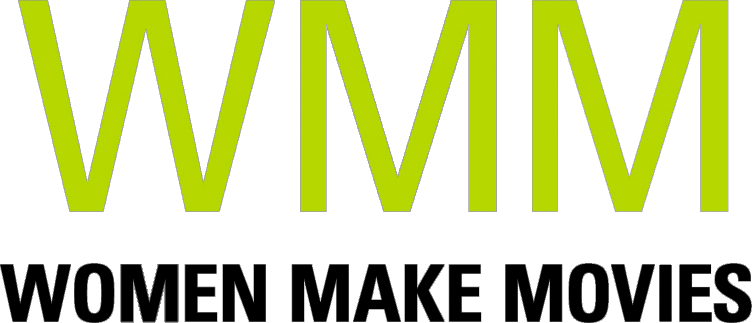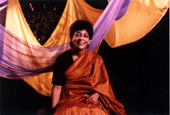 England | 1990 | 26 minutes | Color | 16mm/VHS | Order No. 99316
SYNOPSIS
FLESH AND PAPER is a lyrical exploration of the sense and sensibilities of Indian lesbian poet and writer, Suniti Bamjoshi. This moving and powerful portrait of a unique and brave woman weaves Namjoshi's life and writings into a sensual tapestry.

Born into an Indian royal family, Namjoshi discusses her reasons for leaving India (she fell in love with her best friend), and her experiences as a cultural outsider in the U.S. Showing how "language invents worlds," her vision as an Indian lesbian feminist is informed both by a lesbian consciousness and a deep Indian cultural framework. A prolific writer who has been widely published in the U.K., Canada and India over the past twenty years, Namjoshi's poems, fables and novels are characterized by her wit and wry, satirical sense of humor.

Shot on location in Devon, England as well as at the Old Palace in India, the film includes interviews with young Indo-British lesbians, expressive readings and choreographed dance segments. Sharing her life with fellow writer and poet Gilllian Hanscombe, Namjoshi's passionate correspondence with her love reflects the intimacy and detail of this meditative piece. With great visual beauty and lyricism, FLESH AND PAPER, captures the spirit of Namjoshi's poetry in an evocative, multi-layered way.
PRESS
"Visually very beautiful...Most striking about it is the overwhelming respect with which Parmar has filmed her subject."
ABOUT FILMMAKER(S)
Filmmaker Pratibha Parmar has an exemplary track record for her passionate commitment to making films with integrity and illuminating untold stories with visual flair and imagination. Her award-winning work has been widely exhibited at international film festivals and broadcast globally. Pratibha's dedication in bringing complex subjects into mainstream media has helped change the contours of popular discourse on race, feminism, sexuality and creativity.

Pratibha's credits include A Place of Rage, a documentary film on African-American women and the civil rights movement featuring Angela Davis and June Jordan. The film received international critical acclaim and was named Best Historical Documentary at the National Black Programming Consortium in the U.S. In 1993 Pratibha released her most challenging film Warrior Marks, which documented female genital mutilation at a time when the subject was taboo globally. This award-winning documentary was made in collaboration with the Pulitzer Prize-winning novelist Alice Walker. Parmar and Walker collaborated on the book Warrior Marks - Female Genital Mutilation and the Sexual Blinding of Women, which documented the making of the film (Jonathan Cape UK, Harcourt Brace US).

Nina's Heavenly Delights, Pratibha's multi-award winning narrative feature film debut starring Shelley Conn & Laura Fraser was released theatrically in the UK and US in 2006/7 and nominated for a GLAAD Award.

Author and editor of several books, Pratibha was awarded The Visionary Award for her body of work from the One in Ten Film Festival in October 2007 and is a past winner of the Frameline Film Festival Life Time Achievement Award.

Pratibha's most recent award winning feature documentary film, Alice Walker: Beauty In Truth tells the compelling story of an extraordinary woman's journey from her birth in a paper-thin shack in cotton fields of Georgia to her recognition as a key writer of the 20th Century making history as the first African- American woman to win the Pulitzer Prize. Alice Walker: Beauty In Truthtoured film festivals around the world to sell out audiences and positive reviews in 2013. The film was broadcast nationwide in the U.S on the Emmy Award winning series American Masters on PBS in February 2014, kicking off Black History month. The film was also broadcast on BBC Television (UK) and in several European cities. Pratibha is in development with several films including: FURY & TENDERNESS: ANDREA DWORKIN. An innovative feature documentary drama on controversial writer and feminist campaigner Andrea Dworkin. Co-Producers Salon Pictures (Developed with the support of the BFI (British Film Institute). (3/19)
Subject Areas
RELATED LINKS
Shopping Cart