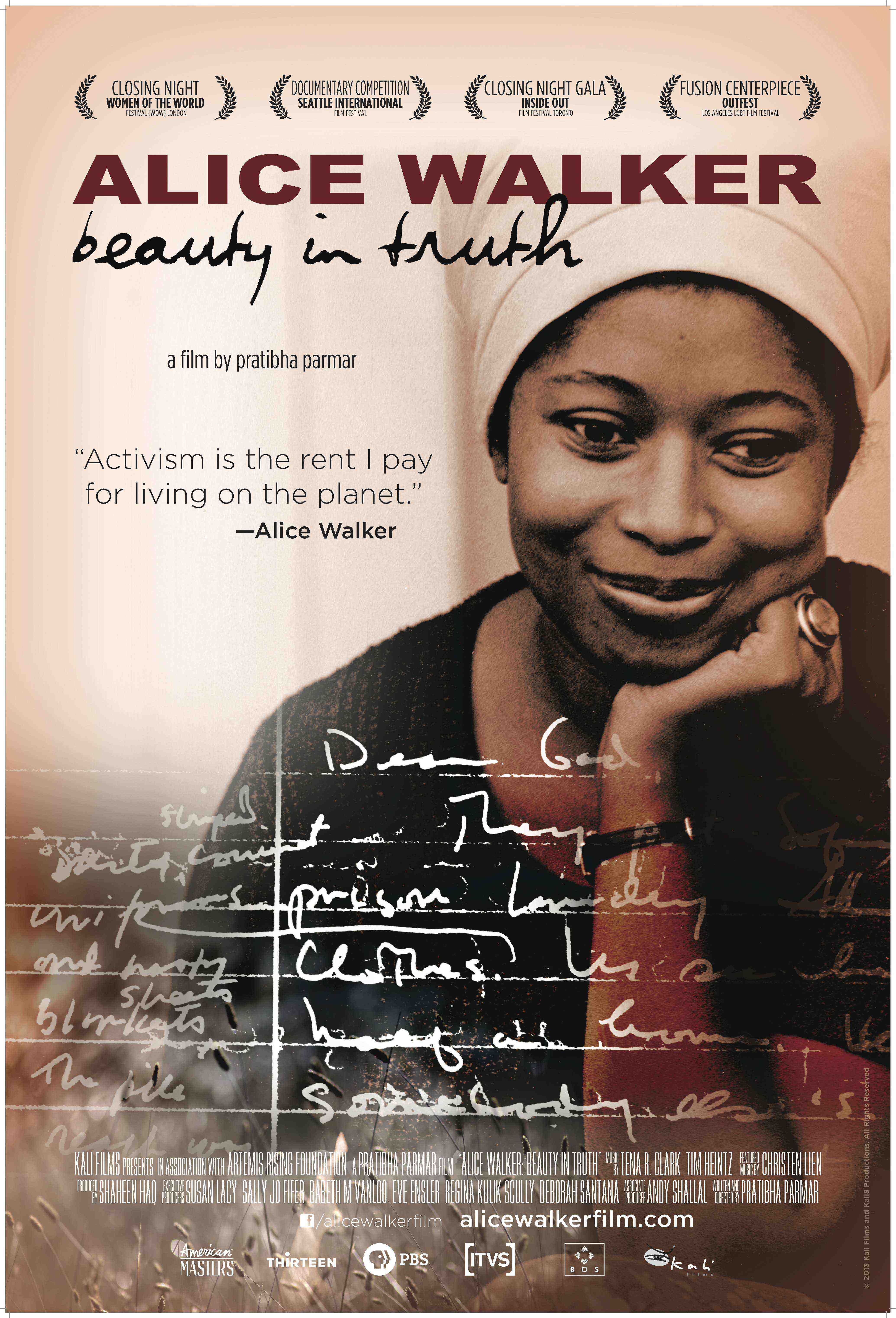 Alice Walker: Beauty in Truth
2013 | 84 minutes | Color | Order No. 151163
SYNOPSIS
ALICE WALKER: BEAUTY IN TRUTH tells the compelling story of an extraordinary woman. Alice Walker made history as the first black woman to win the Pulitzer Prize for fiction for her groundbreaking novel, The Color Purple. Her early life unfolded in the midst of violent racism and poverty during some of the most turbulent years of profound social and political changes in North American history during the Civil Rights Movement. Mixing powerful archival footage with moving testimonials from friends and colleagues such as Howard Zinn, Angela Y. Davis, Gloria Steinem, Beverly Guy-Sheftall, Quincy Jones, Steven Spielberg and Danny Glover, ALICE WALKER: BEAUTY IN TRUTH offers audiences a penetrating look at the life and art of an artist, intellectual, self-confessed renegade and human rights activist.
PRESS
"...a much needed contribution to the slow but ever growing archive of African-American women who have indelibly shaped our discourses of race, gender, sexuality, class, and oppressive regimes of power."
"An intimate, exquisitely rendered portrait of one of the great artists of our time."
"Parmar has given us all an opportunity to gain both understanding and encouragement from one of humanism's great exemplars."
"Alice Walker is one of the great thinkers of our time, and has changed the lives of so many women with her ideas - this rich and honest film tells a story that we all need to hear."
" The ultimate impression left by Pratibha Parmar's eloquent film is of a courageous life full of risk but full of joy too."
"...inspiring and informative… Parmar presents audiences with a detailed landscape of the "beauty" and "truth" of Walker's life"
"A compelling and inspirational documentary."
"Alice Walker: Beauty in Truth is a dazzling, courageous portrait of the extraordinary life of a living legend. "
"Parmar's film masterfully presents Alice Walker's revolutionary story as integral to American history."
"Pratibha Parmar's documentary on the life's work of Alice Walker is the director's invitation to exalt with connected, layered complexity the artist, the activist, the woman, the person of colour as cultural icon..."
"...a perfect piece of filmmaking. Worthy of the sold-out screening and standing ovations it received."
"...attractively made doc will delight those who are passionate about Walker..."
SCREENING HIGHLIGHTS AND AWARDS
Qfest Philadelphia, Jury Prize for Best Documentary
QReel, Audience Award for Best Documentary
African Diaspora Int'l Film Festival, Public Award for Best Film Directed by a Woman of Color
Napa Valley Film Festival, Jury Prize for Best Documentary
Vancouver International Film Festival
Cleveland International Film Festival
Seattle International Film Festival
Melbourne Queer Film Festival
Athena Film Festival
International Women's Film Festival Seoul
Sebastopol Documentary Film Festival
River Run International Film Festival
Mardi Gras Film Festival
ABOUT FILMMAKER(S)
Pratibha Parmar
Filmmaker Pratibha Parmar has an exemplary track record for her passionate commitment to making films with integrity and illuminating untold stories with visual flair and imagination. Her award-winning work has been widely exhibited at international film festivals and broadcast globally. Pratibha's dedication in bringing complex subjects into mainstream media has helped change the contours of popular discourse on race, feminism, sexuality and creativity.

Pratibha's credits include A Place of Rage, a documentary film on African-American women and the civil rights movement featuring Angela Davis and June Jordan. The film received international critical acclaim and was named Best Historical Documentary at the National Black Programming Consortium in the U.S. In 1993 Pratibha released her most challenging film Warrior Marks, which documented female genital mutilation at a time when the subject was taboo globally. This award-winning documentary was made in collaboration with the Pulitzer Prize-winning novelist Alice Walker. Parmar and Walker collaborated on the book Warrior Marks - Female Genital Mutilation and the Sexual Blinding of Women, which documented the making of the film (Jonathan Cape UK, Harcourt Brace US).

Nina's Heavenly Delights, Pratibha's multi-award winning narrative feature film debut starring Shelley Conn & Laura Fraser was released theatrically in the UK and US in 2006/7 and nominated for a GLAAD Award.

Author and editor of several books, Pratibha was awarded The Visionary Award for her body of work from the One in Ten Film Festival in October 2007 and is a past winner of the Frameline Film Festival Life Time Achievement Award.

Pratibha's most recent award winning feature documentary film, Alice Walker: Beauty In Truth tells the compelling story of an extraordinary woman's journey from her birth in a paper-thin shack in cotton fields of Georgia to her recognition as a key writer of the 20th Century making history as the first African- American woman to win the Pulitzer Prize. Alice Walker: Beauty In Truthtoured film festivals around the world to sell out audiences and positive reviews in 2013. The film was broadcast nationwide in the U.S on the Emmy Award winning series American Masters on PBS in February 2014, kicking off Black History month. The film was also broadcast on BBC Television (UK) and in several European cities. Pratibha is in development with several films including: FURY & TENDERNESS: ANDREA DWORKIN. An innovative feature documentary drama on controversial writer and feminist campaigner Andrea Dworkin. Co-Producers Salon Pictures (Developed with the support of the BFI (British Film Institute). (3/19)
YOU MIGHT ALSO BE INTERESTED IN
Shopping Cart