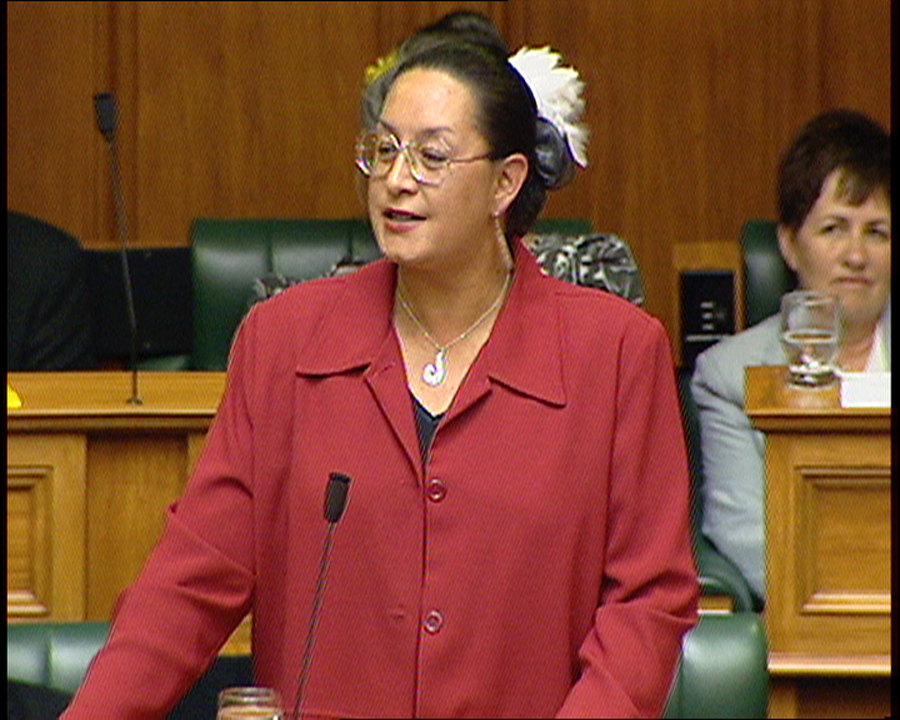 New Zealand | 2001 | 70 minutes | Color/BW | DVD | Order No. 03779
SYNOPSIS
Meet Georgina Beyer, the latest "it" girl of New Zealand politics. A one-time sex worker of Maori descent turned public official, Georgina stunned the world in 1999 by becoming the first transgendered person to hold national office. Born George Beyer, this unlikely politician grew up on a small Tarankai farm and later became a small-time celebrity on the cabaret circuit in Auckland. With charisma, humor and charm, Beyer unapologetically recounts her fascinating life story, shares how she overcame adversity and discloses the reasons she decided to run for office in a mostly all white, conservative electorate. Incorporating an unbelievable montage of colorful archival images dug up from Georgina's days as an exotic dancer, theatre and television performer, this absorbing documentary breaks down stereotypes and promotes greater understanding of transgendered people.
PRESS
"…expertly captures the fascinating and checkered life of one the world's most conscientious politicians…Georgie Girl and Georgina herself swept our Festival off its feet!"
"…humorous and poignant…offers an extraordinary look at a remarkable individual who has used her personal history to make a political difference."
"[A] stand-out…Beyer's dignity charm and frankness make Georgie Girl a fascinating film, even when she discusses the toughest times in her life…"
SCREENING HIGHLIGHTS AND AWARDS
Portland Queer Documentary Film Festival
Sydney Int'l FF - Audience Award for Best Documentary
San Francisco Int'l Lesbian & Gay FF - Stu & Dave's Excellent Documentary Award
Festival Int'l de Filmes de Femmes, Creteil - Audience Award
QueerDOC FF - Audience Award
Int'l Festival of Lesbian and Gay Cinema Madrid (LESGAICINEMAD) - Best Documentary
Peace Foundation - Media Peace Award
Los Angeles Int'l FF - IFP/West
Margaret Mead Int'l FF
Hotdocs Canadian Int'l Doc FF
Sheffield Int'l Doc FF
Hot Springs Int'l Doc FF
Pusan Int'l FF
Hawaii Int'l FF
Melbourne Int'l FF
Athens Int'l FF
Brisbane Int'l FF
Out on Screen Vancouver Gay and Lesbian FF
Reel Affirmations FF
Austin Gay and Lesbian FF
Tampa Gay and Lesbian FF
Portland Gay and Lesbian FF
Milwakee Gay and Lesbian FF
Commonwealth FF
Rocky Mountain Women's FF
Side by Side Int'l LGBT FF, Russia
ABOUT FILMMAKER(S)
Annie Goldson
Annie Goldson has been producing and directing award-winning documentaries, docudramas and experimental film/video for 20 years in the United States and New Zealand. She is known for producing films that are both politically engaged and formally innovative, such as Punitive Damage, released in cinemas in Australia, the US and New Zealand in 1999 and sold to major broadcasters such as HBO-Cinemax, ABC-Aust, ARD (Germany), WTN (Canada) and TVNZ). Another critically acclaimed documentary was GEORGIE GIRL, released in 2002 (sales to Channel 4 (UK), POV (PBS), CBC, SBS, Canalplus and TVNZ). Both titles have also garnered major awards in film festivals.

Annie has completed three award-winning films in the last three years, Sheilas: 28 Years On (2004), a history of second-wave feminism in New Zealand; Pacific Solution: From Afghanistan to Aotearoa (2005) and Elgar's Enigma: Biography of a Concerto (2006). She recently received major funding for her new documentary, Tabu Soro.

Goldson is also a writer and has published articles in books and journals such as The Listener (NZ), Landfall, Screen, Semiotext(e) , Social Text, and others. In 2006, her book Memory, Landscape, Dad and Me was released through Victoria University Publications along with a reissue of a DVD of Wake, her 1994 film. She is currently in progress on a book on human rights documentary, After the Fact: Documentary, Human Rights and International Law, which is now under contract with Temple University Press.

Annie has also been director of the biannual New Zealand International Documentary Conference held at the University of Auckland since 1996, and is a trustee on the board of DOCNZ, the New Zealand International Documentary Film Festival. Annie received her PhD in Film and Television Studies from the University of Auckland and is currently Associate Professor at the Department of Film, Television and Media Studies at that institution. (12/07)
Peter Wells
New Zealander Peter Wells is most well-known in his homeland as a writer. He published his first novel, Boy Overboard, in 1997 and has since produced various award-winning works including his first collection of short stories, Dangerous Desires, which won the New Zealand and Reed awards for fiction. Aside from writing stories and essays, Wells is also a film and television director and screenwriter. Some of his film credits include the feature DESPERATE REMEDIES, which was an official selection of the 1993 Cannes Film Festival, and the critically acclaimed shorts JEWEL'S DARL, MY FIRST SUIT, THE MIGHTY CIVIC, and LITTLE QUEEN. Fellow New Zealand filmmaker Niki Caro used a novella of Wells's as inspiration for the feature film MEMORY AND DESIRE. Wells first gained recognition in the film world for A DEATH IN THE FAMILY (1986). He is also responsible for RICORDI!, a dramatization of Katherine Mansfield's Wellington stories, which was commissioned for the 1996 New Zealand Festival of the Arts. (10/09)
YOU MIGHT ALSO BE INTERESTED IN
Mountains that Take Wing: Angela Davis & Yuri Kochiyama
Thirteen years, two radical activist all-stars-one conversation. Internationally renowned scholar, professor and writer Angela Davis and 89-year-old grassroots organizer and Nobel Peace Prize nominee Yuri Kochiyama spent over a decade conversing intimately about personal histories and influences that shaped them and their overlapping experiences. MOUNTAINS THAT TAKE WING offers the gift of these two remarkable women's lives, sharing the pair's recorded exchanges in 1996 and 2008. The film's unique format honors the scope and depth of their knowledge on topics ranging from Jim Crow laws and Japanese American internment camps, to Civil Rights, anti-war, women's and gay liberation movements, to today's campaigns for political prisoners and prison reform. Intercut with compelling period footage, Davis and Kochiyama's cogent observations, keen analyses, and steadfast resolve to create a more equitable, humane world offer inspiring lessons in empowerment and community building for current and future generations.
Learn more
Deep Run
Executive produced by Susan Sarandon, DEEP RUN is a powerful verité portrait of trans life in rural North Carolina. Exiled by her family and rejected by an ex-partner, 17-year-old Spazz has no one to lean on for support. But when Spazz falls in love again and summons up the courage to become Cole, a strong-willed trans-man, his candid humor and steadfast, all-inclusive Christian beliefs counter the bigotry he experiences daily. This deeply personal documentary reveals rebirth and courage within America's deeply conservative Bible Belt as Cole struggles to find a church that will affirm his identity and the couple's relationship. With a small group of supportive friends, relatives, and his girlfriend, Ashley, Cole's search for love and belonging leads him to a radical revision of what faith and church can be. An intimate study of young outsiders in an insular Christian community, DEEP RUN explores the intersection of modern identity and faith in the American South. Essential viewing for LGBTQIA Audiences, Queer and Gender studies classes.
Learn more
Shopping Cart