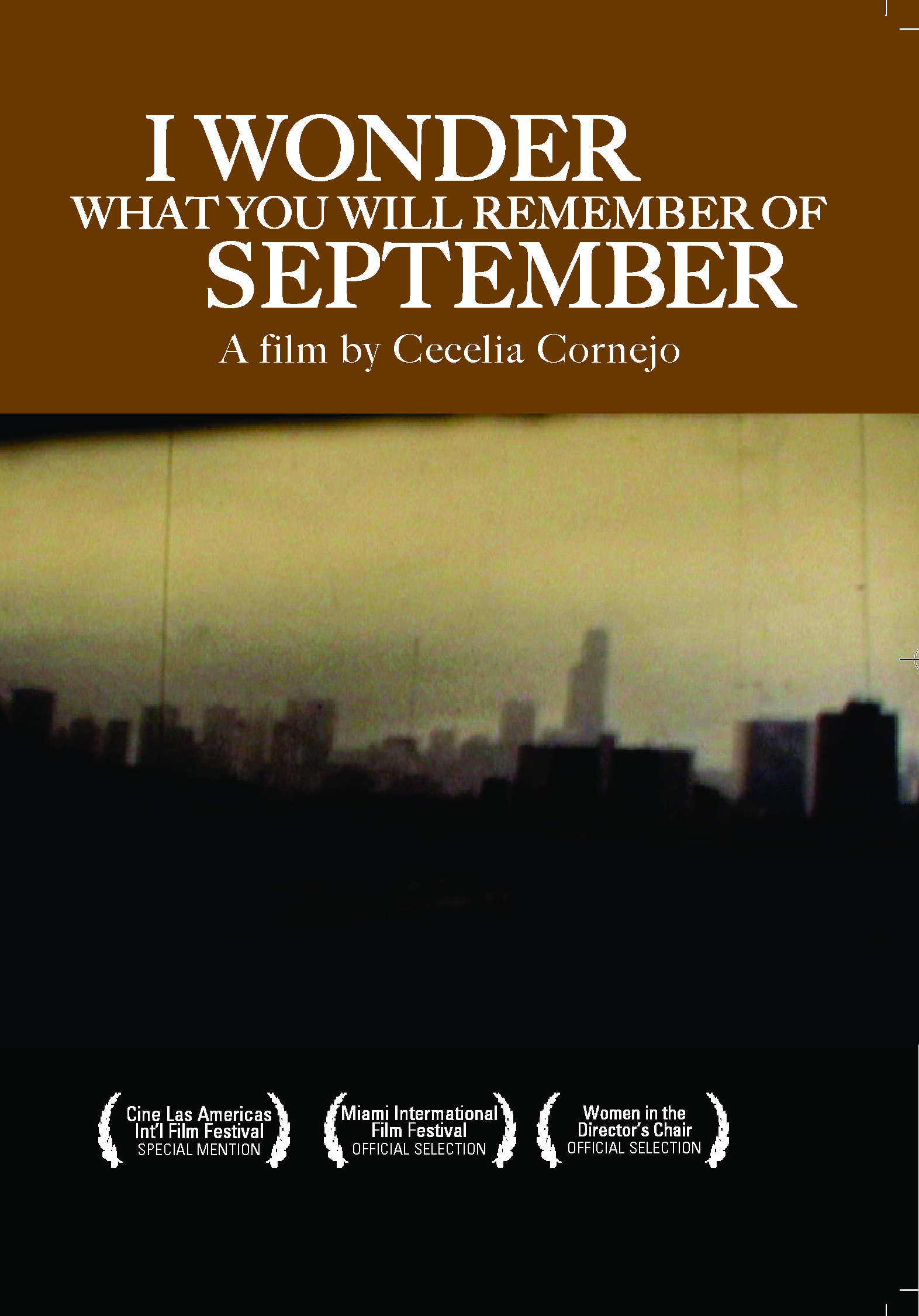 I Wonder What You Will Remember of September
2004 | 27 minutes | Color/BW | DVD | Subtitled | Order No. 05863
SYNOPSIS
Cecilia Cornejo presents a haunting personal response to the events of September 11, 2001, informed and complicated by her status as a Chilean citizen living in the U.S. With evocative imagery from both past and present, Cornejo weaves together her own fading childhood memories, her parents vivid recollections of the September 11, 1973 coup in Chile that brought the notorious dictator Augusto Pinochet to power; and post-9/11 conversations with her own young daughter. The resulting montage thoughtfully explores how personal and collective histories intersect, as well as how trauma is lived, supposedly erased, and passed on from one generation to the next. The filmmaker also alludes to what she believes is a deep contradiction within the American consciousness, one that makes it possible to view the 9/11/01 attacks as tragedy, while failing to interpret "outside" events such as the Chilean coup or the invasion of Iraq as such. Cornejo's mesmerizing experimental film provides a striking new context with which to view the World Trade Center attacks— from the point of view of an immigrant whose home country has endured its own tragedies.
PRESS
"A poetic essay on the nature of historical rapture and its effect on the individual…"
"With intelligence and a gentle lyrical grace, national identities, borders, and familial relationships are negotiated through the lived memories of another September 11: the 1973 Chilean (Allende/Pinochet) coup."
"A graceful haunting work…"
"Beautifully intertwines past and present; emigrants and immigrants; us and them to reinstall memory and remind us there was another September 11: that of Chile, 1973."
"Highly recommended as a complimentary item to documentaries about the military coup against President Allende and the resulting government of General Augusto Pinochet."
SCREENING HIGHLIGHTS AND AWARDS
LASA Award of Merit in Film
Women in the Director's Chair
CineFestival en San Antonio
Camden International Film Festival
International Latino Film Festival, San Francisco
InVideo, Festival of Video Art and Cinema, Milan
L'alternativa, Festival de Cine Independiente de Barcelona
FIDOCS, Festival Internacional de Documentales de Santiago, Chile
1588 Minutes de Cinéma Chilien Documentaire, Paris
MoMA Documentary Fortnight
Gene Siskel Film Center
Barbados International Film and Video Festival
Puerto Vallarta Film Festival
ABOUT FILMMAKER(S)
Cecilia Cornejo
Cecilia Cornejo is a non-fiction filmmaker, teacher, translator, and artist currently living and working in Northfield, MN. She holds a Bachelor's degree in Communications Studies from the University of Iowa and a MFA from the School of the Art Institute of Chicago, where she taught in the Film & Video and Art History departments while also working as an academic advisor.

Cecilia's work lies at the intersection where private and public worlds meet. Through the use of written and visual poetry, combined with documentary techniques, she creates works of non-fiction that bring a personal dimension to the documentary tradition. Her films have been shown nationally and international at venues such as Arsenale, in Berlin, the Museum of Modern Art, in New York, and most recently, at the Minneapolis International Film Festival.

Aside from her artistic practice, and while still living in Chicago, Cecilia was the co-founder of The Nineteenth Step, a collective of artists, teachers and curators who used cinema as a tool to foster a deeper understanding of Latin American culture.

Cecilia recently finished an essay film titled THE SONG OF THE APPRENTICE, which was screened in Madrid in early July as part of a conference on Capitalism and the Role of Culture. In early 2016, Cecilia completed her first feature documentary, MAKE NO NOISE: THE STORY OF A SKATEPARK, which premiered at Cine las Americas International Film Festival. The film chronicles the 17 year-long struggle of the skateboarders of Northfield, Minnesota, to secure a permanent place for their sport and is the first in a trilogy of films. Centered in and around Northfield, the trilogy explores the lives of local people who are removed from the geographic, social, and political heart of the town. Cecilia's next film, currently in pre-production, will focus on issues of displacement and belonging as experienced by the growing, yet invisible, local Latino community. (9/16)
Subject Areas
RELATED LINKS
YOU MIGHT ALSO BE INTERESTED IN
Service: When Women Come Marching Home
Women make up 15 percent of today's military. That number is expected to double in 10 years. SERVICE highlights the resourcefulness of seven amazing women who represent the first wave of mothers, daughters and sisters returning home from the frontless wars of Iraq and Afghanistan. Portraying the courage of women veterans as they transition from active duty to their civilian lives, this powerful film describes the horrific traumas they have faced, the inadequate care they often receive on return, and the large and small accomplishments they work mightily to achieve. These are the stories we hear about from men returning from war, but rarely from women veterans. Through compelling portraits, we watch these women wrestle with prostheses, homelessness, Post Traumatic Stress Disorder and Military Sexual Trauma. The documentary takes the audience on a journey from the deserts of Afghanistan and Iraq to rural Tennessee and urban New York City, from coping with amputations, to flashbacks, triggers and depression to ways to support other vets. An eye-opening look at the specific challenges facing women veterans with a special focus on the disabled, SERVICE can be used for courses in military studies, women's studies, peace and conflict courses and veteran support groups.
Learn more
Shopping Cart