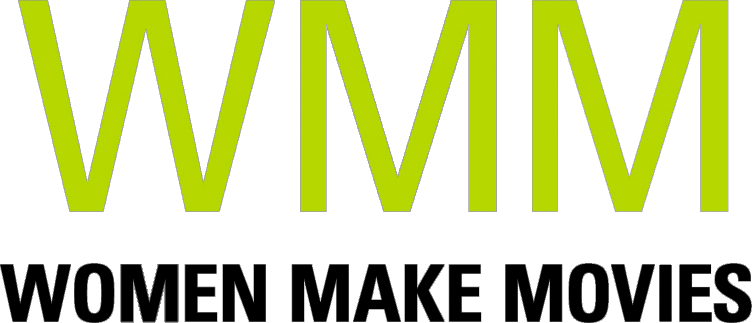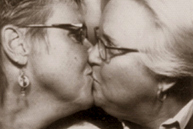 In Sickness and In Health
2007 | 56 minutes | Color | DVD | Order No. 09952
SYNOPSIS
A deeply affecting film by newcomer Pilar Prassas and edited by Peter Heacock, In Sickness and In Health cuts through abstract ideologies, politics, and legalities to the human heart of the same-sex marriage debate in this amazing story of love, hope, and courage.

In 2002, filmmaker Pilar Prassas began following seven couples in their effort to legalize same-sex marriage in the state of New Jersey. Two years into filming, however, plaintiff Marilyn Maneely, mother of five, was diagnosed with the incurable, terminal disease Amyotrophic Lateral Sclerosis, also known as Lou Gehrig's Disease. On the day Marilyn passed away, her life partner of 14 years, Diane Marini, was not even allowed to sign her death certificate.

In traditional marriage vows, "'til death do us part" is the phrase that follows "in sickness and in health," but to many gay and lesbian Americans, saying these words and enjoying their subsequent rights is not an option. With a tender touch, Prassas delicately balances tragedy and triumph in this film about the civil rights issue of our time—the fight to marry, and care for, the ones we love, in sickness and in health.
PRESS
" *** ½. Highly recommended…. This moving film puts a human face on an important issue."
"A moving narrative that engages the viewer on a deeper level of understanding of what the fight is all about."
"May the State declare who can be your soul mate in life—and in death? Puts human faces on the abstract academic debate about the social taxonomy of relationships. Its length, its sensitivity, and its clarity make it perfect for students learning about social and legal issues."
SCREENING HIGHLIGHTS AND AWARDS
Philadelphia International Gay and Lesbian Film Festival, Jury Award for Best Documentary & Festival Favorite
Reel Affirmations - DC Gay and Lesbian Film Festival, Best Documentary
Southwest Gay and Lesbian Film Festival, Audience Award Best Documentary
Austin Gay and Lesbian Film Festival, TX
Boston Gay and Lesbian Film Festival
International Black Women's Film Festival
Miami Gay and Lesbian Film Festival
New Fest: The New York LGBT Film Festival
Outfest: The Los Angeles Gay & Lesbian Film Festival
Reel Identities LGBT FF, New Orleans
Rochester Lesbian & Gay Film Festival
Santa Fe Film Festival
Scribe Video Center, PA
SF Women's Film Festival
Tampa International Gay and Lesbian Film Festival
The Berkshire Women for Women Worldwide
Through Women's Eyes Film Festival
ABOUT FILMMAKER(S)
Peter Heacock
Heacock studied film production at New York University's Tisch School of the Arts where he graduated in 2001 as a University Honors Scholar. While studying under renowned documentary filmmaker George Stoney, Peter directed and shot The Glen of the Downs, an award-winning film about the first international environmental protest in Ireland. Immediately after graduating from NYU, Peter returned to Philadelphia to work as an experimental filmmaker in galleries around the city.

He is now running First Capital Pictures, an advertising organization that focuses on innovative campaigns for the web. He has also delved into the world of Vine and has a very large following. He is interested in the grey area between traditional advertising and social media. (8/14)
Pilar Prassas
Prassas is a storyteller at heart. With her Broadcast Journalism degree from Boston University, Prassas enjoys bringing other people's stories to life. The documentary IN SICKNESS AND IN HEALTH was a gift that Prassas was given by her main character --the late Marilyn Maneely. Shooting inside the window of Maneely's life has allowed Prassas to attach a human face to a social and political issue. Her goal with her first feature-length film is to create visual opportunity for people to look outside their own eyes, minds and lives. The building blocks for her career came from her experience as a scriptwriter for the Sydney 2000 Olympic Games, a producer for WEEI Sports Talk Radio, a feature writer for Sports Club Magazine and her current position at Reuters, the World's News Leader. (07/12)
YOU MIGHT ALSO BE INTERESTED IN
Love the Sinner
LOVE THE SINNER is a personal documentary exploring the connection between Christianity and homophobia in the wake of the 2016 shooting at Pulse nightclub in Orlando. Queer filmmaker Jessica Devaney grew up deeply immersed in Evangelical Christianity in Florida. After breaking with her youth as a nationally recognized activist and leader among conservative Evangelicals, Jessica left Florida and didn't look back. She built a life that took her as far away from home as possible. Over time, her daily life became a progressive echo chamber. The mass shooting at Pulse was a wakeup call. By avoiding hard conversations with church leadership, had she missed opportunities to challenge homophobia? LOVE THE SINNER probes our responsibility to face bias in our communities and push for dignity and equality for all.
Learn more
Shopping Cart