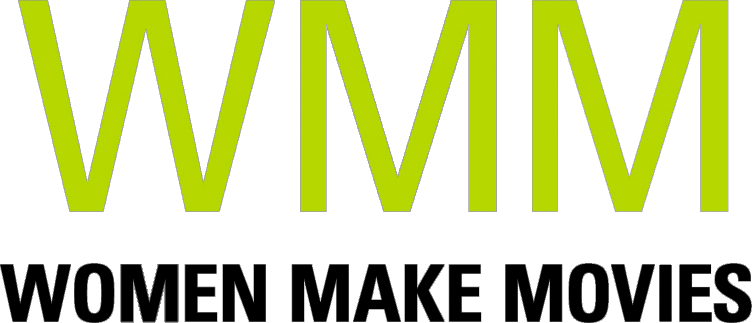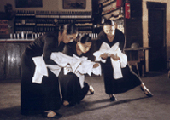 Canada | 2003 | 52 minutes | Color | DVD | Spanish | Subtitled | Order No. 04844
SYNOPSIS
On September 11, 1973, a military coup in Chile brought Augusto Pinochet to power, and over the next 17 years, thousands of women and men were taken from their homes- never to return. Since that time, Chilean women have danced the country's traditional courtship dance alone, and LA CUECA SOLA has become a symbol of women's struggle against the dictatorship.

After 30 years in exile, critically acclaimed filmmaker Marilu Mallet returns to Santiago to meet with five Chilean women from three generations who suffered under the dictatorship and have emerged as heroes under democracy. Isabel Allende, Monique Hermosilla, Estela Ortiz, Carolina Toha and Moyenei Valdes all lost a father, a husband, or a friend, but have surmounted their grief to bravely speak out, each in their own way- from political action to vocal performance. Intimate interviews reveal the women's shocking experiences under the dictatorship, while inspiring footage of their current work highlights their passion to rebuild. Illustrating throughout with a wealth of archival images, Mallet paints a vivid portrait of the country's painful past and offers insight on Chile's situation today. Important historically, socially and politically, this moving film expresses both the courage of women and the vitality of a nation.
PRESS
"Recommended...focuses on the strength of women fighting for their loved ones as well as their participation in rebuilding a democracy."
"A moving meditation, it provides both political history and personal testimony to the memory of assassination and torture. Significantly, it also engages the gendered politics of resistance, the restoration of dignity, and the capacity, with extraordinary bravery, to move transformatively into the future with both strength and the memory of those past horrors."
"In La Cueca Sola, Mallet returns to her native Chile, to retrace and redraw an old landscape of memory with the multicolored life stories of life-long friends who, like herself, have danced about loss with integrity and courage, even when they had no choice but to dance it alone. The result is as exhilarating as it is healing."
SCREENING HIGHLIGHTS AND AWARDS
Cine Las Americas - Audience Award
CineFestival en San Antonio
Hot Docs - Best Canadian Doc, Best Direction (Canadian Spectrum)
Puerto Vallarta Film Festival
Rencontres Internationales du Documentaire de Montreal
ABOUT FILMMAKER(S)
Marilu Mallet
Born in Santiago, Chile in 1944, Marilú Mallet is a filmmaker and writer who came to Quebec as a political refugee after the coup d'état against President Salvador Allende in 1973. Unlike many refugees, she had grown up wealthy, lived in a large, beautiful home and had been a part of Chilean high society. Her father was the Minister of Education for Chile and a close friend of Salvador Allende. Through him she frequented the political elite of the country and even called Allende her uncle. Her mother, a painter, initiated Marilú to the arts at an early age.


The immigrant experience has been central to Mallet's other films including LES BORGES (1978), about a family that had immigrated to Montréal from Portugal in 1967;IL N'Y A PAS D'OUBLI (1975), which presents the lifestyle of a group of exiled Chileans living in Quebec; and CHÈRE AMÉRIQUE (1989), about two Montréal women - a young Quebec woman struggling with the conflicting desires to have children and to pursue a musical career and an older woman, Céleste, of Portuguese descent, who has sacrificed the love of her children to make her fortune in America.

Mallet has also written two collections of novellas, "Les Compagnons de l'horloge-pointeuse" (1981) and "Miami Trip" (1986). The stories of the first book are centred in the cataclysmic events leading up to and after the overthrow of the Allende government. The stories of Miami Trip focus on the tension, misunderstandings and frustrations inherent in relationships.

Mallet's recent projects include LA CUECA SOLA (2003), in which the filmmaker returns to Chile and tells the tragic yet uplifting stories of five women of different generations who suffered under Augusto Pinochet's dictatorship and emerged as heroes under democracy. Currently Mallet is working on a fictional film entitledAtacama. It is set in the Atacama Desert of Chile, a sparsely populated virtually rainless plateau, running from the Pacific Ocean to the Andes Mountains.

Marilú Mallet has now lived in Quebec for some 30 years, so her struggles to adapt to the culture and language are now behind her. Considering too that the changing political climate of Chile in recent years has made it a friendlier place to visit, it would seem that Marilú's isolation is in the past and her future is bright. (8/14)
Subject Areas
RELATED LINKS
YOU MIGHT ALSO BE INTERESTED IN
Children of Memory (Niños de la Memoria)
Hundreds of children disappeared without a trace during the Salvadoran civil war. Many were survivors of massacres carried out by the U.S.-trained Salvadoran army. Taken away from the massacre sites by soldiers, some grew up in orphanages or were "sold" into adoption abroad, not knowing their true history or identity. The film follows Margarita Zamora, an investigator with human rights organization Pro-Búsqueda as she traverses the Salvadoran countryside probing memory, swabbing DNA samples, and searching for disappeared children - including her own four siblings. In the United States, Jamie Harvey, adopted from El Salvador in 1980, dreams of locating her birth family; but with no information, no contacts and no access to the Salvadoran military war archives, she is losing hope. CHILDREN OF MEMORY weaves together separate yet intertwined journeys in the search for family, identity and justice in El Salvador.
Learn more
Shopping Cart