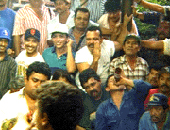 Scotland/Nicaragua | 2000 | 26 minutes | Color | DVD | Subtitled | Order No. 01716
SYNOPSIS
In 1998, Managua, Nicaragua became host to one of the most publicized and controversial cases of sexual abuse to hit modern day Latin America. At the epicenter of the scandal stood none other than Nicaraguan Sandinista leader and ex-President Daniel Ortega. Revered as a revolutionary hero and symbol of military strength, Ortega was accused on multiple charges of rape and battery by his stepdaughter, Soilamerica Narvaez. Despite Ortega's eventual acquittall--he was granted immunity from prosecution as a member of the legislature--a group of pioneering men rallied around the episode to organize a radical campaign against domestic violence and sexual abuse. Their efforts eventually led to the formation of the internationally acclaimed organization, Men Against Violence. MACHO, a film by Lucinda Broadbent, provides an in-depth profile of Men Against Violence and its ground-breaking work towards eliminating attitudes of male chauvinism (known as machismo in Spanish) that have perpetuated violent acts against women in Nicaragua and Latin America. The film strongly demonstrates that despite living in one of the most destitute countries in Latin America, this group has succeeded in providing a model that is used by men worldwide to discuss issues of violence and advocate for the rights of women. MACHO offers a rare glimpse at the methods used by Men Against Violence to discuss the abuse of power and the damage it causes families and communities. It also is a powerful film that challenges assumptions about "machismo" and its continued application to Latino culture. In the end, MACHO demonstrates that violence against women and sexual abuse is a worldwide epidemic that needs to be addressed by all men in every country.
PRESS
"Disturbing...illuminating"
"Inspirational portrayal of a small group of men in the war-thorn country of Nicaragua who went against their own machismo culture to stop the violence against women. 'Macho' depicts the courage, vulnerability and the unifying effort needed to address domestic violence on a national level."
"Featuring moving testimonies from men who are perpetrators of violence but trying to change their behavior, this video demonstrates a fresh approach to the universal problem of men behaving badly."
"Revelatory..and heartbreaking. Offers a fresh look on the universal problem of men behaving badly --from the last place on earth you'd expect."
SCREENING HIGHLIGHTS AND AWARDS
Barcelona Women's Film Festival
Women in Film and TV Film Festival, London
ABOUT FILMMAKER(S)
Lucinda Broadbent
Lucinda has worked for over 20 years as a Director and Executive Producer of UK and international documentaries for Channel 4, BBC, Scottish Television and Sky. She specialized in human rights and social justice films. Her prizes include Amnesty International's Media Award and ECHO Human Rights Award.

One of the founder members of media co-op, she's also been involved in founding a number of feminist, LGBT, solidarity and peace activist groups and campaigns, as well as a housing co-operative. She's on the Board of Positive Action in Housing and was Branch Secretary of her trade union BECTU, Chair of the Board of Directors of Glasgow Media Access Centre, a Board Member of Glasgay, and elected Board Member the European Documentary Network.

She has been a Skillset careers advisor and a mentor for Scotland's Screen Academy, the Prince's Trust and SCVO's Equalities program. She's a tutor on international forums for emerging documentary filmmakers in the Middle East and Asia.

Lucinda loves her bicycle and she grows geraniums and potatoes on the roof of her flat. (8/14)
YOU MIGHT ALSO BE INTERESTED IN
Private Violence
Emmy-nominated PRIVATE VIOLENCE explores a simple but deeply disturbing fact of American life: the most dangerous place for a woman in America is her own home.
Learn more
Shopping Cart