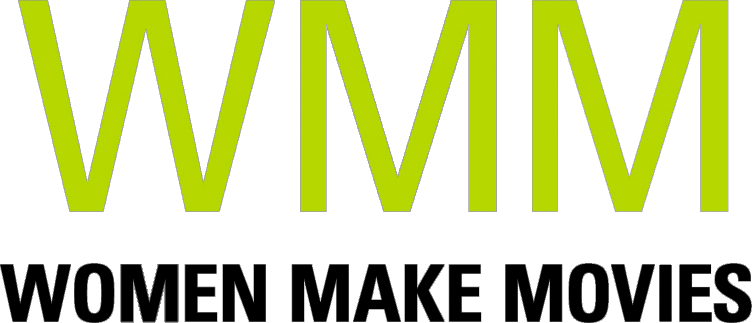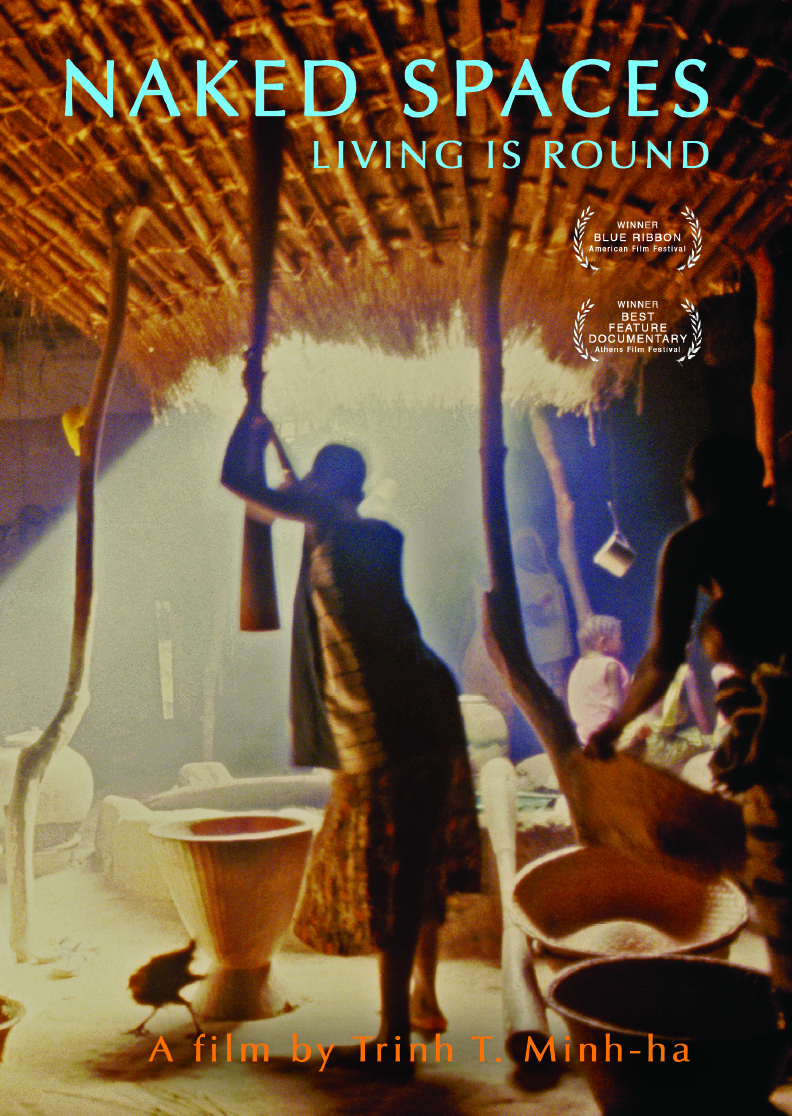 Naked Spaces
Living is Round
1985 | 135 minutes | Color | 16mm/DVD | Order No. 99376
SYNOPSIS
Shot with stunning elegance and clarity, NAKED SPACES explores the rhythm and ritual of life in the rural environments of six West African countries (Mauritania, Mali, Burkino Faso, Togo, Benin and Senegal). The nonlinear structure of NAKED SPACES challenges the traditions of ethnographic filmmaking, while sensuous sights and sounds lead the viewer on a poetic journey to the most inaccessible parts of the African continent: the private interaction of people in their living spaces.
PRESS
"Trinh's images are as unpretentious as home movies…there are times in Naked Spaces when representation decom-poses into isolated details and pure sensation. More than a mosaic of impressions however, the film is nonlinear, de-centered, and deliberately unsettling."
"A narrative full of poetic pronouncements mourns the loss of traditions and argues that the word primitive is misapplied to tribal life."
"Breathtaking in their tactile beauty, the images seem to be edited in an almost intuitively associational process... the silences which punctuate the sound track are like another voice inviting us simply to look and look again."
SCREENING HIGHLIGHTS AND AWARDS
American Film Festival, Blue Ribbon
Athens Film Festival, Gold Athena
Edinburgh Film Festival
Great Basin Film Society
Toronto Festival of Festivals
Vancouver Film Festival
Whitney Museum of Art, Biennial Exhibition
ABOUT FILMMAKER(S)
Jean-Paul Bourdier
Jean -Paul Bourdier is a French-born photographer who lives in California. He is the author of Leap into the Blue (2013), Bodyscapes, 2007, co -authored by Trinh T. Minh. Bourdier was also production designer for seven films and co - director of two with Trinh Minh. Bourdier has won the Guggenheim, American Council of Learned Societies, NEA, Graham, UC President's Humanities and Getty awards. He is also a Professor of Architecture, Photography and Visual Studies at UC Berkeley.

One of the main interests Bourdier's works is that in the age of digital photography. He uses analogue photography. His tools are the human body, paint, landscapes and a camera. Everything you see is actually happening at the time and the space in front of the camera, an example of his skills as a photographer, a vivid imagination and a strong will to devote the time and energy necessary to perform these great pictures. Bourdier creates a surreal world of surprising and unexpected color with highlights and fascinating beauty.

Jean -Paul Bourdier does not shoot randomly. His photographs planned out thoroughly, and later represented by a handful of models. These are not professional, great beauties that cause a strong visual effect, but ordinary people who blend into the landscape to achieve the desired effect by the artist. (8/14)
Trinh T. Minh-ha
Born in Vietnam, Trinh T. Minh-ha is a filmmaker, writer and music composer. Her works include: eight films: FORGETTING VIETNAM (90 mins, 2015), NIGHT PASSAGE (98mins narrative, 2004), THE FOURTH DIMENSION (87 min Digital Video, 2001), A TALE OF LOVE (108 mins, 1995), an experimental narrative, SHOOT FOR THE CONTENTS (102 mins, 1991), a film on culture, art and politics in China, SURNAME VIET GIVEN NAME NAM (108 mins, 1989), a film on identity and culture through the struggle of Vietnamese women, NAKED SPACES - LIVING IS ROUND (135 mins, 1985), and REASSEMBLAGE (40 mins, 1982); twelve books: including Lovecidal. Walking with The Disappeared (2016), D-Passage. The Digital Way (2013), Elsewhere Within Here (Immigration, Refugeeism and The Boundary Event, 2010); The Digital Film Event (2005), Cinema Interval (1999), Framer Framed (on film, 1992), When the Moon Waxes Red, (on representation, gender and cultural politics, 1991), Woman, Native, Other (on post-coloniality and feminism, 1989), En minuscules (poems, 1987), and in coll. with Jean-Paul Bourdier, A World in Dwelling (2011), Habiter un monde (Paris, 2006), Drawn from African Dwelling (1996), African Spaces - Designs for Living in Upper Volta (1985); and four large-scale multi-media installations: Nothing But Ways (in coll. with L M Kirby, 1999, Yerba Buena Center for the Arts, San Francisco), The Desert is Watching (in coll. with Jean-Paul Bourdier, 2003, Kyoto Art Biennale), L'Autre marche (The Other Walk) June 2006 until 2009 at the new Musée du Quai Branly in Paris (France, also in coll. with J-P Bourdier), and Old Land New Waters that was commissioned for the opening of the Okinawa Fine Arts Museum in November 2007; exhibited anew in 2009 and was also showing at the Guangzhou Art Triennial in China (Sept 6 to Nov 16, 2008).

The recipient of numerous awards and grants (including the 2014 Wild Dreamer Lifetime Achievement Award from the Subversive Festival in Zagreb, Croatia; the 2012 Women's Caucus for Art Lifetime Achievement Award; the "Trailblazers" Award at MIPDOC, Cannes; AFI National Independent Filmmaker Maya Deren Award, fellowships from the Guggenheim Foundation, the National Endowment of the Arts, the Rockefeller Foundation, the American Film Institute, The Japan Foundation, and the California Arts Council), her films have been given over forty eight retrospectives in Argentina, Croatia, Columbia, Mexico, Finland, Brazil, Canada, Italy, Korea, Spain, the Netherlands, Slovenia, France, Germany, Switzerland, Austria, Japan, India, Taiwan, Hong Kong, Australia, the UK, the US, and were exhibited at the international contemporary art exhibition Documenta 11 (2002) in Germany. They have shown widely in the States, in Canada, Senegal, Australia, and New Zealand, as well as in Europe and Asia (including in Italy, Belgium, Spain, Sweden, Finland, Japan, India, Taiwan, Jerusalem. REASSSEMBLAGE was initially exhibited at The New York Film Festival (1983) and had toured the country with the Asian American Film Festival among numerous other festivals. NAKED SPACES received the Blue Ribbon Award for Best Experimental Feature at the American Int'l. Film Festival and the Golden Athena Award for Best Feature Documentary at the Athens International Film Festival in 1986; it toured nationally and internationally with the 1987 Biennial of the Whitney Museum of American Art. SURNAME VIET GIVEN NAME NAM has received the Merit Award from the Bombay International Film Festival, the Film as Art Award from the Society for the Encouragement of Contemporary Art (SF Museum of Modern Art) and the Blue Ribbon Award at the American Film and Video Festival. SHOOT FOR THE CONTENTS won the Jury's Best Cinematography Award at the 1992 Sundance Film Festival and the Best Feature Documentary Award at the Athens International Film Festival, and toured internationally with the 1993 Biennale of the Whitney Museum. A TALE OF LOVE showed internationally in over twenty-four film festivals, including Berlin and Toronto. THE FOURTH DIMENSION (Locarno, Viennale, Edinburg, London) and NIGHT PASSAGE continue to exhibit widely (UK, Austria, Spain, Japan, Korea, Shanghai).

Trinh Minh-ha has traveled and lectured extensively - in the States, as well as in Europe, Asia, Australia and New Zealand - on film, art, feminism, and cultural politics. She taught at the National Conservatory of Music in Dakar, Senegal (1977-80); at universities such as Cornell, San Francisco State, Smith, and Harvard, Ochanomizu (Tokyo), Ritsumeikan (Kyoto), Dongguk (Seoul); and is Professor of Gender & Women's Studies and of Rhetoric at the University of California, Berkeley. (4/16)
Subject Areas
RELATED LINKS
YOU MIGHT ALSO BE INTERESTED IN
Forgetting Vietnam
One of the myths surrounding the creation of Vietnam involves a fight between two dragons whose intertwined bodies fell into the South China Sea and formed Vietnam's curving S-shaped coastline. Influential feminist theorist and filmmaker Trinh T. Minh-ha's lyrical film essay commemorating the 40th anniversary of the end of the war draws inspiration from ancient legend and from water as a force evoked in every aspect of Vietnamese culture. Minh-ha's classic Surname Viet Given Name Nam (1989) used no original footage shot in the country; in Forgetting Vietnam images of contemporary life unfold as a dialogue between land and water—the elements that form the term "country." Fragments of text and song evoke the echoes and traces of a trauma of international proportions. The encounter between the ancient as related to the solid earth, and the new as related to the liquid changes in a time of rapid globalization, creates a third space of historical and cultural re-memory—what local inhabitants, immigrants and veterans remember of yesterday's stories to comment on today's events.
Learn more
Shopping Cart