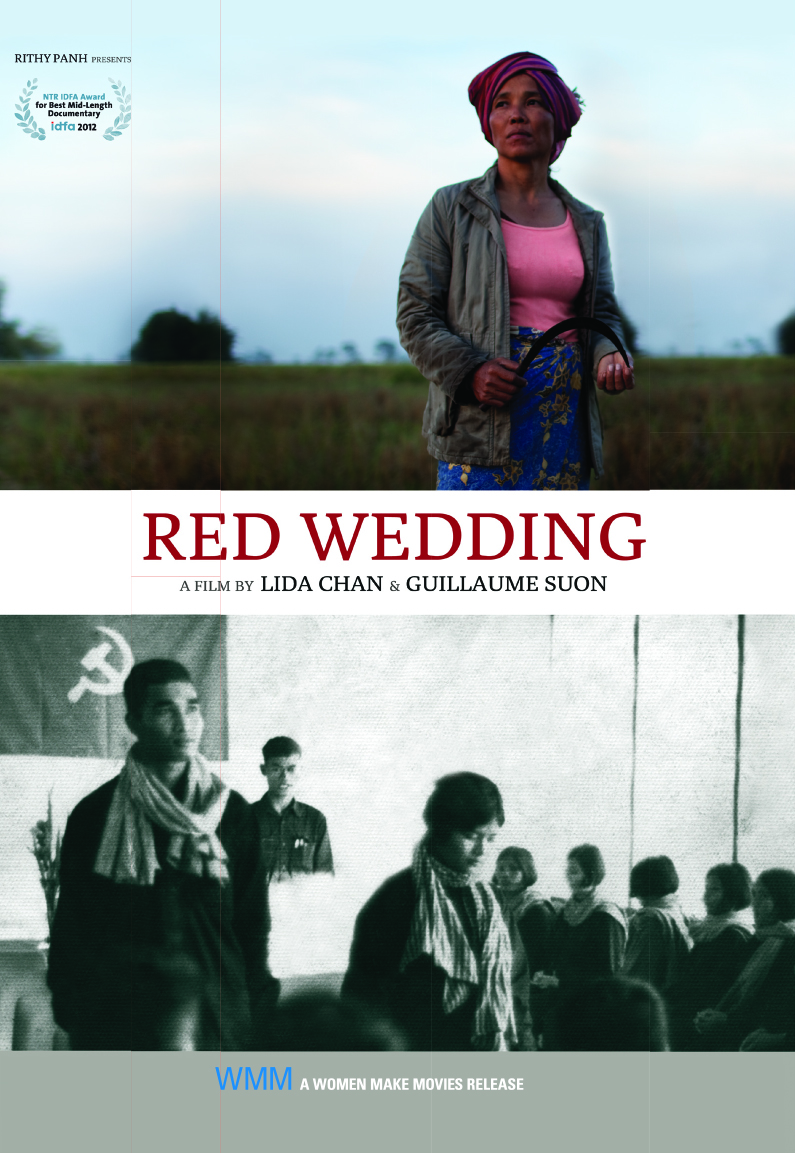 Red Wedding: Women Under the Khmer Rouge
Cambodia | 2012 | 58 minutes | Color | DVD | Khmer | Subtitled | Order No. 131101
SYNOPSIS
The Killing Fields in Cambodia became known to the world but little is known about the struggles of the women left behind. From 1975-79, Pol Pot's campaign to increase the population forced at least 250,000 young Cambodian women to marry Khmer Rouge soldiers they had never met before. Sochan Pen was one of them. At 16, she was beaten and raped by her husband before managing to escape, though deeply scarred by her experience. After 30 years of silence, Sochan is ready to file a complaint with the international tribunal that will try former Khmer leaders. With quiet dignity, she starts demanding answers from those who carried out the regime's orders. To tell a story little known outside Cambodia, Cambodian Lida Chan and French-Cambodian Guillaume Suon include Khmer Rouge era footage underscoring war's traumatic legacy for Sochan's generation of women. Awarded two prizes at Amsterdam's prestigious International Documentary Film Festival, RED WEDDING demonstrates the liberating power of speech and memory in the quest for justice.
PRESS
"3 1/2 stars. A powerful documentary on both an emotional and intellectual level, this is highly recommended."
"Combines all the elements of a great documentary: a powerful historical episode, retold from an unexpected angle, and a first-rate photography."
"Subtly and poetically illuminates the absolute necessity of a country to shine the light on the truth about its own history."
"The story of a survivor who pits humanity against an ideology and a system designed to annihilate people like her."
SCREENING HIGHLIGHTS AND AWARDS
FreedomFilmFest, Kuala Lumpur, Best SEA Human Rights Film
International Documentary Film Festival Amsterdam (IDFA), NTF IDFA Award for Best Mid-Length Documentary
Geneva Human Rights Film Festival, WorldView Award
Aljazeera International Documentary Film Festival, Aljazeera Golden Award (mid-length competition)
Gdansk DocFilm Festival, Poland, Jury Award
Human Rights Human Dignity International Film Festival, Burma, Special Jury Award
Rencontres internationales du documentaire de Montréal (RIDM)
This Human World, Austria
Watch Docs, Warsaw
Cambodia International Film Festival
ABOUT FILMMAKER(S)
Lida Chan
Lida Chan is a young Cambodian filmmaker. She joined Bophana Center in 2006, where, as an archivist, she specializes in the analysis of Khmer Rouge archives. She also works as a radio journalist for RFI (Radio France International), where she covered the trial of former Khmer Rouge cadre Duch.
In 2010, she attended a workshop on documentary filmmaking directed by Cambodian filmmaker Rithy Panh. She then made her first short documentary, My Yesterday Night, which poignantly portrays a former female bar singer in Phnom Penh.

Lida intends to focus on the status of women in Cambodia. By giving them a voice, she places herself as an observer of the new Cambodian society. (4/13)
Guillaume Suon
Guillaume Suon is a young French-Cambodian filmmaker. For more than 4 years, he has worked with Cambodian filmmaker and producer Rithy Panh, directing documentary films about Cambodia's history and contemporary society.

His first film, About My Father, reached a national audience of 100,000 people, was screened in a dozen of international film festivals, and broadcast on the international French-speaking television channel TV5 Monde.

Guillaume Suon is an alumni of the Berlinale Talent Campus and a fellow of the Sundance Institute and the IDFAcademy. (4/13)
Subject Areas
RELATED LINKS
YOU MIGHT ALSO BE INTERESTED IN
People Are the Sky
Director Dai Sil Kim-Gibson (
MOTHERLAND CUBA KOREA USA
) is the first Korean American filmmaker to be given official permission by the North Korean government to film inside its borders. In PEOPLE ARE THE SKY, Kim-Gibson's eighth and most personal film, the filmmaker makes a pilgrimage to her place of birth in North Korea for the first time in nearly 70 years, to explore if it is still home. Kim-Gibson seamlessly weaves her own personal story as a native born North Korean, with the fractious history of the North/South division and pinpoints the roots of North Korean's hatred of the United States, giving Americans a much better understanding of the conflict. A mix of interviews epic images and graceful musings, PEOPLE ARE THE SKY offers some of the best political and social history of the relations between North and South Korea, and also a contemplative exploration of the meaning of home. The result is unprecedented, at times startling, for hers is an up close look of the hurts and desires, beauty and contradiction, pride and aspirations of the long held demonized nation.
Learn more
Shopping Cart