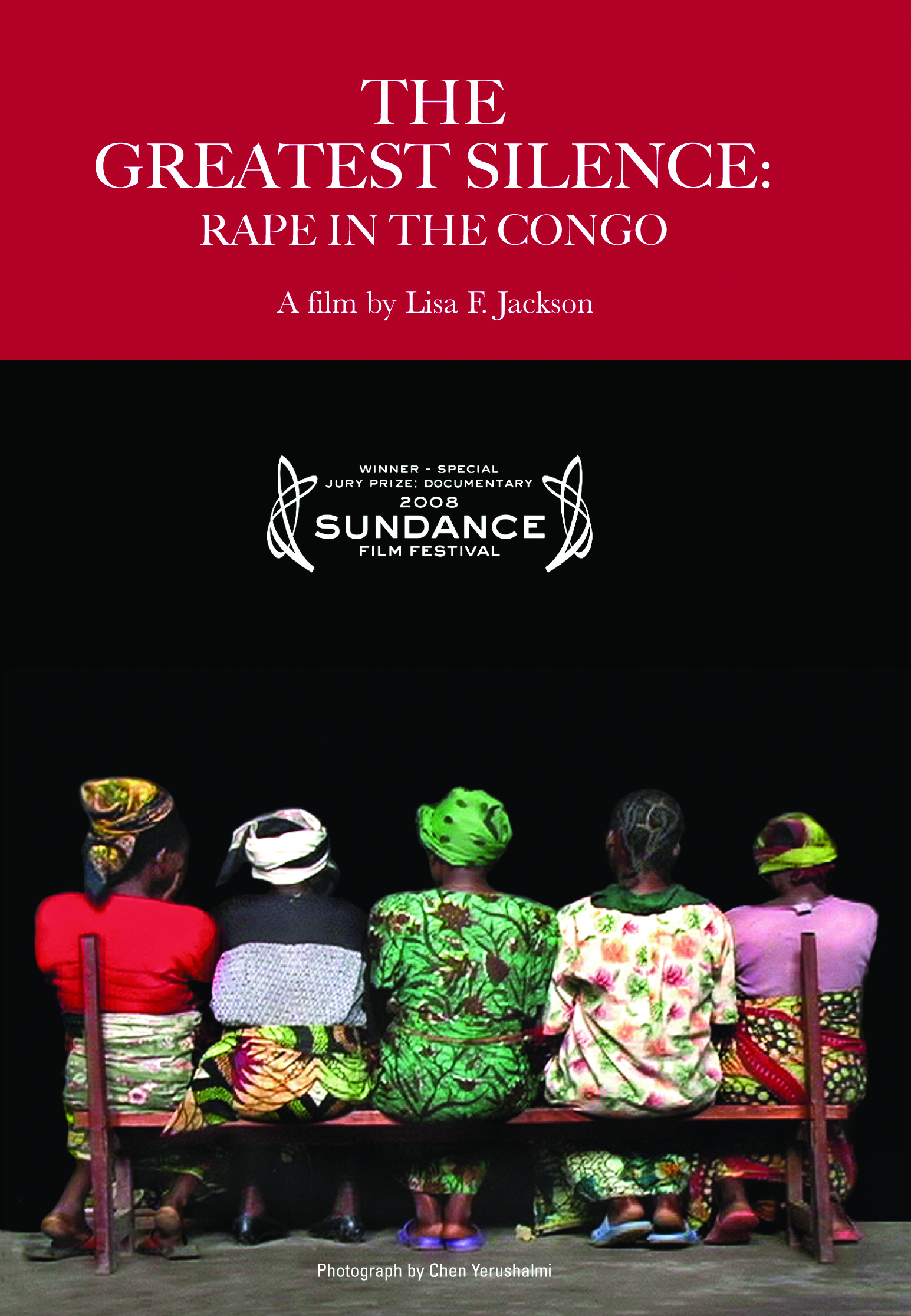 The Greatest Silence: Rape in the Congo
2007 | 76 minutes | Color | DVD | French, Swahili, Lingala, Mashi | Subtitled | Order No. 09930
SYNOPSIS
Winner of the Sundance Special Jury Prize in Documentary and the inspiration for a 2008 U.N. Resolution classifying rape as a weapon of war, this extraordinary film, shot in the war zones of the Democratic Republic of Congo (DRC), shatters the silence that surrounds the use of sexual violence as a weapon of conflict. Many tens of thousands of women and girls have been systematically kidnapped, raped, mutilated and tortured by soldiers from both foreign militias and the Congolese army. A survivor of gang rape herself, Emmy Award®-winning filmmaker Lisa F. Jackson travels through the DRC to understand what is happening and why. Produced in association with HBO Documentary Films and the Fledgling Fund, this film features interviews with activists, peacekeepers, physicians, and even-chillingly-the indifferent rapists who are soldiers of the Congolese Army. Harrowing moments of the film come as dozens of survivors recount their stories with an honesty and immediacy that is pulverizing in its intimacy and detail, but this powerful film also provides inspiring examples of resiliency, resistance, courage and grace. **Emmy Award Nominee for Outstanding Informational Programming: Long Form and Outstanding Individual Achievement in a Craft: Writing**
PRESS
"Highly Recommended. Jackson has created an extraordinary document that gives voice to the silent, and that asks the profound question 'If a society can't protect women and kids, what kind of society is that?"
"Captures the stark reality of women's and girls' suffering and untold courage… You will never think about conflict in gender-neutral terms again."
"4 Stars. A moving, powerful, and deeply disturbing documentary. ...fills a crucial information void...Highly Recommended, Editor's Choice"
"This film will long endure. A brave, extraordinary film in the great, courageous tradition of all who've spoken up for the rights of women for centuries."
"Impressive…shows not only in candid and unapologetic detail the psychological trauma and horror endured by individual rape survivors, but also its broader cultural implications."
"Exceptional lensing throughout this distressing and disturbing documentary."
"Harrowing and heart-rending and maddening and confounding."
"[A] documentary of the highest calling."
"An important tool for waking up the sleeping consciousness of humanity that continues to allow such injustices on women and children to go unchecked and unreported."
SCREENING HIGHLIGHTS AND AWARDS
Sundance Film Festival, Special Jury Prize: Documentary
Gracie Award, Outstanding Documentary - Long Format
Emmy Award Nominee in Outstanding Informational Programming: Long Form and Outstanding Individual Achievement in a Craft: Writing
London Human Rights Watch Film Festival, Best of Fest
One World Slovakia Doc Film Festival, Best of Fest
Int'l Black DocuFest, Best Human Rights Watch Documentary
Roma Independent Film Festival, Best Documentary
Reel Awareness Amnesty Int'l Human Rights FF, Best Documentary
Int'l Film Forum & Festival on Human Rights, Geneva
Rwanda Film Festival
Human Rights Watch Int'l Film Festival, NY
Seattle Human Rights Watch Film Festival
Montreal Human Rights Film Festival
One World Int'l Human Rights Doc Film Festival, Prague
San Francisco Human Rights Watch Int'l Film Festival
High Falls Film Festival
Indianapolis Film Festival
Addis Int'l Film Festival on Rights and Justice, Addis Ababa
Sarajevo, Bosnia and Herzegovina, Pravo Ljudski Human Rights Film Festival
Human Rights Watch Int'l Traveling Film Festival, Int'l House, PA
Women's Film Festival, VT
Cinema Arts Centre, NY
ABOUT FILMMAKER(S)
Lisa F. Jackson
Lisa F. Jackson has been making documentary films for over 30 years, work that has brought her awards that include two Emmy awards and a Sundance Jury Prize. SEX CRIMES UNIT, her most recent film, is an unprecedented verite portrait of prosecutors in the Manhattan District Attorney's Office as they work to bring justice to victims of sexual violence. Jackson shot her last documentary in the war zones of the Democratic Republic of the Congo. THE GREATEST SILENCE: RAPE IN THE CONGO exposes the horrifying fate of women and girls in an intractable war. It won a Special Jury Prize for Documentaries at the 2008 Sundance Film Festival, earned 2 Emmy nominations and was broadcast on HBO.

Jackson studied filmmaking at MIT with Richard Leacock and has directed and/or edited dozens of films for PBS including: Voices and Visions: Emily Dickinson. She has screened her work and lectured at the Columbia University School of Journalism, Brandeis, Purdue, NYU, Yale, Notre Dame and Harvard University and was a visiting professor of documentary film at the School for Visual Arts in Manhattan. (8/14)
Subject Areas
RELATED LINKS
YOU MIGHT ALSO BE INTERESTED IN
Shopping Cart