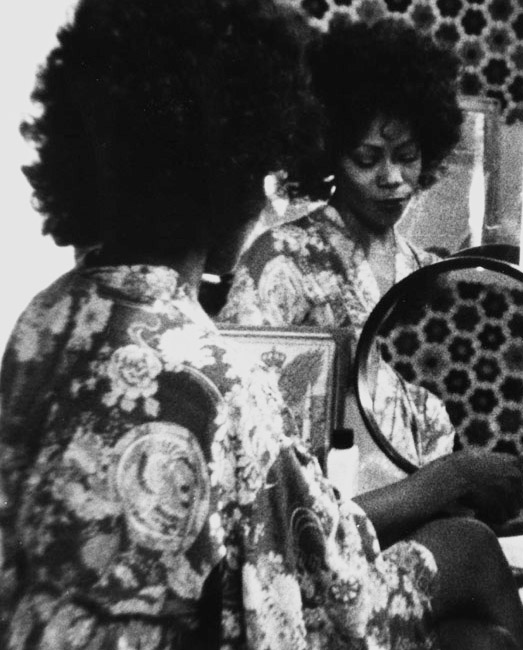 Great Britain | 1977 | 92 minutes | Color | DVD | Order No. 00656
SYNOPSIS
Laura Mulvey, author of the seminal essay Visual Pleasure and Narrative Cinema , helped to establish feminist film theory as a legitimate field of study. With Peter Wollen, she directed one of the most visually stimulating, theoretically rigorous films to emerge from the 1970s. RIDDLES OF THE SPHINX is a landmark fusion of feminism and formal experimentation that seeks to create a non-sexist film language. Its title figure, the legendary creature of antiquity, terrorized Thebes and self-destructed only after Oedipus correctly answered her riddle. Invoking and challenging traditional interpretations of the Oedipus story as a movement from matriarchal culture to patriarchal order, the film also probes representation in film itself. The central narrative section, about Louise, a middle-class woman, and her four-year-old daughter Ana, is an inquiry into the arbitrary nature of conventional film techniques that captures Louise's struggles with motherhood in a patriarchal society.
PRESS
"Initially the soundtrack is devoted to her rhyming, circular stream of consciousness; only as her husband announces that he is leaving her does it break into synch-sound. Throughout, Louise's oblique progress with motherhood is depicted in a series of thirteen 360-degree panning shots. The effect is to rotate the boundaries of her world in a slow delirium. As its title suggests, 'Riddles of the Sphinx' is meant to raise questions. To that end, it succeeds admirably."
". . . the film can be grasped from a number of different angles, and each one delivers its quota of interest and pleasure to the spectator. Such openness is a precious quality in the cinema, whether commercial or avant-garde, in both of which coercive strategies have often reigned supreme. To find a film which crosses the frontiers of different audience expectations, which is unassuming and yet rigorous in its intellectual stance, and pleasurable and provocative at the same time, is rare indeed."
SCREENING HIGHLIGHTS AND AWARDS
Women Make Waves Film and Video Festival
International House, Philadelphia
ABOUT FILMMAKER(S)
Laura Mulvey
Laura Mulvey was born in Oxford on 15 August 1941. After studying history at St. Hilda's, Oxford University, she came to prominence in the early 1970s as a film theorist, writing for periodicals such as Spare Rib and Seven Days. Much of her early critical work investigated questions of spectatorial identification and its relationship to the male gaze, and her writings, particularly the 1975 essay Visual Pleasure and Narrative Cinema, helped establish feminist film theory as a legitimate field of study.
Between 1974 and 1982 Mulvey co-wrote and co-directed with her husband, Peter

Wollen, six projects: theoretical films, dealing in the discourse of feminist theory, semiotics, psychoanalysis and leftist politics. The first of these, PENTHESILEA: QUEEN OF THE AMAZONS (1974) explored concerns central to Mulvey's writings: the position of women in relation to patriarchal myth, symbolic language and male fantasy. PENTHESILEA: QUEEN OF THE AMAZONS represents an experimental British venture into territory pioneered by the likes of Jean-Luc Godard.

The most influential of Mulvey and Wollen's collaborative films, RIDDLES OF THE SPHINX (1977), presented avant-garde film as a space in which female experience could be expressed. Remarkable formalistic innovation, notably 360-degree pans, inform the film's content, describing the mother's loss of and search for identity. The result is a challenging, forceful and intelligent film.

AMY! (1980), a tribute to Amy Johnson, is a more accessible reworking of themes previously covered by Mulvey and Wollen, but it is ponderous and slow. Far from a conventional biopic, the aviator is used as a symbolic figure, her journey exemplifying the transitions between female and male worlds required by women struggling towards achievement in the public sphere.

CRYSTAL GAZING (1982) represented a departure from the emphatic formalism of Mulvey and Wollen's earlier films. It demonstrated more spontaneity than previous works, both in performances and in the storyline, elements of which were left undecided until the moment of filming. Bleak, but with playful touches, this representation of London during the Thatcher recession was generally well received, despite criticism of Mulvey for the lack of a feminist underpinning to the film. She admitted she had been reluctant to incorporate feminist polemics fearing they would unbalance the film.
FRIDA KAHLO AND TINA MODOTTI (1982) and THE BAD SISTER (1982) followed, revisiting feminist film issues. After these, Mulvey did not return to film-making until 1991 when production began on her solo project DISGRACED MONUMENTS, an examination of the fate of revolutionary monuments in the Soviet Union after the fall of communism.

Laura Mulvey is a Professor of Film and Media Studies at Birkbeck College, University of London. (8/14)
Peter Wollen
British screenwriter and filmmaker Peter Wollen began working in films as the co-writer of Antonioni's The Passenger in 1975. From there he helped direct a few experimental features with the support of the British Film Institute, making his solo feature film directorial debut in 1987 with Friendship's Death, a science fiction film about a alien girl who crashes in war-torn Jordan. Wollen first gained attention as a noted British film theorist and author of Signs and Meaning in the Cinema one of the seminal works on structuralist theory. Currently he is a film scholar who teaches at the University of California, Los Angeles. He was co-editor with Jim Hillier, of Howard Hawks: American Artist, published by Indiana. (2/07)
Subject Areas
RELATED LINKS
YOU MIGHT ALSO BE INTERESTED IN
Water Children
In this acclaimed, hauntingly beautiful film, director Aliona van der Horst follows the unconventional Japanese-Dutch pianist Tomoko Mukaiyama as she explores the miracle of fertility and the cycle of life—sometimes joyful, sometimes tragic. When Mukaiyama recognized that her childbearing years were ending, she created a multimedia art project on the subject in a village in Japan, constructing what she calls a cathedral, out of 12,000 white silk dresses. While Mukaiyama's own mesmerizing music provides a haunting backdrop to the film, her installation elicits confessions from its normally reticent Japanese visitors, many of whom have never seen art before—and in moving scenes they open up about previously taboo subjects. Mukaiyama's courageous approach to a subject that remains unspoken in many cultures is explored with an elegance and sophistication that deepens our understanding of the relationship between body and mind.
Learn more
What Happened to Her
WHAT HAPPENED TO HER is a forensic exploration of our cultural obsession with images of the dead woman on screen. Interspersing found footage from films and police procedural television shows and one actor's experience of playing the part of a corpse, the film offers a meditative critique on the trope of the dead female body. The visual narrative of the genre, one reinforced through its intense and pervasive repetition, is revealed as a highly structured pageant. The experience of physical invasion and exploitation voiced by the actor pierce the fabric of the screened fantasy. The result is recurring and magnetic film cliché laid bare. Essential viewing for Pop Culture, Women's and Cinema Studies classes.
Learn more
Shopping Cart