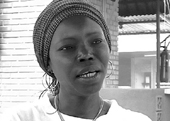 Sisters of the Screen
African Women in the Cinema
US | 2002 | 73 minutes | Color | DVD | English | Order No. 04822
Beti Ellerson's engaging debut explores the extraordinary contributions of women filmmakers from Africa and the diaspora.
SYNOPSIS
Exploring the extraordinary contributions of women filmmakers from Africa and the diaspora, Beti Ellerson's engaging debut intersperses interviews with such acclaimed women directors as Safi Faye, Sarah Maldoror, Anne Mungai, Fanta Régina Nacro and Ngozi Onwurah with footage from their seminal work. With power and nuance, Ellerson also confronts the thorny question of cultural authenticity by revisiting the legendary 1991 FESPACO (Pan-African Festival of Cinema and Television of Ouagadougou), in which diasporian women were asked to leave a meeting intended for African woman only. This film is both a valuable anthology and a fitting homage to the pioneers and new talents of African cinema.
PRESS
"A superb instructional tool…of great use for teachers of African Cinema, African History, African Politics and also Women's Studies."
"Fascinating…an excellent addition to collections on film and women's and African studies."
"An incredible reclamation and exploration of African women's lives and histories by African women filmmakers."
SCREENING HIGHLIGHTS AND AWARDS
Pan-African Film and Television Festival of Ouagadougou (FESPACO)
Flying Broom International Film Festival
Athens International Studies Film and Video Festival
Cinematheque Quebecois
African Cinema Conference
African Studies Association Conference
ABOUT FILMMAKER(S)
Beti Ellerson
Beti Ellerson has a Ph.D. in African Studies (Howard University) with a sub-specialization in African Cinema Studies and Women Studies. As a feminist she has always been interested in critically engaging women's issues, and academically, she wanted to make a critical inquiry into African women's experiences through the medium of the moving image. This inquiry led to her interest in forging an African Women Cinema Studies, which encompasses research in historiography and spectatorship as well as the hands-on work of advocacy and production.

Her research on African women in cinema, include the SISTERS OF THE SCREEN: AFRICAN WOMEN IN THE CINEMA (2002) and the Center for the Study and Research of African Women in Cinema founded in 2008. The Center encompasses the African Women in Cinema Blog, and a presence on Twitter, Facebook and YouTube, Vimeo and Dailymotion.

Before producing SISTERS OF THE SCREEN, she was involved locally in community television and video production in Washington DC, and was executive producer and host of the 27-episode series, "Reels of Colour", which aired from 1997 to 2000 in the Washington DC area.

Beti Ellerson has published extensively and spoken widely on the topic of African women and the moving image and is the 2011 laureate of the Distinguished Woman of African Cinema Award presented by Women Filmmakers of Zimbabwe. Member of the main jury of the 2011 edition of the International Images Film Festival for Women held in Harare. She teaches courses in Africana studies, visual culture and women studies in the Washington, DC area and beyond. (8/14)
YOU MIGHT ALSO BE INTERESTED IN
Golden Gate Girls
In GOLDEN GATE GIRLS author and professor S. Louisa Wei tells the story of filmmaker Esther Eng, the first woman to direct Chinese-language film in the US, and the most prominent woman director in Hong Kong in the 1930's. A San Francisco native and open lesbian, her contribution to film history is sadly overlooked – her 11 feature films mostly lost. After the retirement of director Dorothy Arzner in 1943 and before Ida Lupino began directing in 1949, Eng was the only woman directing feature length films in the US. Wei's documentary paints a fascinating picture of how Eng's career in filmmaking broke through gender and racial boundaries in Hollywood and Hong Kong, at a time when opportunities for Chinese women in the industry were few and far between. With a captivating archive of newly discovered images and interviews with those who knew her, Wei uncovers a rich chapter of film history that challenges both gender hierarchies and national narratives. Essential viewing for Cinema Studies and Asian American Studies.
Learn more
Girl From God's Country: The History of Women in Film and Other War Stories
GIRL FROM GOD'S COUNTRY is the untold story of the first female independent filmmaker and action-adventure heroine, Nell Shipman (1892-1970), who left Hollywood to make her films in Idaho.
Learn more
Shopping Cart