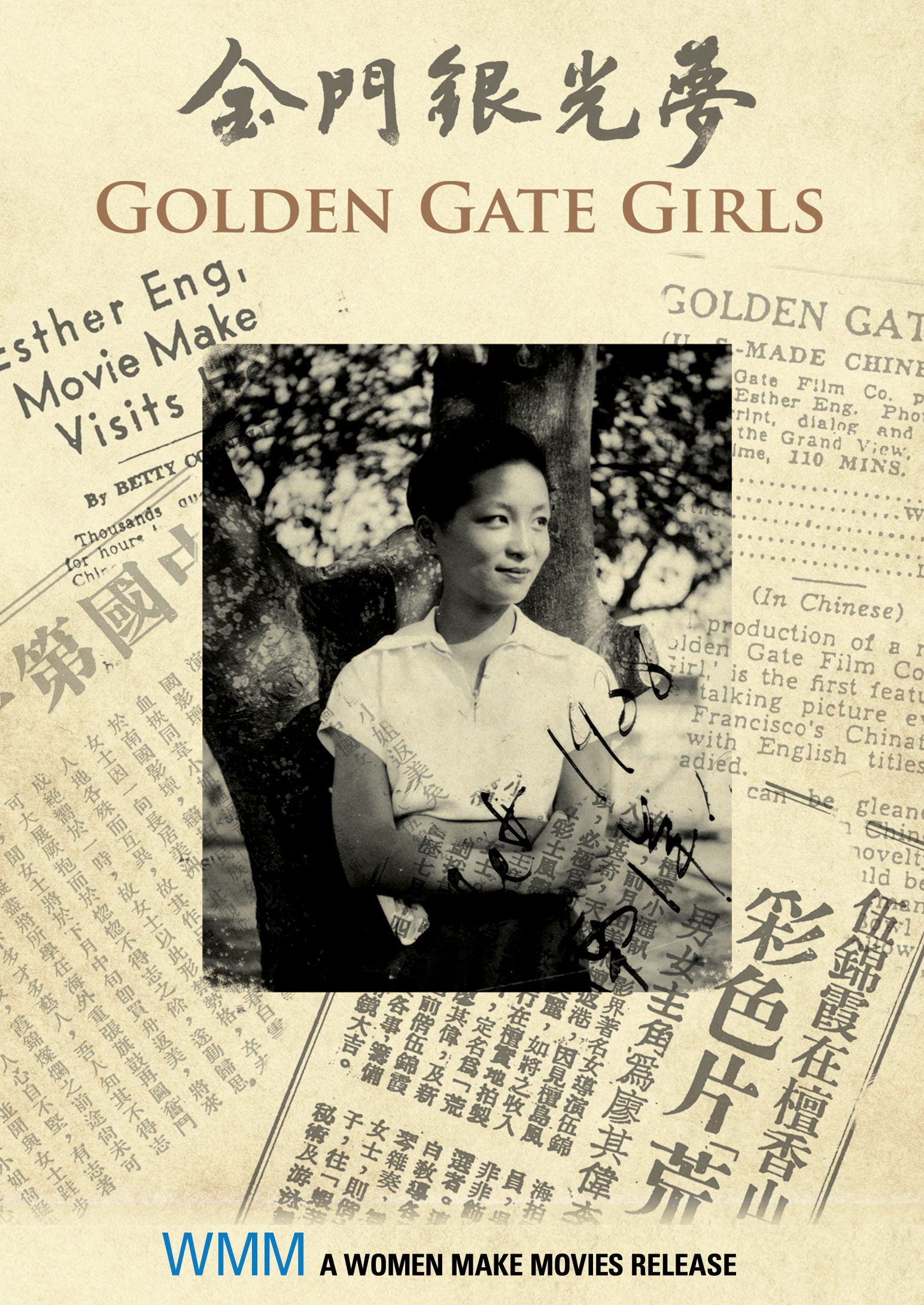 US/Hong Kong | 2014 | 90 minutes | Color | DVD | Chinese | Subtitled | Order No. 151154
SYNOPSIS
In GOLDEN GATE GIRLS author and professor S. Louisa Wei tells the story of filmmaker Esther Eng, the first woman to direct Chinese-language film in the US, and the most prominent woman director in Hong Kong in the 1930's. A San Francisco native and open lesbian, her contribution to film history is sadly overlooked – her 11 feature films mostly lost. After the retirement of director Dorothy Arzner in 1943 and before Ida Lupino began directing in 1949, Eng was the only woman directing feature length films in the US. Wei's documentary paints a fascinating picture of how Eng's career in filmmaking broke through gender and racial boundaries in Hollywood and Hong Kong, at a time when opportunities for Chinese women in the industry were few and far between. With a captivating archive of newly discovered images and interviews with those who knew her, Wei uncovers a rich chapter of film history that challenges both gender hierarchies and national narratives. Essential viewing for Cinema Studies and Asian American Studies.
PRESS
"...extraordinarily interesting..."
"...eye opening and compelling..."
"Golden Gate Girls restores Eng to her place in history, weaving her story in and out of those Hollywood contemporaries, director Dorothy Arzner and actress Anna May Wong."
"Golden Gate Girls is cultural history at its best."
"Golden Gate Girls is alluringly posited at the intersection of these fields: how women's contribution to film history overlaps with the tumultuous History of the 20th century." – and Professor, California Institute of the Arts.
"Louisa Wei takes us on a journey of discovery in the footsteps of the remarkable Esther Eng. Wei provides a sensitive portrait of the intrepid, but largely neglected filmmaker who too easily fell through the cracks between Asian American and Chinese screen history."
SCREENING HIGHLIGHTS AND AWARDS
Hong Kong International Film Festival
San Diego Asian Film Festival
Washington DC Chinese Film Festival, Intra-Cultural Spotlight
CAAM Film Fest
Women Make Waves Film Festival
Paris Lesbian and Feminist Film Festival
Beijing Queer Film Festival
Helsinki Asian Film Festival
ABOUT FILMMAKER(S)
S. Louisa Wei
Louisa Wei was born in China during the Cultural Revolution but mainly grew up in China's Post Mao era. She left China in 1992 to study literature and film in Canada. In 2001, she moved to Hong Kong. During the past 13 years, she has been teaching film production, story writing, and media culture courses at City University of Hong Kong, while making films.

Wei began writing creatively as a teenager, when she won many awards in various writing competitions. In 2005, she co-wrote the script for the feature Show You Color with Cui Jian, pioneer rocker of China. This script won an award at the Pusan International Film Festival in 2006. In 2012, Cui Jian directed a feature film entitled BLUE BONE that was based in part on this script. In 2007, Wei assisted Hong Kong director Susie Au in the production of MING MING, co-writing the script and helping the director obtain funds for the project. In the same year, she wrote the script for GUN OF MERCY and was credited as the primary scriptwriter in the film's release. The theme of the film was to be a positive portrayal of a Chinese policeman, but Wei's script lent the story a complex narrative structure and a series of unexpected twists. In 2009, she wrote the script of STORM UNDER THE SUN, a feature documentary on the purge of writers by Mao. In 2010, she wrote the script for BROKEN WINGS: AN INCOMPLETE GENIUS with took mid-century Chinese writer Lu Ling as its subject. In 2012, she completed the script for GOLDEN GATE GIRLS (a.k.a. Golden Gate, Silver Light) in both English and Chinese. She is currently working on the scripts for two new documentaries: FLOWER GIRL FROM HAVANA, about a Cuban lady who performed Cantonese opera in Cuba for ten years and DREAM UNDER THE SUN, a film about Cui Jian and his fans.

As a documentarian, Wei's first released work was the short musical CUI JIAN: ROCKING CHINA (2006, DV, 35 minutes) broadcasted on Channel 13 of Cable TV Hong Kong. Her feature length STORM UNDER THE SUN (2009, DV, 139 minutes), which premiered at IDFA in 2007 and, then, in a vastly revised version at the HKIFF in 2009. STORM UNDER THE SUN has not only received warm feedback from audience members and film critics, but has also been viewed by historians and sinologists as a rare effort and an in-depth representation of Mao's first nation-wide purge of writers in PRC. Partially sponsored by International Documentary Film Festival, Amsterdam, STORM has been written about and reviewed in journals in as many as five languages. It is currently housed in the permanent collections of three museums, two archives, and over 60 university libraries worldwide.

Her most recent feature documentary is GOLDEN GATE GIRLS (a.k.a. Golden Gate Silver Light) sponsored by the Hong Kong Art Development Council. Golden Gate Girl portrays the life and times of Esther Eng, once honored "China's first woman director." The documentary has received positive reviews and attention from The Hollywood Reporter, Voice of America, South China Morning Post, Film Business Asian, etc. Elizabeth Kerr of The Hollywood Reporter praised the documentary for its seamless ability to weave history, Sino-U.S. relations and social standards together to allow for inference and context.

Wei makes historical documentaries from an explicitly personal perspective as a means to advocate for significant figures and voices lost to historical process. She plays the simultaneous roles of director, writer, and editor, not to establish a singular subjective viewpoint, but to ensure that life and the people in her films are presented intact, with all the complexity and failings of human intellect and sense. (1/15)
Subject Areas
RELATED LINKS
YOU MIGHT ALSO BE INTERESTED IN
Shopping Cart