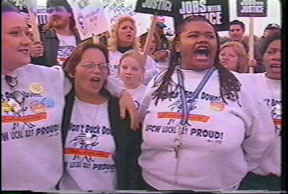 2000 | 32 minutes | Color | DVD | Order No. 01724
SYNOPSIS
WOMEN ORGANIZE! is an inspirational, half hour film that portrays women organizers across the U.S. who are involved in the global struggles for racial, social, and economic justice. In this film, we meet five women organizers of various backgrounds, peek at the campaigns they wage, and watch as they begin to pick up the tools to document their own transformative work. From working with high schools girls in a low-income neighborhood in Oregon to speaking out for Black lesbians and gays against homophobia or working with Asian immigrant women factory workers in California for decent working conditions, WOMEN ORGANIZE is an important film that should be used in women's and ethnic studies classes and community based organizations.
PRESS
"These woman organizers--in our unions and in our communities--are showing us that yes, indeed, it can be done. The spirit of Si, se puede is alive and well, and it is women who are making it happen."
"Women Organize is a refreshing, inspiring portrait of five women whose life work is economic and social justice. Pedagogically and analytically sharp, and deeply moving. A must-see for Women's Studies, Race and Ethnic Studies, Labor Studies, and any curriculum involved with social transformation."
"The video was very moving. As a filmmaker and an activist, I was thrilled to see these women honored by the video. They, in turn, will be role models and inspirations to other women."
"Good for demonstrating the diversity of feminist activism—sexualities, labor, organizational theories, environmental issues, debates about collective action, native American concerns."
"Designed to spark discussion on organizing tactics and strategies while inspiring any audience I can imagine, this short documentary would work well in community study groups and those undergraduate sociology and political science courses that include community-based research, grassroots leadership training, and youth organizing."
ABOUT FILMMAKER(S)
Union Institute Center for Women
The Union Institute Center for Women is the only university-based women's center devoted primarily to coalition work between scholars and community activists. The Center is responsible for the development of projects created, defined, and realized collaboratively with the women whose lives are directly affected by those projects. The work of the Union Institute Center for Women is decidedly anti-racist, anti-sexist, and committed to expressing intercultural and international perspectives. The activities of Union Institute Center for Women involve women of all classes, races, ethnic origins, sexual identities, ages, and physical/mental abilities. (10/09)
Women and Organizing Documentation
The Women and Organizing Documentation Project (DC) is a collaboration between a Union Institute Faculty member (NY), the Center for Third World Organizing (CA), and The Women's Educational and Industrial Union (MA) to train and support twenty-five women organizers to analyze, critique and document their work of the past two decades. This eighteen-month project produces a workbook on women's activism across a variety of movements as well as a teaching video. (09/09)
YOU MIGHT ALSO BE INTERESTED IN
Mountains that Take Wing: Angela Davis & Yuri Kochiyama
Thirteen years, two radical activist all-stars-one conversation. Internationally renowned scholar, professor and writer Angela Davis and 89-year-old grassroots organizer and Nobel Peace Prize nominee Yuri Kochiyama spent over a decade conversing intimately about personal histories and influences that shaped them and their overlapping experiences. MOUNTAINS THAT TAKE WING offers the gift of these two remarkable women's lives, sharing the pair's recorded exchanges in 1996 and 2008. The film's unique format honors the scope and depth of their knowledge on topics ranging from Jim Crow laws and Japanese American internment camps, to Civil Rights, anti-war, women's and gay liberation movements, to today's campaigns for political prisoners and prison reform. Intercut with compelling period footage, Davis and Kochiyama's cogent observations, keen analyses, and steadfast resolve to create a more equitable, humane world offer inspiring lessons in empowerment and community building for current and future generations.
Learn more
Shopping Cart