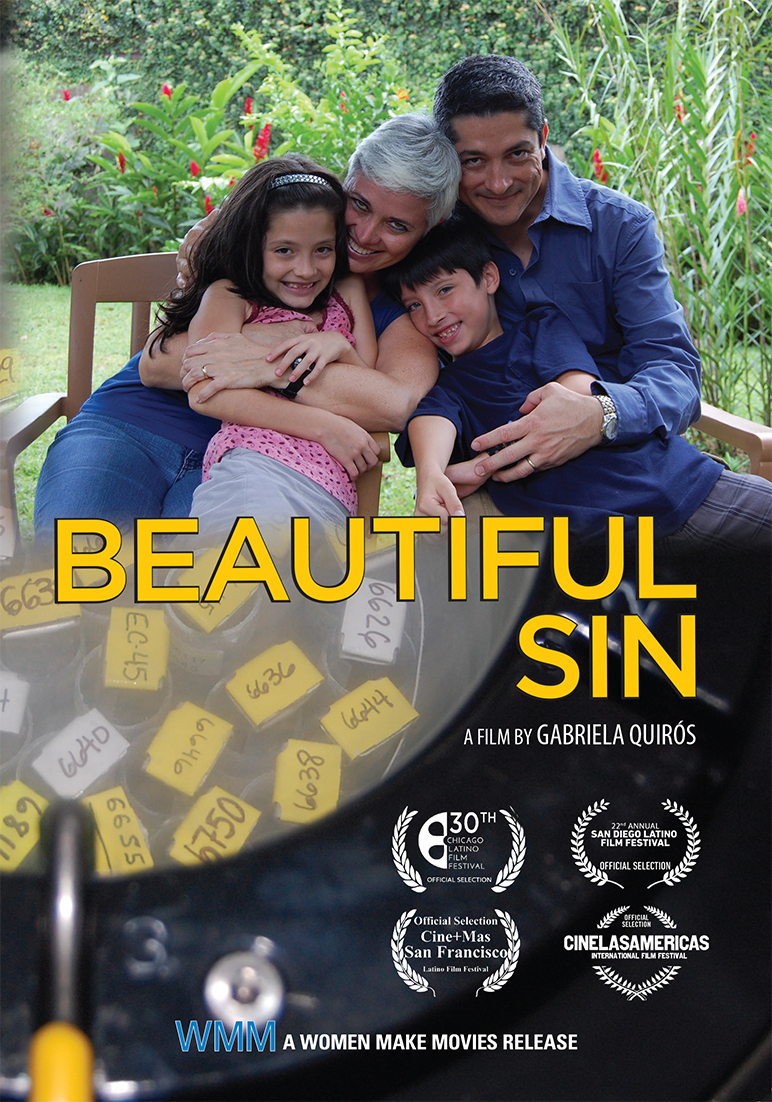 Costa Rica/US | 2014 | 56 minutes | Color | DVD | English/Spanish | Subtitled | Order No. 161185
SYNOPSIS
BEAUTIFUL SIN tells a surprising reproductive rights story, one that resonates from Central America to the United States and beyond. What if you desperately wanted a baby, but your country and religion prohibited you from trying the one medical treatment that could help you? In 2000, anti-abortion activists, with the help of the Catholic Church and a U.S. group, won a legal case that banned in vitro fertilization (IVF) in Costa Rica and gave the embryo legal rights, making Costa Rica the only country in the world to outlaw the treatment. BEAUTIFUL SIN tells the decade-long story of three couples struggling with infertility who take the Costa Rican government before an international human rights court to demand the right to use IVF. Filmmaker Gabriela Quirós charts the emotional journey of these couples as they contend with infertility and explores the legal ramifications of reproductive rights. It's a universal story about what happens when state power and religious ideology clash with the desire to have a child. Funding for this program was provided by the Corporation for Public Broadcasting.
PRESS
"A cautionary tale about what can happen when a religious ideology becomes law."
"Beautiful Sin is a mesmerizing film over a decade in the making. Anyone who is concerned about the state's control of women's bodies will find the film chilling."
"The film is beautifully crafted. I use it in my Yale seminar course "Reproductive Technologies: Global Perspectives."
SCREENING HIGHLIGHTS AND AWARDS
San Diego Latino Film Festival
Cine Las Americas
Broadcast on Public Television Stations and World Channel
Chicago Latino International Film Festival
Cine+Mas San Francisco Latino Film Festival
ABOUT FILMMAKER(S)
Gabriela Quirós
Gabriela Quirós has long covered the intersection of science, technology and social change. Since 2006, she has worked as a staff video producer in the science unit at KQED Public Television in San Francisco, where she has directed more than 50 segments and half-hour documentaries and won two regional Emmys. She grew up in Costa Rica and worked there as a print reporter covering health, the environment and politics for Spanish- and English-language newspapers. She holds master's degrees in journalism and Latin American studies from the University of California, Berkeley. (2/16)
Subject Areas
RELATED LINKS
YOU MIGHT ALSO BE INTERESTED IN
A Healthy Baby Girl
In 1963 filmmaker Judith Helfand's mother was prescribed the ineffective, carcinogenic synthetic hormone diethylstilbestrol (DES), meant to prevent miscarriage and ensure a healthy baby. At twenty-five, Judith was diagnosed with DES-related cervical cancer. After a radical hysterectomy she went to her family's home to heal and picked up her camera. The resulting video-diary is a fascinating exploration of how science, marketing and corporate power can affect our deepest relationships. Shot over five years, A HEALTHY BABY GIRL tells a story of survival, mother-daughter love, family renewal, and community activism. Intimate, humorous, and searing, it is an invaluable resource for anyone interested in the relationship between women's health, public policy, medical ethics and corporate responsibility. A HEALTHY BABY GIRL was funded by the Independent Television Service (ITVS) with funds provided by the Corporation for Public Broadcasting.
Learn more
Made in India: A Film about Surrogacy
In San Antonio, Lisa and Brian Switzer risk their savings with a Medical Tourism company promising them an affordable solution after seven years of infertility. Halfway around the world in Mumbai, 27-year-old Aasia Khan, mother of three, contracts with a fertility clinic to be implanted with the Texas couple's embryos. MADE IN INDIA, about real people involved in international surrogacy, follows the Switzers and Aasia through every stage of the process. With its dual focus, this emotionally charged, thoroughly absorbing film charts obstacles faced by the Switzers and presents intimate insights into Aasia's circumstances and motivation. As their stories become increasingly intertwined, the bigger picture behind offshore outsourcing of pregnancies—a booming, unregulated reproductive industry valued at $450 million in India alone—begins to emerge. So do revealing questions about international surrogacy's legal and ethical implications, global corporate practices, human and reproductive rights, and commodification of the body.
Learn more
Shopping Cart