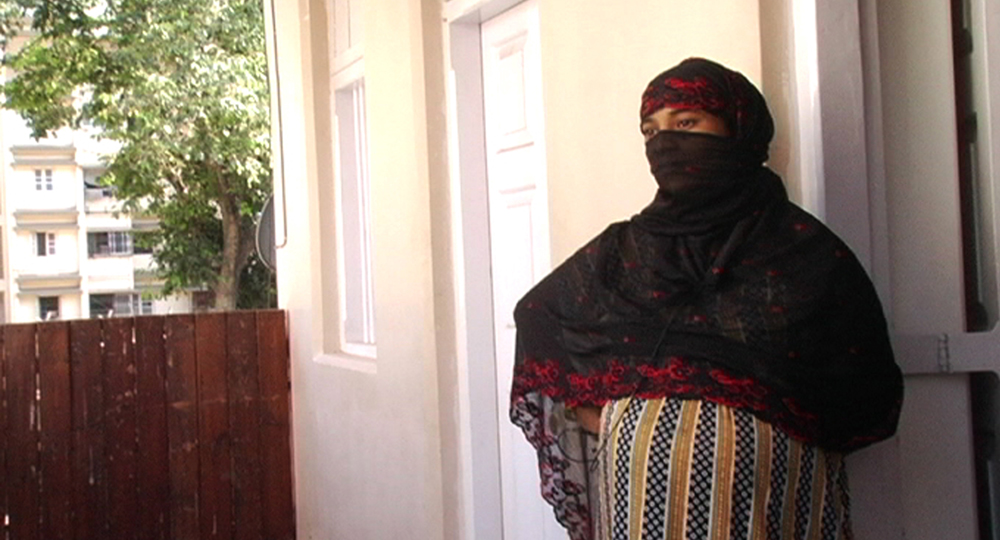 Made in India: A Film about Surrogacy
US | 2010 | 97 minutes | Color | DVD | Hindi/English | Subtitled | Order No. 111037
SYNOPSIS
In San Antonio, Lisa and Brian Switzer risk their savings with a Medical Tourism company promising them an affordable solution after seven years of infertility. Halfway around the world in Mumbai, 27-year-old Aasia Khan, mother of three, contracts with a fertility clinic to be implanted with the Texas couple's embryos. MADE IN INDIA, about real people involved in international surrogacy, follows the Switzers and Aasia through every stage of the process. With its dual focus, this emotionally charged, thoroughly absorbing film charts obstacles faced by the Switzers and presents intimate insights into Aasia's circumstances and motivation. As their stories become increasingly intertwined, the bigger picture behind offshore outsourcing of pregnancies—a booming, unregulated reproductive industry valued at $450 million in India alone—begins to emerge. So do revealing questions about international surrogacy's legal and ethical implications, global corporate practices, human and reproductive rights, and commodification of the body.
PRESS
"Highly Recommended."
*** (3 stars)
"'Made in India' is an eye-opening, compelling, even terrifying film. The viewer confronts the uncharted but expanding territory of "tourism" for assisted reproductive technology from the viewpoints of a range of very determined individuals: an infertile American couple, their medical go-betweens in North America and South Asia, and a pert, thoughtful Indian Muslim surrogate mother. This will make you think."
"The toughest questions about reproductive surrogacy actually end up aimed at the doctors and agents…as the lacunae they create are ripe for filling by human rights, feminist, diplomacy, and medical activists interested in shaping an industry that is quickly growing, for better or worse. Should be seen by anyone interested in the intersections of reproductive justice and global economics."
"The film illustrates numerous clinical, legal, and ethical issues raised by medical tourism, both in general and in the context of surrogacy…delivers an important cautionary message to patients considering medical tourism for themselves and to professionals advising them about this option."
"[A]n extraordinary film … akin to a psychological thriller, inspiring both the family and the viewer to question their moral and ethical scruples, and to wonder whether they could do the same…. A touching and important document."
"This perspective on international surrogacy is a common one but also an overly simplified one, and MADE IN INDIA delves into the complexities… It exposes the glitches in the system as communication breaks down…, yet it also looks at the joy that both parties get from creating a family together."
SCREENING HIGHLIGHTS AND AWARDS
San Francisco Intl Asian American Film Festival, 2011, Winner, Jury Award for Best Documentary Feature Award
Magnolia Independent Film Festival, 2011, Winner, Jury Award for Best Documentary Feature
Florida Film Festival 2011, Winner, Grand Jury Award for Best Documentary Feature
Woodstock Film Festival
Citizen Jane Film Festival
Hot Docs International Film Festival
Balinale Film Festival, Bali
Fargo Film Festival, 2011, Honorable Mention, Best Documentary Feature
Fargo Film Festival 2011, Winner, Ruth Landfield Award for films of artistic merit by or about women of courage, conviction and compassion
Big Muddy Film Festival 2011, Honorable Mention, Best Documentary Feature
ABOUT FILMMAKER(S)
Rebecca Haimowitz
Rebecca Haimowitz is an award-winning filmmaker whose work has screened across the world. She has received support from the Gucci Tribeca Documentary Fund, Chicken & Egg Pictures, the Fledgling Fund, Fork Films, the New York State Council on the Arts, The Harnisch Foundation, the Boone Family Foundation and more. She Directed and Produced 62 DAYS, a documentary about a brain-dead pregnant woman who was forced to remain on life support against her wishes. That film premiered at the inaugural Meet The Press Film Festival with AFI and aired on PBS/World Channel's Reel South. She is also the Co-Director/Producer of the award-winning feature film MADE IN INDIA, about outsourcing surrogate mothers to India. The film premiered at the Hot Docs International Film Festival in Toronto, won Best Documentary at several film festivals, and aired on PBS in 2012. Rebecca's work has been featured on PBS Newshour, ABC News, Bitch Magazine,ThinkProgress and more. Rebecca received her MFA in Filmmaking from Columbia University's Graduate School of the Arts, where she also worked as a screenwriting Instructor. She is an Adjunct Professor at Rutgers University, where she teaches Documentary Filmmaking. She is committed to creating powerful films that reveal the human side behind timely issues. (08/18)
Vaishali Sinha
Vaishali Sinha co-directed the short documentary, "Red Roses," exploring the lives of South Asian women who come to the United States via marriage & family obligations, and "Choose Life?" a short narrative about abortion and personal choice. She is also currently co-directing the film "Kashmir"- personal narratives of university students of Kashmir, at the brink of graduation in this extremely contentious and politically troubled State of India. In the past she has worked as researcher and editing associate for filmmaker Richard Wormser at Videoline Productions. She has also worked for non-profit organizations in India promoting women's voices and has studied film at the New School University in NY. Vaishali uses filmmaking as a platform to explore and discuss socially sensitive issues. She is from Mumbai, India and currently resides in Brooklyn, NY. (3/11)
Subject Areas
RELATED LINKS
YOU MIGHT ALSO BE INTERESTED IN
Shopping Cart