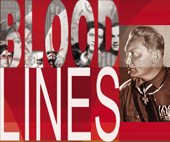 Australia | 2008 | 52 minutes | Color | DVD | Order No. 09932
SYNOPSIS
Bettina Goering, grandniece of Hermann Goering, has long tried to bury the dark legacy of her family history. Painter Ruth Rich, a daughter of Holocaust survivors, cannot resolve her deep-rooted anger over the suffering of her parents and the loss of an older brother in the Holocaust. Bettina seeks out Ruth in an attempt to confront her enormous guilt and her fear that the capacity for evil is in her blood. When the women meet, their hidden guilt and rage clash in a series of intimate and extraordinary meetings. Provocative and deeply moving, BLOODLINES by Cynthia Connop follows Ruth and Bettina as they face the past in their quest to heal the future. Their meetings are interspersed with individual interviews, powerful images from Ruth's paintings and archival photos. This contemporary film brings to light, in a way never before seen, the unwritten cost of war and genocide on future generations of both victims and perpetrators. Given recent events in Darfur, Rwanda and Serbia, this film provides relevant and timely insight into the difficult process of reconciliation and forgiveness, and the long-term consequences of hatred.
PRESS
"Recommended. The story of two women profoundly affected by their ancestors."
"3 1/2 Stars ...a powerful meditation on the psychological connection between generations. Highly Recommended."
SCREENING HIGHLIGHTS AND AWARDS
Vancouver Jewish Film Festival
Activating Human Rights Film Festival
Hot Springs Doc Film Festival
Jewish Woman Film Festival
ABOUT FILMMAKER(S)
Cynthia Connop
Cynthia is the founder and co-facilitator of the Living Love workshop program. Cynthia has been exploring transformational work for over 25 years, is a personal growth facilitator and documentary filmmaker. She has facilitated numerous workshops – including the Heart of Woman, Meeting the Muse and culminating in the Living Love program for Men and Women, which is inspired by author and teacher David Deida.

Cynthia is passionate about creating an awakened, loving planet. Her pioneering film projects include the feature documentary SACRED SEX, the David Deida video SPIRIT SEX LOVE, AND SPIRITUAL TERRORIST on the Indian mystic, Osho. Her most recent film BLOODLINES (ABC TV) explores a healing encounter between two women from both sides of the Holocaust.

In her private consultations Cynthia draws on her skills in masculine/feminine polarity, sacred sexuality, voice dialogue, creativity coaching and the yoga of love. (8/14)
YOU MIGHT ALSO BE INTERESTED IN
Blessed Is the Match: The Life and Death of Hannah Senesh
At only 22, Hungarian poet Hannah Senesh made the ultimate sacrifice – having already escaped Nazi-occupied Europe for Palestine and freedom, she returned, parachuting in behind enemy lines in a valiant effort to save Hungary's Jews from deportation to Auschwitz and certain death. Captured immediately upon crossing the border into Hungary, Hannah was tortured and taken to a prison in Budapest, yet she refused to reveal the coordinates of her fellow resistance fighters - even when they also arrested her mother, Catherine. Hannah became a symbol of courage for her fellow prisoners, encouraging them to remain in good spirits, never losing faith in her Jewish identity, even as she was led out to be executed by firing squad. Narrated by Academy Award® Nominee Joan Allen, BLESSED IS THE MATCH is a truly moving memorial that brings to life this Holocaust heroine through interviews with Holocaust historians, eyewitness accounts from those on the rescue operation as well as in the prison, rare family photographs and the writings of Hannah and her mother. The film recreates Hannah's perilous and heartbreaking mission, reconstructs her defiant months in the Gestapo prison and – through Hannah's diary entries and poetry – looks back on the life of a talented and complex girl who came of age in a world descending into madness.
Learn more
Shopping Cart