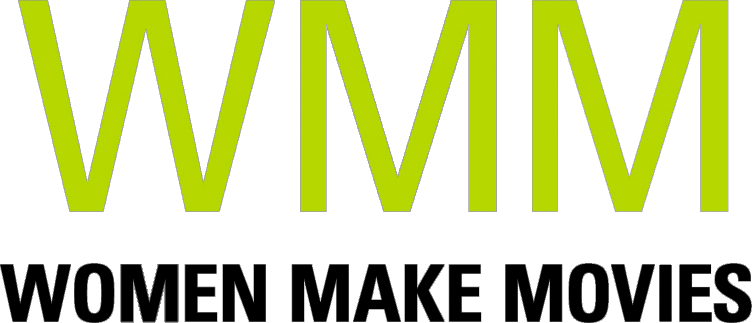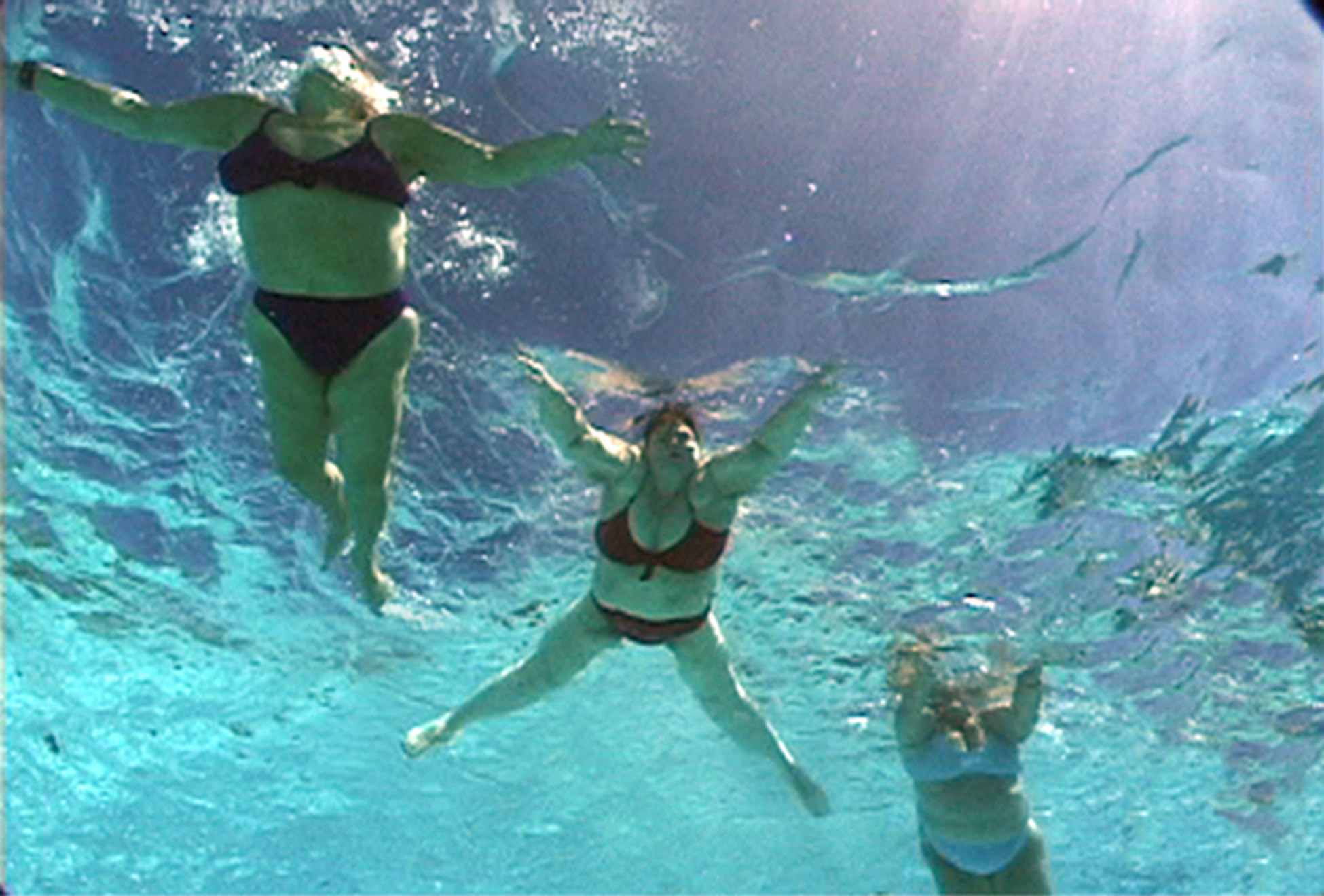 2004 | 28 minutes | Color/BW | DVD | Order No. 05859
SYNOPSIS
Julie Wyman's ebullient experimental documentary intertwines the story of the Padded Lilies, a troupe of fat synchronized swimmers, Archimedes, the Greek mathematician obsessed with floating bodies, and the inventor of the "Drystroke Swimulator" to investigate, proclaim and celebrate the fact that fat floats!

As the Padded Lillies prepare for their appearance on "The Tonight Show with Jay Leno", BUOYANT follows their rigorous training and strategizing as they promote their message of body-acceptance, fat-empowerment, and fitness at any size. A school-marmish voiceover moves on to tell the story of Archimedes, classical Greek mathematician and discoverer of pi, as he tackles one of his more difficult problems: how to measure the volume of an irregularly shaped object.

The final vignette, performed by Wyman herself, captures the trials and tribulations of the inventor at work on the "Drystroke Swimulator" (patent pending) -- a contraption designed to allow its user to swim outside of water. Giddy and irreverent, moving fluidly between color and black and white, video and film, handheld and locked-down camera styles, Buoyant draws attention to its own surface and leaves us with the exuberant possibility of a fat body that literally and culturally rises, like cream, to the top.
PRESS
"An excellent, subversive rethinking of women's fat…great viewing for anyone looking for new ways to think about how women occupy their bodies."
"A radical message in a culture that demonizes fat, and especially fat women."
"Levitates her subject with grace and wit. Carnivalesque, scientifically curious, and bubbly, the film finesses the tactile and visual pleasures of the buoyant body."
"[Confronts] the viewer with the social perception of size, gravity, and beauty juxtaposed with the reality that these women, like all of us, 'want to fly.'"
SCREENING HIGHLIGHTS AND AWARDS
Camden International Film Festival
Finger Lakes Envonmental Film Festival, Ithaca College
Mill Valley Film Festival
MIX: NY Lesbian And Gay Film Festival
Museum of Modern Art, Premieres Series
Out On Film – Atlanta Gay & Lesbian Film Festival
Women Make Waves Film Festival, Taiwan
Women With Vision Film Festival, Walker Art Center
ABOUT FILMMAKER(S)
Julie Wyman
Julie Wyman is an award-winning filmmaker and a performer, writer, and professor. Her 2004 film, Buoyant, screened at MoMA New York, the Walker Arts Center, the La Jolla MoCA, and at festivals internationally. Her full-length documentary, A Boy Named Sue (2000) aired on Showtime, the MTV's Logo TV, and screened at festivals internationally, winning the 2001 Sappho Award for Best Documentary and receiving a nomination for the Gay and Lesbian Alliance Against Defamation's Media Award for Best Documentary. Wyman's writing has been published in the Journal of Aesthetics and Protest and an edited volume entitled Scholarly Acts. Wyman is also a member of the artist/activist collective BLW whose performance work, has been featured at venues including the Institute for Contemporary Art, Philadelphia, Southern Exposure Gallery, San Francisco, Pilot Television, Chicago, and the Wadsworth Athenaeum, Hartford. Wyman holds an MFA from the University of California, San Diego. She is currently a Professor of Digital Filmmaking in the Cinema and Technocultural Studies Department at UC Davis.

Wyman's most resent project, entitled Strong!, chronicles an athlete's struggle to defend her champion status as her lifetime weightlifting career inches towards its inevitable end. STRONG! explores the contradiction of a body that is at once celebrated within the confines of her sport and shunned by mainstream culture. (8/14)
Subject Areas
RELATED LINKS
YOU MIGHT ALSO BE INTERESTED IN
The Fat Body (In)Visible
"While I have all the confidence in the world, I'm told every day that my body is revolting." Jessica turns heads in the street—for both her striking fashion, and larger than average body. She has learned to ignore the frequent insults which come her way, but it has not been an easy journey. Keena is the heaviest she has ever been—and the happiest. Confident and attractive, she decided long ago that dieting is not for her. Keena and Jessica—and filmmaker Margitte Kristjansson—are body acceptance activists, working to celebrate body diversity and the right to be happy whatever your body size. Brought together by social media, they use the blogosphere strategically to make their bodies visible in a world that still thinks that fat women should hide away. In this insightful short documentary, Keena and Jessica speak candidly about growing up overweight, and the size discrimination they have faced. Their stories detail the intricacies of identity and the intersection of race and gender with fatness— and how social media has helped this community enact visibility on their own terms.
Learn more
On Beauty
From Emmy®-nominated IN THE FAMILY filmmaker Joanna Rudnick and Chicago's Kartemquin Films comes a story about challenging norms and redefining beauty. ON BEAUTY follows fashion photographer Rick Guidotti, who left the fashion world when he grew frustrated with having to work within the restrictive parameters of the industry's standard of beauty. After a chance encounter with a young woman who had the genetic condition albinism, Rick re-focused his lens on those too often relegated to the shadows to change the way we see and experience beauty. At the center of ON BEAUTY are two of Rick's photo subjects: Sarah and Jayne. In eighth grade Sarah left public school because she was bullied so harshly for the birthmark on her face and brain. Jayne lives with albinism in Eastern Africa where society is blind to her unique health and safety needs and where witch doctors hunt people with her condition to sell their body parts. We follow Rick as he uses his lens to challenge convention and media's narrow scope of with the help of two extraordinary women.
Learn more
Shopping Cart