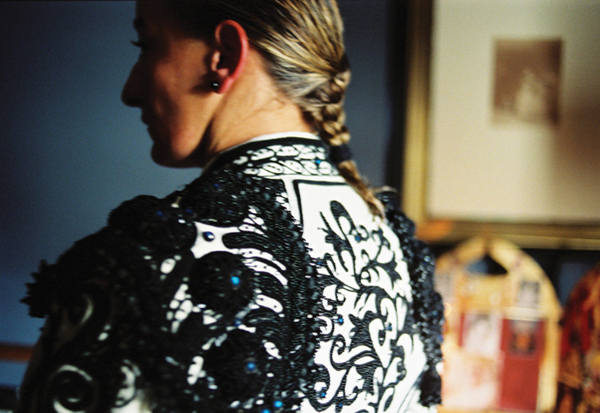 Ella es el Matador (She is the Matador)
U.S./Spain | 2009 | 62 minutes | Color | DVD | Spanish and Italian | English subtitles | Order No. 09971
SYNOPSIS
For Spaniards—and for the world—nothing has expressed their country's traditionally rigid gender roles more powerfully than the image of the male matador. So sacred was the bullfighter's masculinity to Spanish identity that a 1908 law barred women from the sport. Visually stunning and beautifully crafted, ELLA ES EL MATADOR (She is the Matador) reveals the surprising history of the women who made such a law necessary, and offers fascinating profiles of two female matadors currently in the arena, the acclaimed Maripaz Vega and neophyte Eva Florencia. These women are gender pioneers by necessity, confronting both bull and social code. But what emerges through this mesmerizing film is their truest motivation—a sheer passion for bullfighting, in the pursuit of a dream.
PRESS
"***. An interesting portrait of the fight for gender equality in a typically male-dominated activity…Recommended."
"Intelligently edited [and] engaging. A valuable educational tool. Even those familiar with Spanish culture will find some surprises here."
"A historically contextualized, thoroughly researched and culturally informed portrayal of the passions, aspirations and frustrations of young women who seek to become professional performers in the Spanish 'World of Bullfighting'."
"Blends history with up-to-the-minute profiles…. a universal saga."
"It's impossible not to immerse yourself in the action."
"Beautiful—watching it, I had an incredible sense of the two women not only as devoted athletes and trailblazers, but also as people who are passionate about an art that is significant in Spanish culture."
"Demonstrates poignantly the difficulty that women matadors face when trying to break in and succeed in the masculinized sport of bullfighting."
"…could inspire interesting classroom discussion about why some women are motivated to cross gender barriers and about the social support necessary for them to succeed."
SCREENING HIGHLIGHTS AND AWARDS
Tribeca All Access, Creative Promise Award: Documentary
Women In Direction International Film Festival, Best Documentary
23rd Medina del Campo Film Festival Spain, Audience Award for Best Doc
Chicago Latino Film Festival
Museum of Fine Arts, Boston
Independent Film Week Spotlight on Documentaries
Femmes en Resistance
Silverdocs Documentary Festival
Tulipanes Latino Film Festival
Guadalajara International Film Festival
Redwood City Latino Film Festival
Dominican Republic Global Film Festival
Sarasota Film Festival
ABOUT FILMMAKER(S)
Gemma Cubero
Gemma Cubero is a bilingual writer, producer, and director with a degree in investigative journalism and training in multimedia. She has a passion for storytelling using words, film/video and multimedia. During the 13 years she has been working in documentary film, Gemma Cubero has managed productions from location scouting to interviews in Spain, United States, Mexico, Cuba, Germany and Argentina. In addition to her bilingual writing and production skills, she has exceptional fundraising moxie with expertise in helping filmmakers connect to resources and funding. Her work through her documentary production company Talcual Filmson films such as ELLA ES EL MATADOR (SHE IS THE MATADOR) and EL ABRAZO has been supported by institutions such as PBS, Corporation for Public Broadcasting, Latino Public Broadcasting, P.O.V., Tribeca Film Institute, IFP Independent Film Week, Pacific Pioneer Fund, the San Francisco Foundation Bay Area Documentary Fund, National Organization of Latino Independent Producers, New York Women in Film and Television, Women Make Movies, the Consulate General of Spain in New York, the Embassy of Spain in Washington DC, the Instituto Cervantes and the Reina Sofía Museum of Modern Art. She is a member of the European Documentary Network. (8/14)
Celeste Carrasco
Celeste Carrasco is a native of Barcelona, Spain. Celeste was the director, producer, cinematographer and co-editor ELLA ES EL MATADOR (SHE IS THE MATADOR). For EL ABRAZO (The Embrace) and HOMECOMING, Celeste served as Director of Photography and Editor. Celeste also worked with Gemma Cubero in Lourdes Portillo's award winning documentary SEÑORITA EXTRAVIADA and WHAT'S UNDER YOUR HAT?. Celeste's additional credits include First Assistant Director on Marta Balletbó's narrative film, HONEY, I'VE SENT THE MEN TO THE MOON, and Producer on Lisset Barcello's narrative film BOTH. Most recently Celeste has worked as video artist for theatre productions such as Vanita, premiered at Teatro Real in Madrid and Java Suite, premiered at Peralada Festival, La Seca in Barcelona, and the Basel Opera House in Switzerland. Both of these productions were directed by Rita Cosentino. Celeste also collaborated with Spanish performing artist Paloma Calle on a short documentary about the live performance Hello Myself which premiered at the Reina Sofía Modern Art Museum in Madrid. Celeste currently works at the technical department of the Teatro Real in Madrid producing operas. (8/14)
YOU MIGHT ALSO BE INTERESTED IN
Dish
Why do women bring your food at local diners, while in high-end establishments waiters are almost always men? DISH, by Maya Gallus, whose acclaimed
GIRL INSIDE
(2007) won Canada's Gemini Award for documentary directing, answers this question in a delicious, well-crafted deconstruction of waitressing and our collective fascination with an enduring popular icon. Digging beyond the obvious, Gallus, who waited tables in her teens, explores diverse dynamics between food servers and customers, as well as cultural biases and attitudes they convey. Her feminist analysis climbs the socio-economic ladder—from the bustling world of lower-end eateries, where women prevail as wait staff, to the more genteel male-dominated sphere of haute cuisine. Astute, amusing observations from women on the job in Ontario's truck stop diners, Montreal's topless"sexy restos," a Parisian super-luxe restaurant, and Tokyo's fantasy "maid cafés", as well as male customers' telling comments, disclose how gender, social standing, earning opportunities, and working conditions intersect in the food service industry.
Learn more
No Job For A Woman: The Women Who Fought To Report WWII
When World War II broke out, reporter Martha Gellhorn was so determined to get to the frontlines that she left husband Ernest Hemingway, never to be reunited. Ruth Cowan's reporting was hampered by a bureau chief who refused to talk to her. Meanwhile, photojournalist Dickey Chappelle wanted to get so close to the action that she could feel bullets whizzing by. This award-winning documentary tells the colorful story of how these three tenacious war correspondents forged their now legendary reputations during the war—when battlefields were considered no place for a woman. Narrated by Emmy® Award winner Julianna Margulies, this film features an abundance of archival photos and interviews with modern female war correspondents, as well as actresses bringing to life the written words of these remarkable women. Their repeated delegation to the sidelines to cover the "woman's angle" succeeded in expanding the focus of war coverage to bring home a new kind of story— a personal look at the human cost of war. NO JOB FOR A WOMAN: THE WOMEN WHO FOUGHT TO REPORT WWII has been made possible in part by a major grant from the National Endowment for the Humanities.
Learn more
Shopping Cart