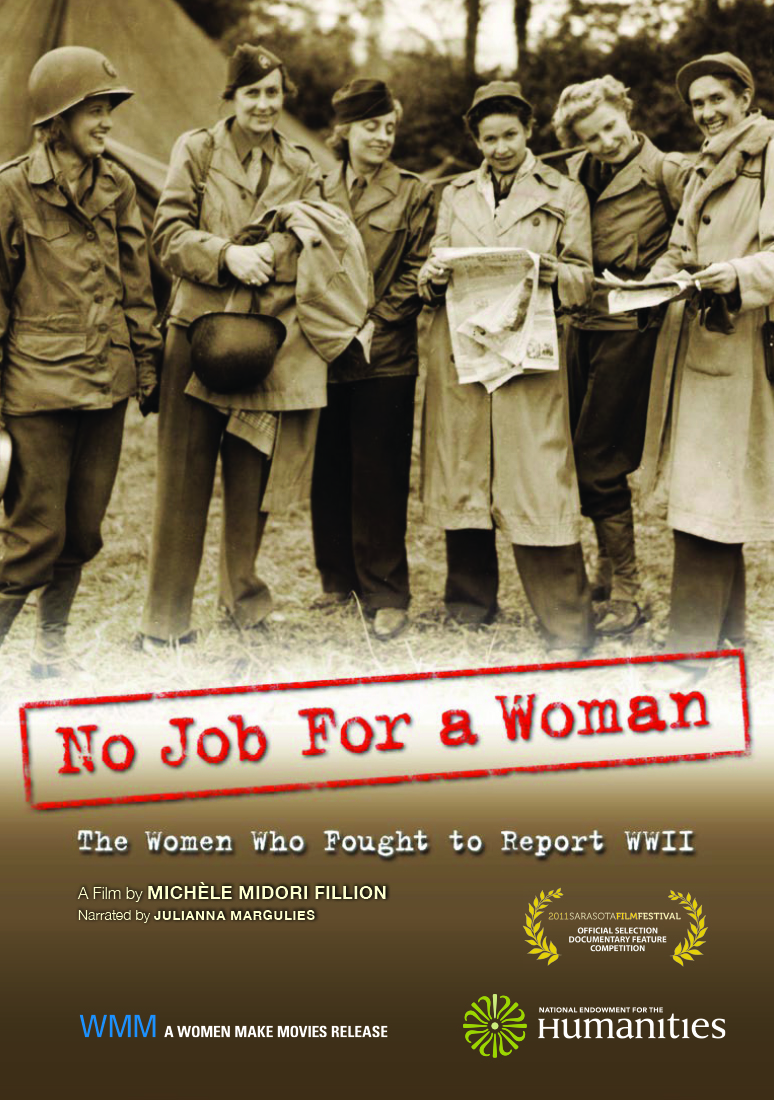 No Job For A Woman: The Women Who Fought To Report WWII
2011 | 61 minutes | Color/BW | DVD | English | Order No. 121052
SYNOPSIS
When World War II broke out, reporter Martha Gellhorn was so determined to get to the frontlines that she left husband Ernest Hemingway, never to be reunited. Ruth Cowan's reporting was hampered by a bureau chief who refused to talk to her. Meanwhile, photojournalist Dickey Chappelle wanted to get so close to the action that she could feel bullets whizzing by. This award-winning documentary tells the colorful story of how these three tenacious war correspondents forged their now legendary reputations during the war—when battlefields were considered no place for a woman. Narrated by Emmy® Award winner Julianna Margulies, this film features an abundance of archival photos and interviews with modern female war correspondents, as well as actresses bringing to life the written words of these remarkable women. Their repeated delegation to the sidelines to cover the "woman's angle" succeeded in expanding the focus of war coverage to bring home a new kind of story— a personal look at the human cost of war. NO JOB FOR A WOMAN: THE WOMEN WHO FOUGHT TO REPORT WWII has been made possible in part by a major grant from the National Endowment for the Humanities.
PRESS
"'No Job for a Woman' captures the essence of what it was like for not only a woman, but any war correspondent having the task of writing about the horrors of battle."
"[G]ripping, dramatic, and heroic story of the "girl war correspondents" of World War II… No journalism student can fail to be inspired by this well-researched and utterly compelling documentary."
"Reminds us of a time when women war reporters were breaking down press barriers through a mix of courage, determination to not be left behind, and, in some cases, being at the right place at the right time. It is a wonderful film to show students in not only mass communication classes but in women's studies and history."
"This outstanding film would be an excellent title for Women's History Month or for high school American history classes."
"Highly Recommended...an excellent addition to courses on women in the workforce and a great way to spark discussions of how women's roles in society were changed by WWII."
"***1/2. Highly recommended."
SCREENING HIGHLIGHTS AND AWARDS
2012 History Makers Awards, Best Use of Archive in a History Production, Nominee
Vancouver International Film Festival
Sarasota Film Festival, Through Women's Eyes Intl., Official Selection
ReFrame Peterborough International Film Festival
Flying Broom International Film Festival, Turkey
Filmor Istanbul
Powell River Film Festival
ABOUT FILMMAKER(S)
Michèle Midori Fillion

"No Job For a Woman" is Michèle Midori Fillion's first full-length documentary. Formerly a journalist with the Canadian Broadcasting Corporation (CBC), she has produced a variety of short documentaries for radio and television, with a special commitment to reports that focus on women.

Under a journalism fellowship provided by the Aga Khan Foundation Canada (AKFC), Fillion lived and worked in India, producing documentaries on the rural development work of organizations funded by AKFC.

Fillion's radio career includes co-hosting a CBC morning current affairs program, for which she produced in-depth reports on current events, co-hosting a Toronto-based arts interview program, and general-assignment radio reporting.

As well, Fillion's written work includes reports for newspapers, essays for cultural and academic journals, as well as plays for theater and film. She co-wrote a play, now a screenplay Blood Sport, for the Toronto theatre festival Buddies in Bad Times.

Fillion holds an MA in Sociology from the University of Toronto and an MA in journalism from the University of Western Ontario. She is fluent in French. (12/11)
YOU MIGHT ALSO BE INTERESTED IN
Shopping Cart