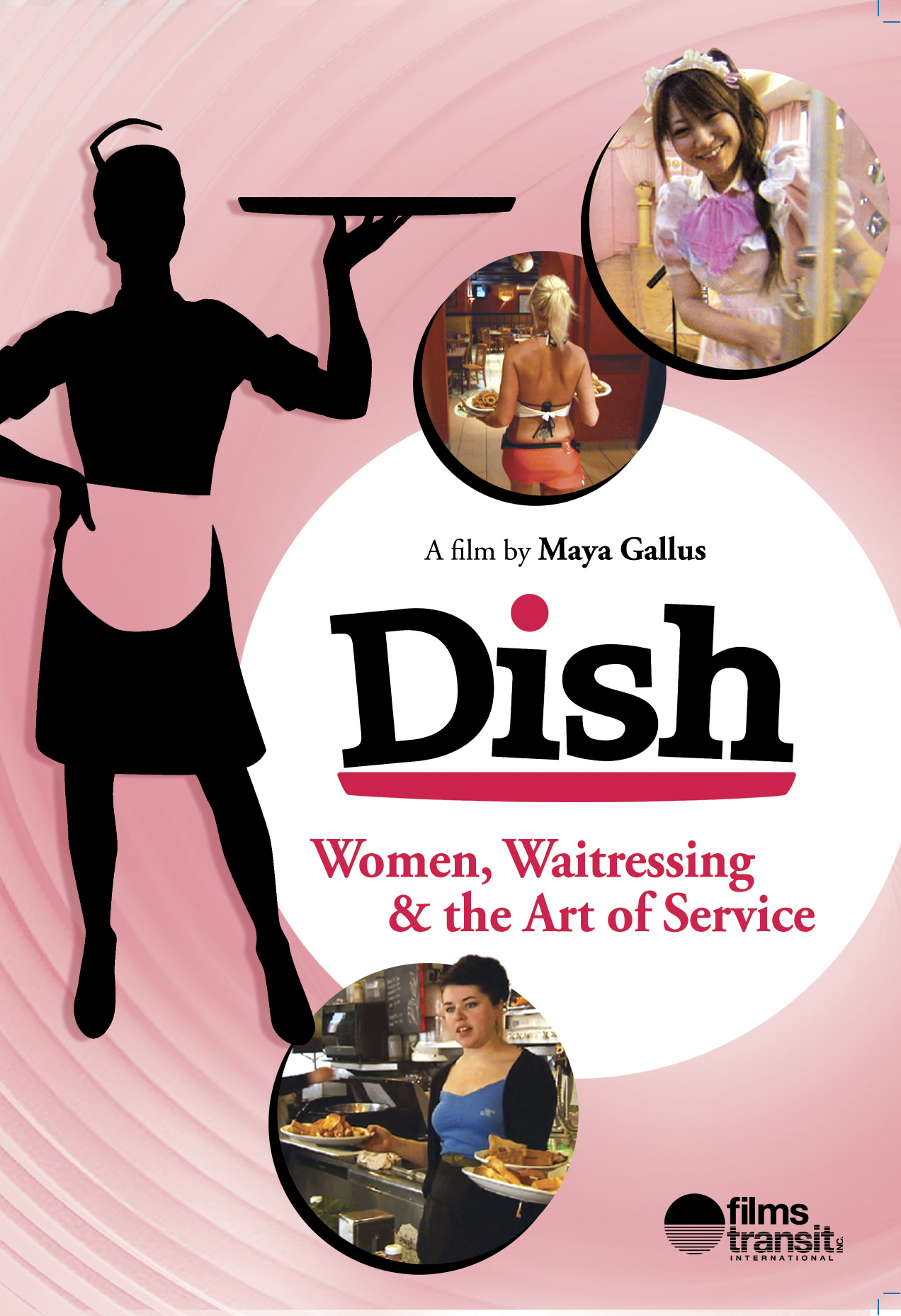 Dish
Women, Waitressing and the Art of Service
Canada | 2010 | 58 minutes | Color | DVD | French/Japanese/English | Subtitled | Order No. 111043
SYNOPSIS
Why do women bring your food at local diners, while in high-end establishments waiters are almost always men? DISH, by Maya Gallus, whose acclaimed
GIRL INSIDE
(2007) won Canada's Gemini Award for documentary directing, answers this question in a delicious, well-crafted deconstruction of waitressing and our collective fascination with an enduring popular icon. Digging beyond the obvious, Gallus, who waited tables in her teens, explores diverse dynamics between food servers and customers, as well as cultural biases and attitudes they convey. Her feminist analysis climbs the socio-economic ladder—from the bustling world of lower-end eateries, where women prevail as wait staff, to the more genteel male-dominated sphere of haute cuisine. Astute, amusing observations from women on the job in Ontario's truck stop diners, Montreal's topless"sexy restos," a Parisian super-luxe restaurant, and Tokyo's fantasy "maid cafés", as well as male customers' telling comments, disclose how gender, social standing, earning opportunities, and working conditions intersect in the food service industry.
PRESS
"Filled with sharp observations about the social dynamics of customer relations and workplace solidarity, the film should be an excellent starting point for discussions of gendered and class-stratified labor."
"DISH delves into… gender, power, and the art of service… What's revealed are the fantasies, desires, and prejudices projected onto women servers - including those of substitute wife, girlfriend, and personal servant."
"Dish is a highlight of Hot Docs. Beautifully shot with a clear line of sight to point and purpose, fast-paced with impressive attention to detail." —
"…a very successful film, conveying a lot of cross-cultural information while making a number of salient points of service, gender, and society."
"Recommended. Offer[s] an interesting glimpse of social and economic factors within the restaurant world."
SCREENING HIGHLIGHTS AND AWARDS
Vermont International Film Festival
Rencontres Internationales du Documentaire de Montreal
Citizen Jane Film Festival
Hot Docs International Film Festival
Bergen International Film Festival, Norway
Cuenca International Film Festival, Ecuador
St. John's International Women's Film Festival, Canada
DOK Leipzig
ABOUT FILMMAKER(S)
Maya Gallus
Maya Gallus is an award-winning filmmaker whose work has screened around the world, including the Boston Musuem of Art, Canada House UK, Toronto International Film Festival, Hot Docs, Melbourne Film Festival, MostraRIO, Feminale Festival, Fetisch Film Festival, Thessalonika Film Festival, One WorldHuman Rights Festival, Dok Leipzig, Bergen International Film Festival, Cuenca Women in Direction, FIFA - Films Sur L'art, Montreal World Film Festival, RIDM - Montreal, Yorkton, St John's Women's Festival, Citizen Jane , the TFMS Film Series, DOXA, Atlantic Film Festival, Frameline, New Fest, Out Fest, Reel Out, Image et Nation, Ladyfest UK, QDoc, QFilm Festival Indonesia, and Singapore International Film Festival,

Her first film, ELIZABETH SMART; ON THE SIDE OF THE ANGELS, was a hybrid documentary-drama about the author of By Grand Central Central Station I Sat Down And Wept. The film launched at the Toronto International Film Festival and won three Golden Sheaf Awards for Best Production of the Festival, Best Documentary and Best Editing; it was also nominated for a Gemini (Canada's Emmy Awards) for Best Direction.

Her follow up documentary EROTICA: A JOURNEY INTO FEMALE SEXUALITY, featuring the final interview with 90-year-old Pauline Réage, the mysterious author of Story of O, as well as interviews with the notorious French dominatrix Catherine Robbe-Grillet and performer Annie Sprinkle, among others, launched at the Toronto International Film Festival and was released theatrically in Toronto, San Francisco, San Sebastian and Tokyo. EROTICA was nominated for a Genie (Canada's Oscars) for Best Feature-Length Documentary as well as Best Arts Documentary at Hot Docs.

GIRL INSIDE, a documentary portrait of 23-year-old Madison, transitioning to her female self over three years with the help of her 80-year-old grandmother, won a Gemini for Best Direction In A Documentary and was nominated for the prestigious Donald Brittain Gemini Award for Best Social Political Documentary.

Her Gemini-nominated feature documentary, DISH-WOMEN, WAITRESSING & THE ART OF SERVICE, a portrait of working women in the service industry, from North American diners, to topless restos, to Japanese fantasy maid cafes, to high end Parisian restaurants, was launched to critical acclaim at Hot Docs.

THE MYSTERY OF MAZO DE LA ROCHE, exploring the love story behind the fiction of one of the most famous, yet secretive women writers of the 20th century, is her second hybrid documentary-drama, nominated for three Canadian Screen Awards and recipient of the Golden Sheaf Award for Best Social Issue Documentary.

Her most recent film, co-directed with Justine Pimlott, is DERBY CRAZY LOVE.
Other credits include co-directing and co-producing the Gemini-nominated PUNCH LIKE A GIRL, with Justine Pimlott, about amateur women's boxing; co-producing and writing the award-winning FAG HAGS: WOMEN WHO LOVE GAY MEN, and co-producing CAT CITY. (04/14)
Subject Areas
RELATED LINKS
YOU MIGHT ALSO BE INTERESTED IN
Shopping Cart