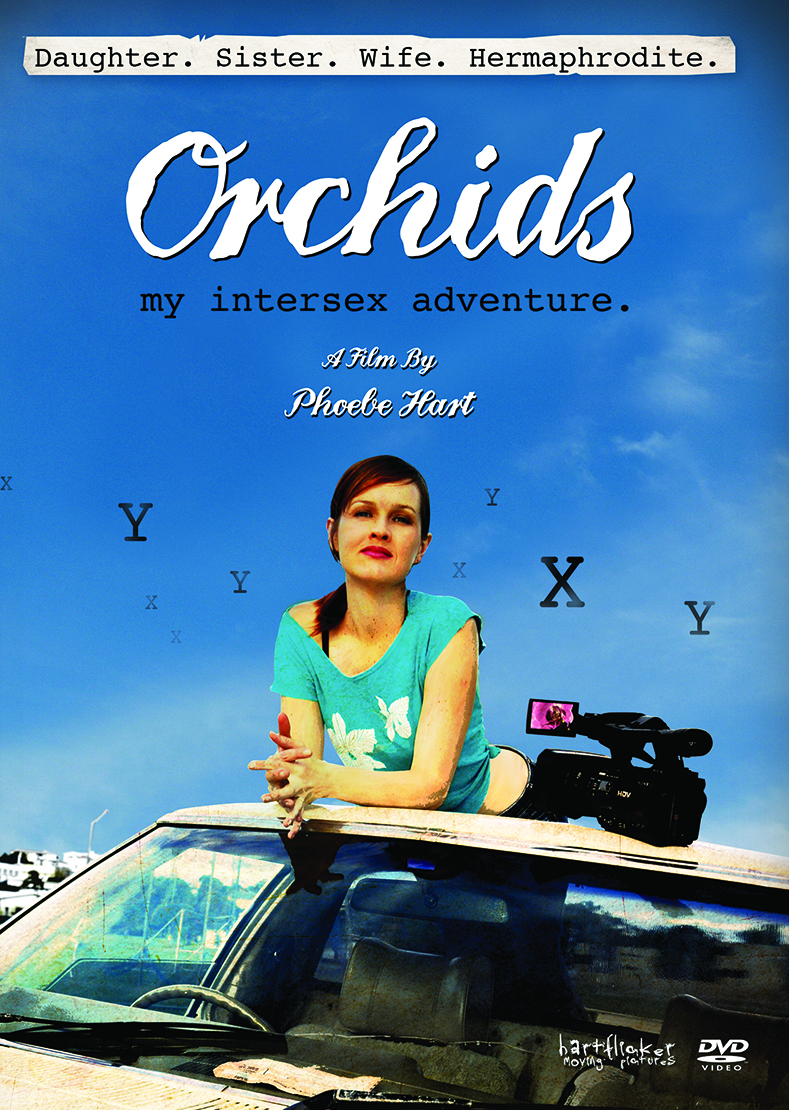 Orchids: My Intersex Adventure
Australia | 2010 | 60 minutes | Color | DVD | English | Order No. 111031
SYNOPSIS
Gen X filmmaker Phoebe Hart always knew she was different growing up – but she didn't know why. This award-winning documentary traces Phoebe's voyage of self-discovery as an intersex person, a group of conditions formerly termed hermaphroditism. Learning only in her teens that she was born with 46XY (male) chromosomes, Hart now seeks to understand her own story and the stories of others affected by this complex and often shameful syndrome. With help from sister Bonnie (born with the same condition) and support from partner James, Hart drives across Australia, interviewing individuals whose struggles and victories mirror and differ from her own. Some advocate systemic change ending shame and controversial genital surgeries, while others debate coming out or staying closeted with a stigmatized secret. Questioning rigidly defined constructs of gender, sexuality, and normality, often with lively good humor, ORCHIDS is the first film to look at intersex from a positive perspective. Its engaging portrait of survival, courage and reconciliation will speak to a variety of audiences and spark lively discussion about what it means to be perceived as "different."
PRESS
"With playful yet searing honesty, Phoebe Hart's autobiographical account of self-discovery offers an object lesson in the harms created by silence... This film could effectively be used in psychology, women's studies, and/or sexuality courses to challenge sex and gender binaries, [and] make visible the variations between female and male..." -
"Winner of the Australian Teachers of Media's ATOM Award for best documentary, Hart's work took years to complete and makes for compelling viewing. It blends a history of her condition with her own experience and stories from other intersex people she seeks out to help her understand."
"Personally I could not imagine a better film ever being made on coming to terms with a condition like AIS. It's wildly funny in parts but at the same time it's very intimate and deeply moving. I can't stop thinking about it."
"The film balances personal stories with a brief introduction to the biology of intersex syndromes and provides scientific as well as demographic context… Statistics like these make the case for adding Orchids to any library collection, but it is a particularly welcome addition to gender studies collections…"
"…Orchids settles into an exploration of the ways that many intersex people are made to feel – wrongly – that a 'normal' life is a contentment they can never achieve."
"The filmmaker's warmth and candor provide an engaging perspective on intersex identity and one family's changing attitude toward their 'secret.'"
"The road trip at the heart of the documentary serves as a metaphor for moving from secrecy and shame to openness and acceptance…In the process, Hart's film not only paints a compassionate portrait of people coming to terms with intersex, but crucially also interrogates rigidly defined constructs of gender, sexuality, and normality."
SCREENING HIGHLIGHTS AND AWARDS
Australian Directors Guild Awards, Best Direction in a Documentary (Stand Alone)
MujerDoc International Festival of Documentary Cinema on Gender, Spain, Best Short Documentary
Brisbane International Film Festival, Best Documentary
TranScreen Amsterdam, Audience Choice Awards (Runner Up)
Australian Academy Cinema Television Arts Awards, Best Documentary Under 1 Hour
Australian Teachers of Media's ATOM Award, Best Documentary
Honolulu Film Festival, Winner, Gold Kahuna Award
Chéries-Chéris Film Festival, France, Prix Spécial du Jury du Film Documentaire
NEWFEST: The New York LGBT Film Festival
Frameline, San Francisco International LGBT Film Festival 2011
OUTFEST: The Los Angeles Gay and Lesbian Film Festival
Milwaukee LGBT Film Festival
Tampa International Gay & Lesbian Film Festival
Seattle Gay & Lesbian Film Festival
ABOUT FILMMAKER(S)
Phoebe Hart
Phoebe Hart is principal of hartflicker, an energetic Australian-based video and film production company. Since completing her film studies at the Queensland University of Technology (QUT) in 1995, Phoebe Hart has worked extensively as a writer, producer and director of factual television and media, including children's program Totally Wild, Network Ten's documentary unit, and the Australian Broadcasting Corporation's (ABC) Race Around the World and Fly TV. She codirected a documentary series on the state of Australian higher education for the Special Broadcasting Service (SBS) called Downunder Grads, which screened in March 2008. Phoebe also directed and co-wrote the ABC documentary Roller Derby Dolls on a group of women who play the rough-and-tumble sport of roller derby, which screened in a primetime slot in September 2008. In 2009 Phoebe was awarded her doctorate from QUT of which Orchids was a central element of her studies. (3/11)
YOU MIGHT ALSO BE INTERESTED IN
Shopping Cart