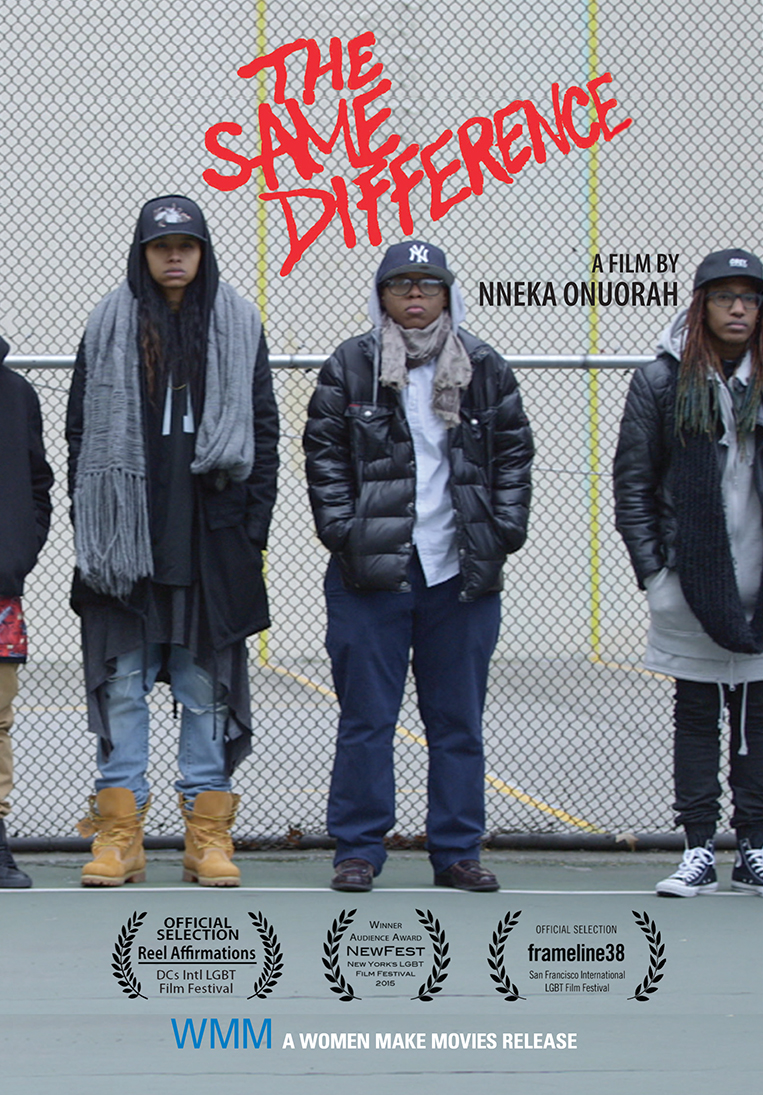 US | 2015 | 78 minutes | Color | DVD | Order No. 161175
SYNOPSIS
THE SAME DIFFERENCE is a compelling documentary about lesbians who discriminate against other lesbians based on gender roles. Director Nneka Onuorah takes an in-depth look at the internalized hetero-normative gender roles that have become all too familiar within the African American lesbian and bisexual community. Onuorah shows how these behaviors reproduce the homophobic oppression and masculine privilege of the straight world, while looking for solutions in compelling discussions with community members. Self-identified studs—and the women who love them—discuss hypocrisy in terms of gender roles, performative expectations, and the silent disciplining that occurs between community members. This film features many queer celebrities, including actress Felicia "Snoop" Pearson from the critically acclaimed HBO drama The Wire, and Lea DeLaria from Netflix's Orange Is the New Black, living daily with opinions about how identity should be portrayed. Onuorah's engaging documentary shines a light on the relationships and experiences within the queer black female community, intersecting race, gender and sexuality. Required viewing for Women's, Gender and Queer Studies.
PRESS
"The Same Difference takes the lid off of the many boxes that we as a community put ourselves into in respect to gender… The Same Difference is the best film about black butchness that I had ever seen."
"The Same Difference puts a spotlight on the black lesbian/bisexual community in a way that is not only necessary, but long overdue."
"The Same Difference is sure to spark a national dialogue around identity and the way we police one another."
"Consistently engaging… this documentary takes a taboo subject and forces it into the light… makes way for new questions, new answers, new discussions, new ways of knowing. Those interested in exploring gender identity, gender performances, gender roles, gendered taboos should see The Same Difference."
"Poignant, hard-hitting, and utterly enthralling…Nneka set out to create a film that made the "invisible visible," and she did so with intelligence, humour and fearlessness. This documentary is a must-see."
SCREENING HIGHLIGHTS AND AWARDS
Audience Award for Outstanding Documentary Feature, NewFest LGBT Film Festival
Frameline, San Francisco International LGBTQ Film Festival
Out Fest Fusion
Reel Affirmations LGBT Film Festival
QFest St Louis
Queer Screen Mardi Gras Film Festival
Q Films Long Beach
Sacramento International Gay and Lesbian Film Festival
ABOUT FILMMAKER(S)
Nneka Onuorah
Nneka Onuorah is an award-winning documentary filmmaker, television producer, and activist of Nigerian-American descent. She is known for her film, THE SAME DIFFERENCE, a documentary about internalized homophobia within the black lesbian community. The film was nominated for a GLAAD award in the category of Best Documentary. Her credits include field producer on the Netflix original docu-series "First and Last," about inmates' intake and release from the prison system and "My House," a documentary-series about the black queer vogue scene for Viceland. Most recently she worked along side Director Dee Rees and Oscar winning producer Cassian Elwes on an upcoming feature film, THE LAST THING HE WANTED. Nneka has a continued commitment to giving a voice to the voiceless through her work on the "Black Girls Rock" awards and her "We are All Women Campaign," a global visibility campaign dedicated to improving equitable healthcare and housing for lesbian women. (03/19)
Subject Areas
RELATED LINKS
YOU MIGHT ALSO BE INTERESTED IN
Shopping Cart