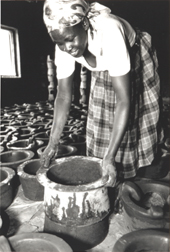 England | 1992 | 49 minutes | Color | DVD | Order No. 99360
SYNOPSIS
From the director of Bend it Like Beckham and Bride and Prejudice, PAIN, PASSION AND PROFIT is an inspirational look at women entrepreneurs through the eyes of the Body Shop founder, Anita Roddick, who has always maintained a strong commitment to the idea of "profits with principles." Several women in Africa who have successfully developed small-scale business enterprises in their own communities provide a focus for Roddick to pose questions about how the role and status of women affects their enterprises and how those enterprises provide a means of community and economic development for women. PAIN, PASSION AND PROFIT gives an in-depth look at global feminism and economic development as well as a personal and spirited view of the connections between the experiences of women entrepreneurs in the First and Third Worlds.
ABOUT FILMMAKER(S)
Gurinder Chadha
After starting her media career in radio in the mid-1980s, Chadha moved into television as a BBC news reporter. She went on to direct award-winning documentaries including I'M BRITISH BUT... which followed the lives of young British Asians. In 1990, Chadha set up a production company, Umbi Films. Her first film was the 11-minute NICE ARRANGEMENT (1991) about a British Asian wedding. Her first feature, BHAJI ON THE BEACH, won numerous international awards including a BAFTA Nomination for 'Best British Film of 1994.' In 1995, she directed RICH DECEIVER, a two-part drama for the BBC, watched by 11 million viewers.

WHAT'S COOKING was the Opening Night Film of the 2000 Sundance Film Festival, and was the first British script to be invited to the Sundance Institute's Writer's Lab. BEND IT LIKE BECKHAM was the highest grossing British-financed, British- distributed film, ever in the UK box-office (prior to the success of SLUMDOG MILLIONAIRE). BRIDE AND PREJUDICE - a film which marries Jane Austen with Indian and Western musicals - was the first film ever to open at Number One in the UK and India on the same day. She also wrote the screenplay for THE MISTRESS OF SPICES (2005), (based upon the novel of the same name by Chitra Banerjee Divakaruni) with Berges, who directed the film.

ANGUS, THONGS, AND PERFECT SNOGGING - based on the international bestseller, was released worldwide by Paramount Pictures in 2008/2009. IT'S A WONDERFUL AFTERLIFE premiered at the Sundance Film Festival before releasing internationally in 2010.

Chada's latest film VICEROY'S HOUSE, starring Hugh Bonneville, Gillian Anderson, Huma Qureshi, Manish Dayak and Om Puri was released internationally on March 3rd, 2017. Her films have received Nominations from the Golden Globes, BAFTA, European Film Academy, and the Writers Guild of America. (3/19)
YOU MIGHT ALSO BE INTERESTED IN
Dish
Why do women bring your food at local diners, while in high-end establishments waiters are almost always men? DISH, by Maya Gallus, whose acclaimed
GIRL INSIDE
(2007) won Canada's Gemini Award for documentary directing, answers this question in a delicious, well-crafted deconstruction of waitressing and our collective fascination with an enduring popular icon. Digging beyond the obvious, Gallus, who waited tables in her teens, explores diverse dynamics between food servers and customers, as well as cultural biases and attitudes they convey. Her feminist analysis climbs the socio-economic ladder—from the bustling world of lower-end eateries, where women prevail as wait staff, to the more genteel male-dominated sphere of haute cuisine. Astute, amusing observations from women on the job in Ontario's truck stop diners, Montreal's topless"sexy restos," a Parisian super-luxe restaurant, and Tokyo's fantasy "maid cafés", as well as male customers' telling comments, disclose how gender, social standing, earning opportunities, and working conditions intersect in the food service industry.
Learn more
Shopping Cart