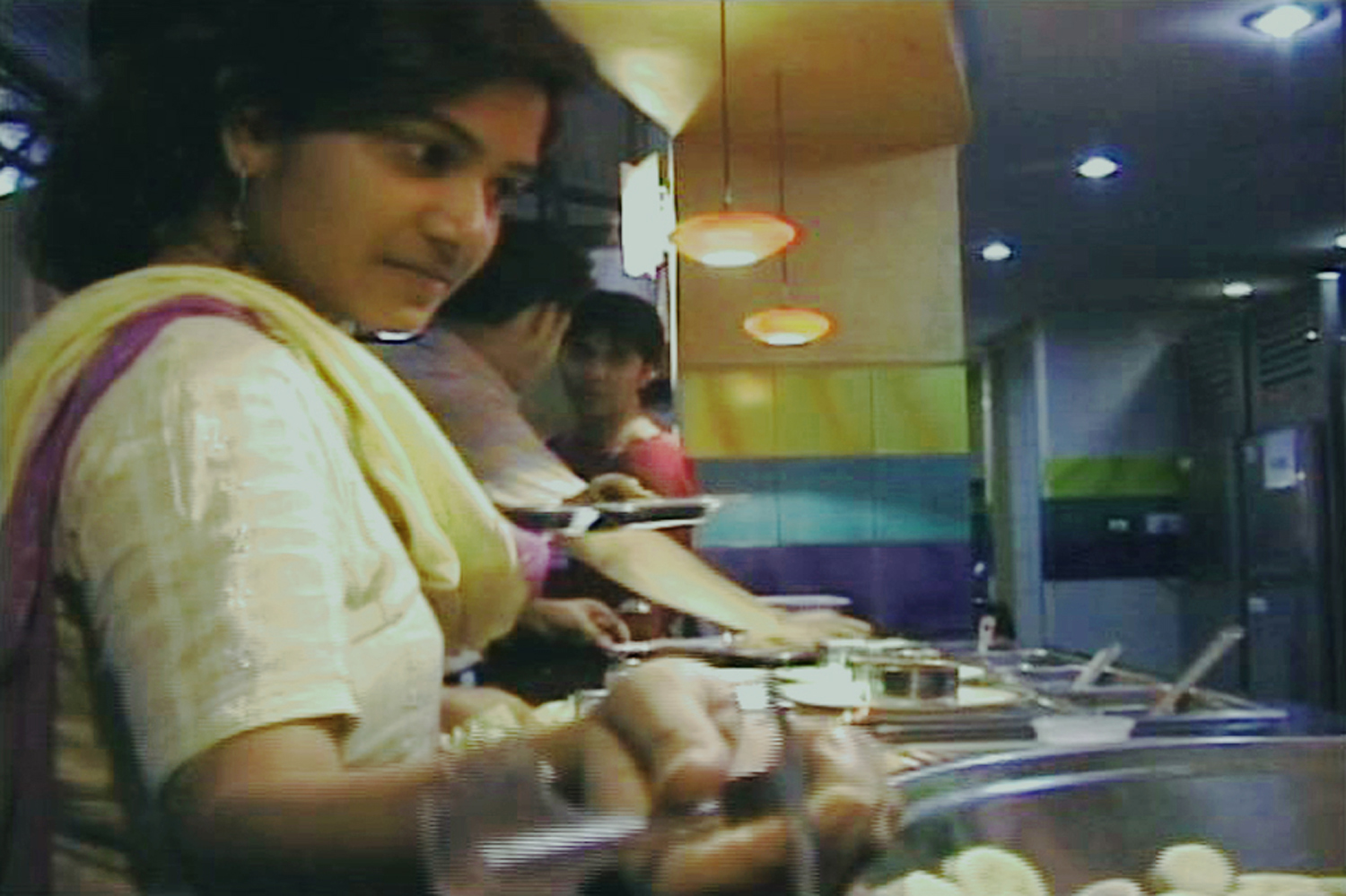 Nalini by Day, Nancy by Night
India/US | 2005 | 27 minutes | Color/BW | DVD | Hindi/English | Subtitled | Order No. 06901
SYNOPSIS
In this insightful documentary, filmmaker Sonali Gulati explores complex issues of globalization, capitalism and identity through a witty and personal account of her journey into India's call centers. Gulati, herself an Indian immigrant living in the US, explores the fascinating ramifications of outsourcing telephone service jobs to India—including how native telemarketers take on Western names and accents to take calls from the US, UK and Australia. A fresh juxtaposition of animation, archival footage, live action shots and narrative work highlight the filmmaker's presence and reveal the performative aspects of her subjects. With fascinating observations on how call centers affect the Indian culture and economy, NALINI BY DAY, NANCY BY NIGHT raises important questions about the complicated consequences of globalization.
PRESS
"Recommended...Gulati is a charming, humorous, and thoughtful guide. Her camera is as steady as her storytelling…This film would be a valuable addition to all school libraries."
"Insightful and humorous. A wonderful hybrid form that combines documentary footage with more whimsical animation and archival footage in this examination of the complex phenomenon of outsourcing jobs to India."
"Timely and telling."
"Unfold[s] with wit and humor on a subject of global importance that will keep you laughing all the way home and thinking thereafter. Definitely a documentary worth watching."
"This energetic, humorous documentary on India's call-centre culture skillfully educates the viewer on the resolute connection between class, Anglo-American colonial history, globalisation, and the clash between national and regional cultures..An invaluable teaching tool."
"A welcome addition to the cinema of globalization...explores with care and insight, the rigorous and fascinating training that hopeful call center operators in India pursue...a charming and revealing look at a cultural phenomenon we hear about but rarely see."
"A wonderful film…draws on personal history and economic theory to reveal the complex and surprising trajectories of globalization. Filmmaker Sonali Gulati hangs up on annoying solicitation calls, until she encounters a voice that properly pronounces her name. Her curiosity aroused, she traces the call to New Delhi, India, where day and night have been inverted to accommodate the pull of American consumer culture."
SCREENING HIGHLIGHTS AND AWARDS
UFVA Juried Screening for NextFrame, 2nd Prize
Rosebud Film & Video Festival, Festival Award
Black Maria Film Fest, Director's Choice Award
Humboldt Int'l Film Festival, Ledo Matteoli Award
Cinemateca Film Festival, Uruguay, 1st Prize
IFCT 2008 Award, Best Documentary
IFCT 2008 Tour Award, Best Director of a Documentary
Margaret Mead Film and Festival
Independent South Asian Film Festival, Seattle
Asian Pacific American Film Festival, Washington DC
International South Asian Film Festival, NYC
NY Asian American International Film Festival
Indianapolis International Film Festival
Chicago Asian American Film Festival
Los Angeles VC Asian Pacific Film Festival
ABOUT FILMMAKER(S)
Sonali Gulati
Sonali Gulati is an independent filmmaker, a feminist, grass-roots activist, and an educator. She is an Associate Professor at Virginia Commonwealth University's Department of Photography & Film. She has an MFA in Film & Media Arts from Temple University and a BA in Critical Social Thought from Mount Holyoke College. Ms. Gulati grew up in New Delhi, India and has made several short films that have screened at over three hundred film festivals worldwide.

Her films have screened at venues such as the Hirshhorn Museum, the Museum of Fine Arts in Boston and the National Museum of Women in the Arts, and at film festivals such as the Margaret Mead Film Festival, the Black Maria Film Festival and the Slamdance Film Festival. Gulati's award-winning documentary, NALINI BY DAY, NANCY BY NIGHT was broadcast on television in the U.S., Canada, Europe, Australia, New Zealand, The Middle East, South Asia and North Africa.

Her most recent film I AM has won 12 awards and continues to exhibit extensively in the film festival circuit. Gulati has won awards, grants, and fellowships from the Third Wave Foundation, World Studio Foundation, the Robert Giard Memorial Fellowship, the Virginia Museum of Fine Arts Fellowship, the Theresa Pollak Prize for Excellence in the Arts, the Center for Asian American Media (CAAM), VCU School of the Arts Faculty Award of Excellence and most recently a grant from the Creative Capital Foundation. (8/14)
YOU MIGHT ALSO BE INTERESTED IN
Made in India: A Film about Surrogacy
In San Antonio, Lisa and Brian Switzer risk their savings with a Medical Tourism company promising them an affordable solution after seven years of infertility. Halfway around the world in Mumbai, 27-year-old Aasia Khan, mother of three, contracts with a fertility clinic to be implanted with the Texas couple's embryos. MADE IN INDIA, about real people involved in international surrogacy, follows the Switzers and Aasia through every stage of the process. With its dual focus, this emotionally charged, thoroughly absorbing film charts obstacles faced by the Switzers and presents intimate insights into Aasia's circumstances and motivation. As their stories become increasingly intertwined, the bigger picture behind offshore outsourcing of pregnancies—a booming, unregulated reproductive industry valued at $450 million in India alone—begins to emerge. So do revealing questions about international surrogacy's legal and ethical implications, global corporate practices, human and reproductive rights, and commodification of the body.
Learn more
Dish
Why do women bring your food at local diners, while in high-end establishments waiters are almost always men? DISH, by Maya Gallus, whose acclaimed
GIRL INSIDE
(2007) won Canada's Gemini Award for documentary directing, answers this question in a delicious, well-crafted deconstruction of waitressing and our collective fascination with an enduring popular icon. Digging beyond the obvious, Gallus, who waited tables in her teens, explores diverse dynamics between food servers and customers, as well as cultural biases and attitudes they convey. Her feminist analysis climbs the socio-economic ladder—from the bustling world of lower-end eateries, where women prevail as wait staff, to the more genteel male-dominated sphere of haute cuisine. Astute, amusing observations from women on the job in Ontario's truck stop diners, Montreal's topless"sexy restos," a Parisian super-luxe restaurant, and Tokyo's fantasy "maid cafés", as well as male customers' telling comments, disclose how gender, social standing, earning opportunities, and working conditions intersect in the food service industry.
Learn more
Shopping Cart