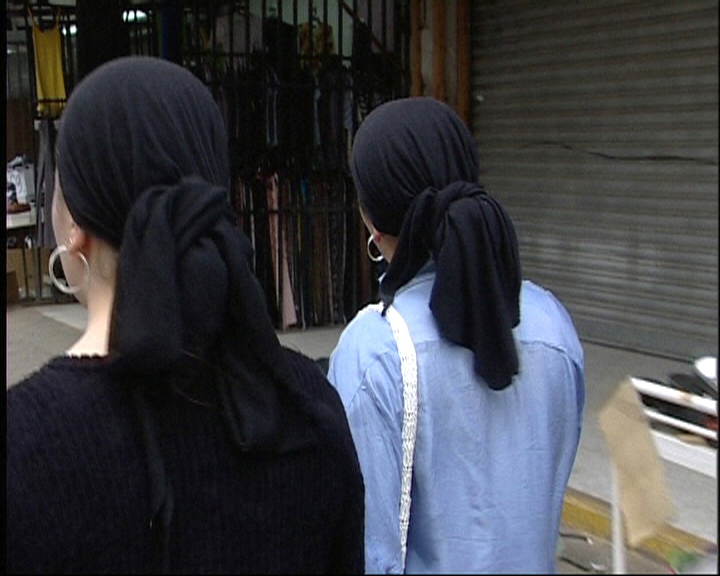 Israel | 2001 | 58 minutes | Color | DVD | Subtitled | Order No. 02763
SYNOPSIS
A timely and powerful look at the ideological, cultural and political conflicts in contemporary Israel, this highly original documentary profiles three seemingly disparate women residing in the town of Ramleh. Located in the heartland of the Israel, this former Palestinian territory serves as a microcosm of the beliefs, biases and conflicts of women living in the country today. Profiled in this compelling documentary are Sima and Orly, two ultra-orthodox Jewish women who rediscover religion and enthusiastically support the conservative "Shas" party, the third largest political party in Israel; Svetlana, a single-mother and recent immigrant struggling to establish herself in her new country; and Gehad, a young Muslim teacher and law student attempting to find a sense of national identity in a predominately Jewish state. Filmed between the general elections in 1999 and the 2001 elections, Ramleh demonstrates the profound cultural and political divisions barring these women from living together as a united community, as well as reveals how their political landscape helped sow the seeds of the intifada in 2000. It similarly raises the question of whether each woman and the communities they represent will ever peacefully reconcile their search for tradition, religion and homeland.
PRESS
"The film stands as a meditation about external and internal geographies of identity, particularly in the case of minority groups within Israeli society. Despite its diversity and hybridity, Aviad reminds us that the film can only be cohered through the Ashkenazi establishment, so well represented by Aviad's missing body, but ever present voice-over narration."
"Excels in its direct, critical and yet full of respect treatment of its subjects. Aviad is able to create identification, as she describes a frightening world, 20 minutes away from Tel Aviv. She does it with wisdom and with a lot of talent."
SCREENING HIGHLIGHTS AND AWARDS
Human Rights Watch Film Festival
Dallas Video Festival
One World Film Festival
Mumbai International Film Festival
FIPA― Festival International de Programmes Audiovisuels
Jerusalem International Film Festival
Munich International Documentary Film Festival
San Francisco, Washington and Maine Jewish Film Festival
Istanbul International Documentary Film Festival
Kalamata International Documentary Film Festival
Macedonia Human Rigths Film Festival
Manchester Film Festival
Pristina Human Rights Film Festival
World Summit International Film Festival
Israel Film Festival (New York, Chicago, Los Angeles and Boston)
Hartford Jewish Film Festival
Immaginaria Women's International Film Festival
Unabhaengiges FilmFest Osnabrueck
Sguardi Altrove Women's International Film Festival
Halfway to Hollywood Film Festival
ABOUT FILMMAKER(S)
Michal Aviad
Michal Aviad was born in Jerusalem to an Italian-born mother and a Hungarian-born father. After finishing high school, she studied literature philosophy and cinema. During the 1980s she lived in San Francisco where she started making films and became a mother. Since returning to Israel in 1991, she has continued to write, direct and produce award-winning documentary films.

Her films include: ACTING OUR AGE (1987, USA), THE WOMEN NEXT DOOR (1992, Israel), EVER SHOT ANYONE? (1995, Israel), JENNY & JENNY (1997, Israel), RAMLEH (2001, Israel), FOR MY CHILDREN (2002, Israel) Aviad's films examine the complex relationships between women's issues and the Palestinian-Israeli conflict, militarism, and ethnicity. Aviad has been working on co-writing and directing INVISIBLE since 2006. It is her first feature length fiction film.

She is a faculty member at Tel Aviv University's Department of Film and Television. Aviad shares her life with her two children and her boyfriend, in unbearably sunny Tel Aviv. (8/14)
Shopping Cart