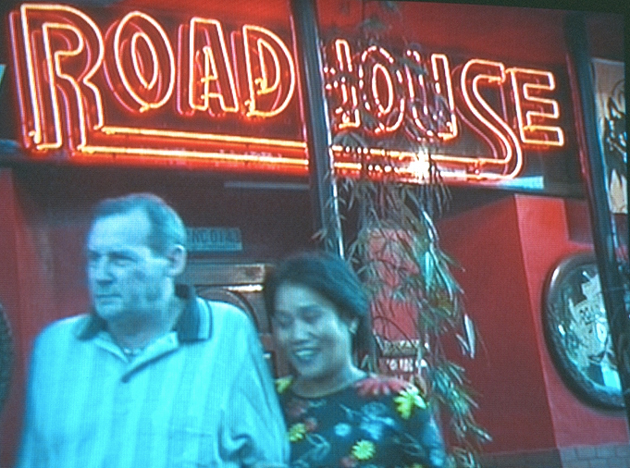 2001 | 53 minutes | Color | DVD | Order No. 02764
SYNOPSIS
In Biemann's film, she traces the routes and reasons of women who travel across the globe for work in the sex industry. By using the latest images from NASA satellites, the film investigates the consequences of the U.S. military presence in southeast Asia as well as European migration politics. This essay takes an earthly perspective on cross-border circuits, where women have emerged as key actors and expertly links new geographic technologies to the sexualization and displacement of women on a global scale. By revealing how technologies of marginalization affect women in their sexuality, REMOTE SENSING aspires to displace and resignify the feminine within sexual difference and cultural representation.
PRESS
"An artistic triumph, Bieman's tape provides a searing account of the parasitic networks of global, sexual trafficking in the digital age."
"Biemann navigates a unique path through critical dialogues on the global sex trade, feminist geography and media activism and her video will become a natural resource for anyone interested in these areas."
"Hand in hand with her critique of digital technologies of visualization, Biemann constructs a thought-provoking visual rendering of instances of national impoverishment as well as of the strategies for economic development that rest on the exploitation of women's sexual labor."
SCREENING HIGHLIGHTS AND AWARDS
Govett-Brester Art Gallery, New Zealand
Museum of Modern Art, New York
Duisburg Film Festival
Museum of Modern Art, Stockholm
Lux Centre, London
Feminale International Women's Film Festival, Cologne
Whitechapel Gallery, London
ABOUT FILMMAKER(S)
Ursula Biemann
More recently she turned to ecology, oil and water with major art projects including Black Sea Files (2005), Egyptian Chemistry (2012) and Deep Weather (2013). Her video installations are exhibited worldwide in museums and the International Art Biennials of Liverpool, Sharjah, Shanghai, Thessaloniki, Sevilla, Istanbul, and Venice.

Her research is based at the Zurich University for the Arts and she is publisher of several books, e.g. "Stuff it" the Video Essay in the Digital Age (2003), Mission Reports - Artistic Practice in the Field (2008). She is currently working on a new piece on the Ecuadorian Amazon, commissioned by Broad Art Museum at Michigan State University.

Biemann has a BFA from the School of Visual Arts and attended the Whitney Independent Study Program in New York (1988). She received a doctor honoris causa in Humanities by the Swedish University Umea and the Prix Meret Oppenheim, the national art award of Switzerland. (03/19)
Subject Areas
RELATED LINKS
YOU MIGHT ALSO BE INTERESTED IN
The Price of Sex
An unprecedented and compelling inquiry, THE PRICE OF SEX sheds light on the underground criminal network of human trafficking and experiences of trafficked Eastern European women forced into prostitution abroad. Photojournalist Mimi Chakarova's feature documentary caps years of painstaking, on-the-ground reporting that aired on Frontline (PBS) and 60 Minutes (CBS) and earned her an Emmy nomination, Magnum photo agency's Inge Morath Award, and a Webby for Internet excellence. Filming undercover with extraordinary access, even posing as a prostitute to gather her material, Bulgarian-born Chakarova travels from impoverished rural areas in post-Communist Eastern Europe, including her grandmother's village, to Turkey, Greece, and Dubai. This dangerous investigative journey brings Chakarova face to face with trafficked women willing to trust her and appear on film undisguised. Their harrowing first-person accounts, as well as interviews with traffickers, clients, and anti-trafficking activists, expose the root causes, complex connections, and stark significance of sexual slavery today.
Learn more
Scarlet Road
Impassioned about freedom of sexual expression, Australian sex worker Rachel Wotton specializes in a long overlooked clientele— people with disabilities. Working in New South Wales—where prostitution is legal— Rachel's philosophy is that human touch and sexual intimacy can be the most therapeutic aspects to our existence. Indeed, she is making a dramatic impact on the lives of her customers, many of whom are confined to wheelchairs or cannot speak or move unaided. Through her graduate studies and her nonprofit group Touching Base, Rachel both fights for the rights of sex workers and promotes awareness and access to sexual expression for the disabled through sex work—and brings together these two often marginalized groups. We follow her from conducting sex and disability workshops to speaking to the World Congress on Sexual Health about her mission to observing her overnight stays with severely disabled clients who blossom under her attention—with one man even gaining back lost movement and sensation thanks to his time spent with her. Rachel has made it her life's work to end the stigma surrounding these populations; the depth, humor and passion in this positive and pro-active documentary will transform the way we see sex workers and people with disabilities forever.
Learn more
Shopping Cart