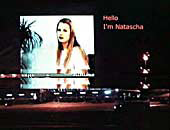 2000 | 23 minutes | Color | DVD | Order No. 01731
SYNOPSIS
"Ursula Biemann's WRITING DESIRE is a video essay on the new dream screen of the Internet and how it impacts on the global circulation of women's bodies from the third world to the first world. Although under-age Philippine 'pen pals' and post-Soviet mail-order brides have been part of the transnational exchange of sex in the post-colonial and post-Cold War marketplace of desire before the digital age, the Internet has accelerated these transactions. Biemann provides her viewers with a thoughtful meditation on the obvious political, economic and gender inequalities of these exchanges by simulating the gaze of the Internet shopper looking for the imagined docile, traditional, pre-feminist, but Web-savvy mate. WRITING DESIRE delights in implicating the viewer in the new voyeurism and sexual consumerism of the Web. However, it never fails to challenge pat assumptions about the impossibility for resistance and the absolute victimization of women who dare to venture out of the third world and onto the Internet to look for that very obscure object of desire promised by the men of the West. This film will promote lively discussion on third world women, the sex industry, mail order brides, racism and feminist backlashes in the West, and on women's sexuality, desire, and new technologies." --Gina Marchetti, Ithaca College
PRESS
"Maps the digital networks of sexuality and gender that utterly redefine feminism. A brilliant surf through the digital landscapes of desire as they morph the gaze for transnational exchanges. An intellectually and artistically edgy tape by one of the most important visual artists working the politics of the analog/digital divide."
"'Writing Desire' is a short, experimental video that documents the traffic in internet brides. By showing how women are deploying the web to market themselves and express their desire (for a good home, for love, to escape poverty), the video functions as a sort of trompe l'oeil that unsettles categories such as love and desire that generally go unquestioned."
SCREENING HIGHLIGHTS AND AWARDS
Dallas Video Festival
Govett-Brester Art Gallery, New Zealand
Women in the Director's Chair
Open Space, International Women's University, Hanover
Cornell Cinema, Ithaca
Women in Cinema, Washington
Videoex, Video ane Expermental Film Festival, Zurich
Framing Globality, Stuttgarter Filmwinter
All is Fair in Love and War, Rotterdam 2001 Homeport
Future Bodies, University of Art and Design, Cologn
Sex - on Wishes and Desires, Dresdener Hygienemuseum
Gouvernamentality, Hanover
Female Geographies, Austrian Cultural Institute, Vienna
VIDARTE International Video and Electronic Arts Festival, Mexico
Centre George Pompidou, Paris
Docfilm and Videofestival Kassel
Cinematik, Tijuana, Mexico
Center for Media Art, Germany - International Art and Media Award
One World Film Festival, Canada
Reina Sofia Museum, Madrid
ABOUT FILMMAKER(S)
Ursula Biemann
More recently she turned to ecology, oil and water with major art projects including Black Sea Files (2005), Egyptian Chemistry (2012) and Deep Weather (2013). Her video installations are exhibited worldwide in museums and the International Art Biennials of Liverpool, Sharjah, Shanghai, Thessaloniki, Sevilla, Istanbul, and Venice.

Her research is based at the Zurich University for the Arts and she is publisher of several books, e.g. "Stuff it" the Video Essay in the Digital Age (2003), Mission Reports - Artistic Practice in the Field (2008). She is currently working on a new piece on the Ecuadorian Amazon, commissioned by Broad Art Museum at Michigan State University.

Biemann has a BFA from the School of Visual Arts and attended the Whitney Independent Study Program in New York (1988). She received a doctor honoris causa in Humanities by the Swedish University Umea and the Prix Meret Oppenheim, the national art award of Switzerland. (03/19)
Subject Areas
RELATED LINKS
YOU MIGHT ALSO BE INTERESTED IN
The Price of Sex
An unprecedented and compelling inquiry, THE PRICE OF SEX sheds light on the underground criminal network of human trafficking and experiences of trafficked Eastern European women forced into prostitution abroad. Photojournalist Mimi Chakarova's feature documentary caps years of painstaking, on-the-ground reporting that aired on Frontline (PBS) and 60 Minutes (CBS) and earned her an Emmy nomination, Magnum photo agency's Inge Morath Award, and a Webby for Internet excellence. Filming undercover with extraordinary access, even posing as a prostitute to gather her material, Bulgarian-born Chakarova travels from impoverished rural areas in post-Communist Eastern Europe, including her grandmother's village, to Turkey, Greece, and Dubai. This dangerous investigative journey brings Chakarova face to face with trafficked women willing to trust her and appear on film undisguised. Their harrowing first-person accounts, as well as interviews with traffickers, clients, and anti-trafficking activists, expose the root causes, complex connections, and stark significance of sexual slavery today.
Learn more
Shopping Cart