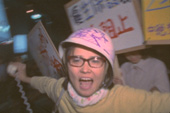 Ripples of Change
Japanese Women's Search for Self
US/Japan | 1993 | 57 minutes | Color | 16mm/DVD | Subtitled | Order No. 99033
SYNOPSIS
Powerful political analysis is combined with a passionate personal story in this exceptional documentary about the Japanese women's liberation movement in the 1970's and its influence on contemporary Japanese society. Director Nanako Kurihara left her homeland in the 1980's, frustrated by the lack of interesting roles for women in Japan. In New York, she met a Japanese woman who had been involved in the women's liberation movement in Japan in the 1970's. Kurihara returned to Japan, bringing together interviews with veterans of the movement, fascinating archival footage and her personal impressions to produce a film which explores the meaning of the liberation movement, the factors that motivated it and the effect it has had on people's attitudes. RIPPLES OF CHANGE is an excellent resource for the study of global feminism, women's roles and Japanese society.
PRESS
"A powerful and daring work."
"Fascinating, cross-culturally inspiring."
"A unique opportunity for thought-processing the notable similarities in the US and Japanese movements towards sex/gender equity."
SCREENING HIGHLIGHTS AND AWARDS
National Educational Film and Video Festival, Gold Apple
San Francisco Film Festival, Certificate of Merit
Tokyo Film Festival
Margaret Mead Film Festival Margaret Mead Film Festival
San Fransisco Asian American Film Festival
London Film Festival
ABOUT FILMMAKER(S)
Nanako Kurihara
Nanako Kurihara is an award-winning producer/director. Kurihara was born and grew up in Japan. She graduated from Waseda University with a BA in Political Science. After working as a magazine editor, she moved to New York where she started to make documentaries.

Her first film, RIPPLES OF CHANGE, about the Japanese women's movement was shown internationally and was broadcast in the United States and Australia. She recently completed A GRANDPA IN BRAZIL, about a first generation immigrant's personal look at Japanese migration to Brazil and return migration of Japanese-Brazilians to Japan. The documentary was screened across Japan in theaters and communities to connect Japanese with Brazilians in the time of economic crisis. It was also shown in Brazil in 2008 at the time of the centennial of Japanese immigration to Brazil; in the States at Chicago University and Northwestern University, in Toronto, Canada, at the Association for Asian Studies: Film Expo.

She currently resides in Kyoto, Japan. She holds a M.A. and Ph.D. from the Performance Studies at New York University. (8/14)
YOU MIGHT ALSO BE INTERESTED IN
Surviving the Tsunami - My Atomic Aunt
Film director Kyoko Miyake remembered Namie, a fishing village ravaged by the 2011 Fukushima nuclear catastrophe, as her childhood paradise. Revisiting her family's hometown after 10 years abroad, Miayke's multilayered documentary examines the disaster's profound personal, social and environmental impact. While Namie's younger generations have permanently relocated elsewhere, Miyake's Aunt Kuniko, like other older residents, has clung to dreams of eventually returning to her home. Over the course of a year, Miyake follows this warm, indomitable businesswoman as she recalls happy family memories and strives to adapt to life outside the contamination zone. In the process, Kuniko starts questioning her unconditional trust in Fukushima's plant operators and pro-nuclear past in a community that once hoped to house a nuclear power station. A timely reminder of Fukushima's continuing meltdown, this insightful, often funny film offers fresh perspectives on Japanese national identity and today's most pressing global concerns around nuclear energy.
Learn more
Shopping Cart