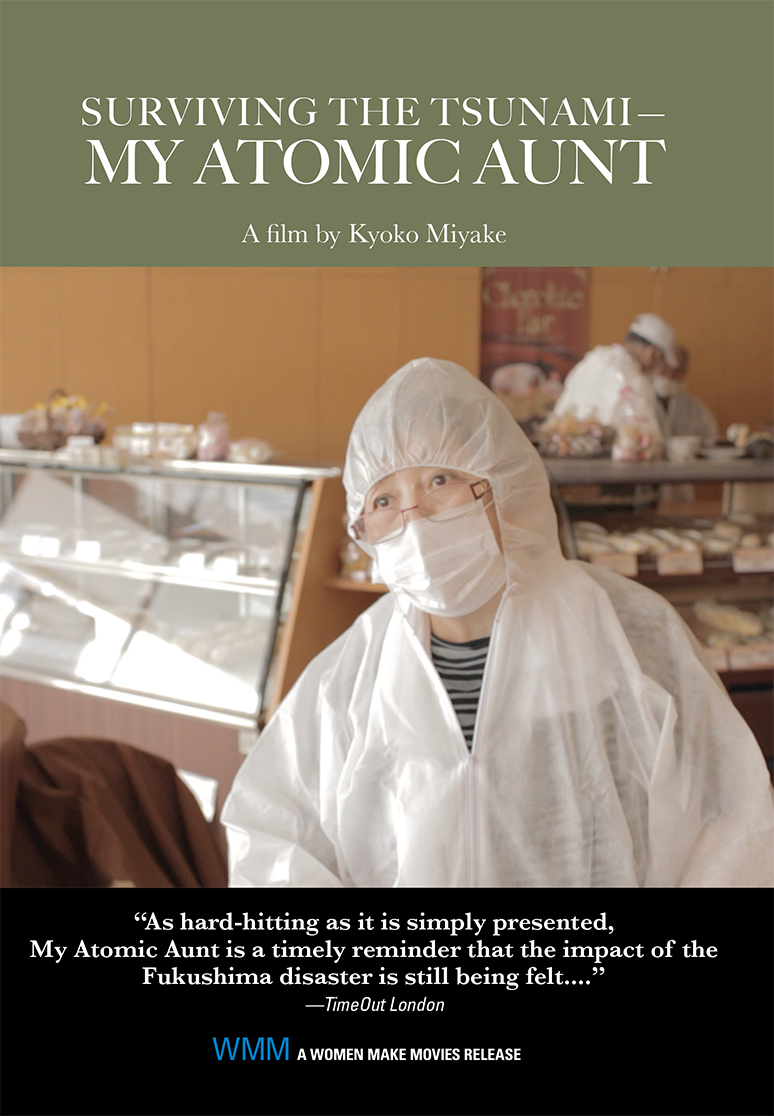 Surviving the Tsunami - My Atomic Aunt
Germany/Japan | 2013 | 52 minutes | Color | DVD | English/Japanese | Subtitled | Order No. 141115
SYNOPSIS
Film director Kyoko Miyake remembered Namie, a fishing village ravaged by the 2011 Fukushima nuclear catastrophe, as her childhood paradise. Revisiting her family's hometown after 10 years abroad, Miayke's multilayered documentary examines the disaster's profound personal, social and environmental impact. While Namie's younger generations have permanently relocated elsewhere, Miyake's Aunt Kuniko, like other older residents, has clung to dreams of eventually returning to her home. Over the course of a year, Miyake follows this warm, indomitable businesswoman as she recalls happy family memories and strives to adapt to life outside the contamination zone. In the process, Kuniko starts questioning her unconditional trust in Fukushima's plant operators and pro-nuclear past in a community that once hoped to house a nuclear power station. A timely reminder of Fukushima's continuing meltdown, this insightful, often funny film offers fresh perspectives on Japanese national identity and today's most pressing global concerns around nuclear energy.
PRESS
"An insightful and surprisingly funny story of a family adjusting to life after the tsunami. Through the attempts of the warm and indefatigable Aunt Kuniko to adapt at her ripe age, this deeply personal film explores notions of homeland, nuclear power and family love."
"Haunting and moving ….as hard-hitting as it is simply presented, MY ATOMIC AUNT is a timely reminder that the impact of the Fukushima disaster is still being felt...."
"..quirky and affecting film.."
SCREENING HIGHLIGHTS AND AWARDS
Hamburg Film Festival
EDS International Documentary Festival
DOK Leipzig
ABOUT FILMMAKER(S)
Kyoko Miyake
Kyoko's first feature-length documentary, MY ATOMIC AUNT (aka Beyond the Wave /Meine Tante aus Fukushima) was supported by 7 broadcasters and numerous grants including BBC, NHK, WDR and Sundance and has been screened and broadcast in many countries. Her second film, BRAKELESS, is a co-production with BBC Storyville, ITVS, NHK, IKON and DR, and it currently in post production.

Several short documentaries Kyoko directed have been shown at festivals internationally including Berlin, London, Sydney and SilverDocs. HACKNEY LULLABIES won the Berlin Today Award 2011 at the Berlin Film Festival. MRS. BIRKS' SUNDAY ROAST, commissioned through Film London's scheme has been added to the British Film Institute's National Archive collection, and enjoyed a successful 2-week run at the IFC Center New York in summer 2011. Kyoko has been selected for prestigious schemes such as Berlinale Talent Campus, Japanese government's Art Grant, Talent Campus Tokyo, Crossing Borders, and Pola Art Foundation Grant.

Kyoko originally came to the UK to study history of English witchcraft at Oxford University as a Swire Centenary Scholar, having studied English history at Tokyo University. While studying and working for British and Japanese media, she picked up a camera to fulfill her childhood dream of becoming a filmmaker and started to make short films on her own. She still intends to remain true to her roots in history - but rather by making films about witchcraft in the future. (3/14)
YOU MIGHT ALSO BE INTERESTED IN
Shopping Cart