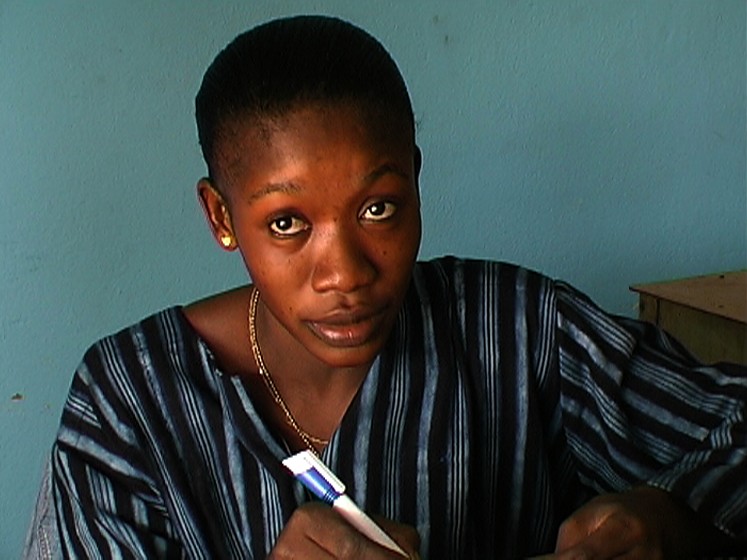 Speaking Out: Women, AIDS and Hope in Mali
Mali | 2002 | 55 minutes | Color | DVD | French | Subtitled | Order No. 03801
SYNOPSIS
The fourth installment of Joanne Burke's critically acclaimed NEW DIRECTIONS series on women's empowerment in developing countries, SPEAKING OUT presents a compelling case study on the impact of AIDS on women from Mali and the devastating effects the epidemic is having in Africa today. This critically acclaimed documentary profiles a remarkable HIV and AIDS support project in Bamako, Mali, sponsored by The Center for Care, Activity and Council for People Living with HIV (CESAC), and three brave women who tirelessly work on behalf of the infected community. Risking social ostracism and family rejection, Aminita, Oumou and Aissata are among a small group who dare to speak publicly about their HIV+ status. They help others with HIV, particularly women, by joining AFAS, the women's association for the support of widows and children of AIDS. Through their advocacy work they hope to demonstrate to the Mali government the desperate need for a more pro-active HIV and AIDS strategy. With the help of CESAC, these inspiring women are proving that an HIV+ diagnosis is not the end of life, but the start of a positive future for all African men and women.
PRESS
"…a rare and unparalleled teaching tool for courses in anthropology, international public health, women's studies, international affairs, and the medical humanities."
"The film covers the whole gambit of issues related to people living with AIDS -- social, cultural barriers, discrimination, stigma, gender, community-based strategies, orphans and treatment. It is excellent for stimulating discussion on key issues."
"…compelling and important…I was genuinely moved."
SCREENING HIGHLIGHTS AND AWARDS
San Francisco Black Film Festival
ABOUT FILMMAKER(S)
Joanne Burke
Joanne Burke is a documentary film and video producer with long years of top-level experience. She has directed nine documentaries, including an hour-length film on jazz great Mary Lou Williams, MUSIC ON MY MIND (1990), broadcast on PBS, CBS, LaSept/Arte and other European channels.

She produced and directed a series of half-hour video documentaries entitled NEW DIRECTIONS on innovative women in developing countries. WOMEN OF ZIMBABWE was completed in 1996, WOMEN OF THAILAND in 1998, WOMEN OF GUATEMALA in 2000, and SPEAKING OUT: WOMEN, AIDS, AND HOPE IN MALI in 2002. She has also produced two short documentaries on the history of Americans in France during the First World War, THE LAFAYETTE ESCADRILLE (1995) and ANNE MORGAN: AN AMERICAN IN FRANCE (1997). Joanne Burke has edited more than twenty long-form documentaries for CBS, NBC and PBS, many of them winners of major awards, such as Tom Spain's multiple Emmy-winning ANY PLACE BUT HERE and Harry Morgan's FATHERS AND SONS for CBS News. She has also edited three feature films for Sidney Lumet, including THE ANDERSON TAPES with Sean Connery, and co-edited GIMME SHELTER, the Maysles Brothers and Charlotte Zwerin's documentary feature on the Rolling Stones. She also taught film editing for five years at NYU and eight years at the School For Visual Arts.

Her latest production is a compilation of six short documentaries, WHEN AFRICANS AMERICANS CAME TO PARIS, released in 2012. She is now working on PARIS NOIR, AFRICAN AMERICANS IN THE CITY OF LIGHT, an hour-length documentary about African American writers, artists, jazz musicians, and Josephine Baker in France in the period from 1918 to 1940. All the films of the Paris years have been independently produced in partnership with her writer/cameraman husband David Burke. (03/19)
Subject Areas
RELATED LINKS
YOU MIGHT ALSO BE INTERESTED IN
Shopping Cart