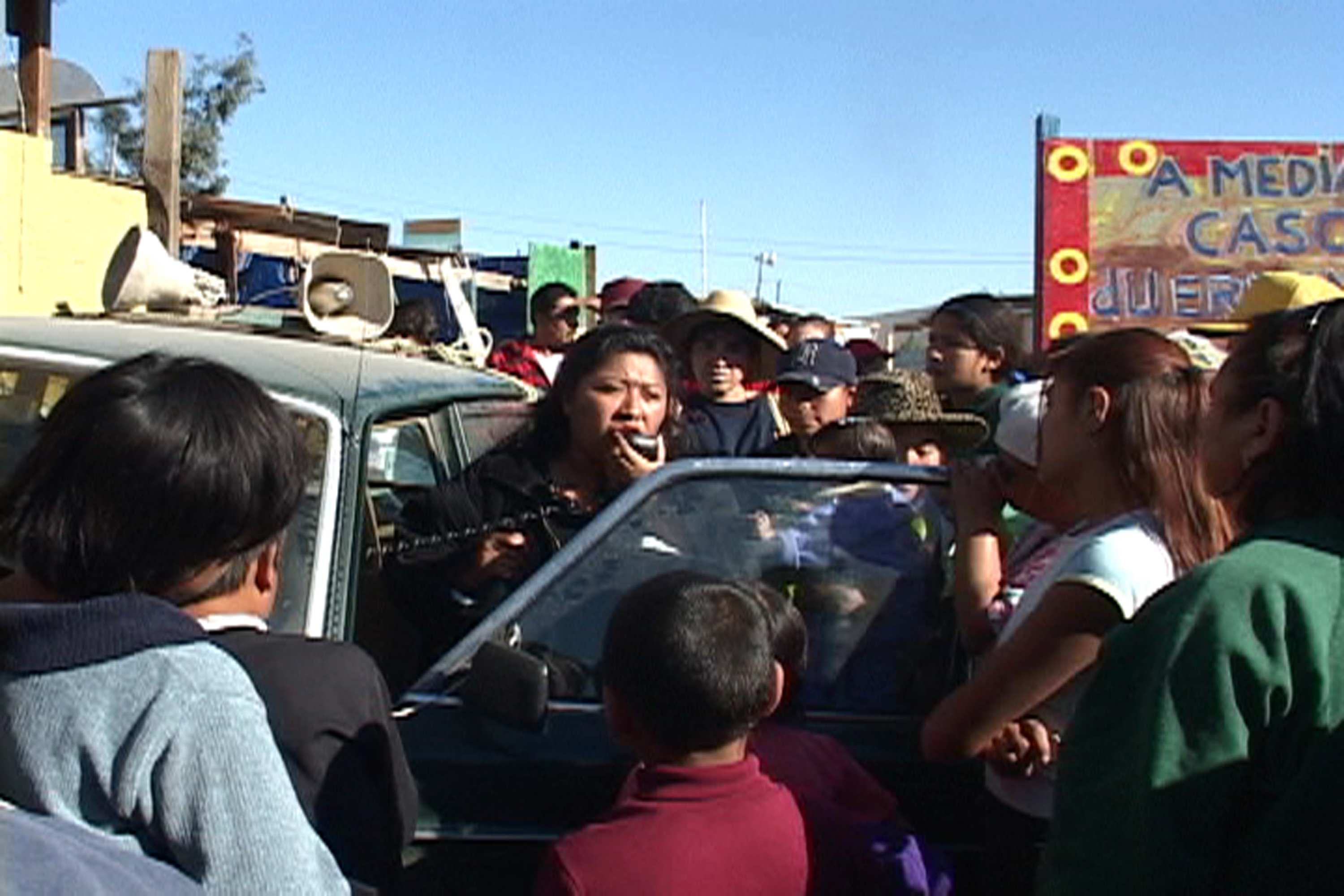 Everyone Their Grain of Sand
2005 | 87 minutes | Color | DVD | Subtitled (Spanish) | Order No. 06898
SYNOPSIS
This award-winning documentary reveals the struggles of the citizens of Maclovio Rojas in Tijuana, Mexico as they battle the state government's attempts to evict them from their homes to make way for multi-national corporations seeking cheap land and labor. Filmmaker Beth Bird followed the fiercely determined residents for three years as they persistently petitioned the state for basic services like running water, electricity and pay for their teachers, only to be met with bureaucratic stonewalling. Eventually, several community leaders are targeted for persecution, and one is arrested while others are forced into hiding. Balancing these stories of hardship, Bird also captures intimate scenes of daily life in Maclovio Rojas, revealing hard-won triumphs such as the building of a school by hand and the graduation of an elementary school class. This compelling and ultimately inspiring documentary is an eye-opening look at the human cost of globalization and a moving testament to the power of grassroots activism.
PRESS
"…a return to unvarnished, passionate documentary filmmaking. EVERYONE THEIR GRAIN OF SAND is an engrossing look at issues of corporate power and international politics as they bear down on the lives of ordinary citizens. With a deceptive simplicity, this film captures the courage and resilience of those who rise up to 'fight the power.'"
"stirring....a gorgeous demonstration of people power."
"a fascinating chronicle of community activism..."
"A unique and groundbreaking film, EVERYONE THEIR GRAIN OF SAND is the closest one can come to actually being in a poor urban neighborhood in Mexico- a remarkable accomplishment. It shows the searing Catch-22s of the intersections of struggles for survival with dignity among the poor, the politics of economic development along an international border, and the impacts of corruption and power politics among city and state leaders. Strongly recommended for courses in Latin American Studies, economic development, social movements, and comparative politics."
"A gritty ethnographic tale about the struggles of community organizers in Tijuana, An excellent view of the way local politics and corruption work, and how popular solidarity can offer meaningful challenges to them…"
"Heartbreaking yet ultimately triumphant, EVERYONE THEIR GRAIN OF SAND reveals the ingenuity, tenacity, and courage of a community fighting for survival in the margins of globalization. Strongly recommended for courses in women and labor studies."
"***1/2. Highly Recommended…Stirring…An engrossing film about the sometimes devastating human cost of economic globalization."
SCREENING HIGHLIGHTS AND AWARDS
Los Angeles Film Festival, Jury Award Best Doc
San Diego Int'l FF, San Diego Feature Film Award
Oxnard Int'l Film Fest, Festival Favorite Award
Vienna Int'l Film Festival
Puerto Vallarta Film Festival
Brooklyn Int'l Film Fest
Museum of Modern Art, NY
One World Film Festival, Berlin
Human Rights Film Festival, Los Angeles
DocNZ Int'l Doc FF, New Zealand
ABOUT FILMMAKER(S)
Beth Bird
Beth Bird is a documentary filmmaker, whose work engages vital contemporary social-issues such as globalization, popular resistance, and local community empowerment, drawing attention to and putting a human face on struggles for social justice. Her first feature-length film, EVERYONE THEIR GRAIN OF SAND (2005), won the 2005 Jury Award for Best Documentary at its U.S. premiere at the Los Angeles Film Festival, Best San Diego Feature at the San Diego Film Festival, and Festival Favorite at the Oxnard Film Festival. The film has screened nationally and internationally at major venues including at the Museum of Modern Art in New York; the Viennale (Vienna International Film Festival); InSITE 2005 in Tijuana, Mexico; The Play Gallery, Berlin; the Prague Biennale; and the Morelia International Film Festival in Morelia, Mexico. Other films include "D2KLA" (2000), which documents clashes between the police and protesters outside the Democratic National Convention in Los Angeles in August, 2000, and "Love Knows No Borders" (1997), which examines discrimination in U.S. immigration law against lesbians and gay men. In her film "Everyone Their Grain of Sand", Bird documents the struggle that border-town Maclovio Rojas has been facing in its relentless efforts to have access to basic human rights, like water and education. (07/12)
YOU MIGHT ALSO BE INTERESTED IN
Shopping Cart