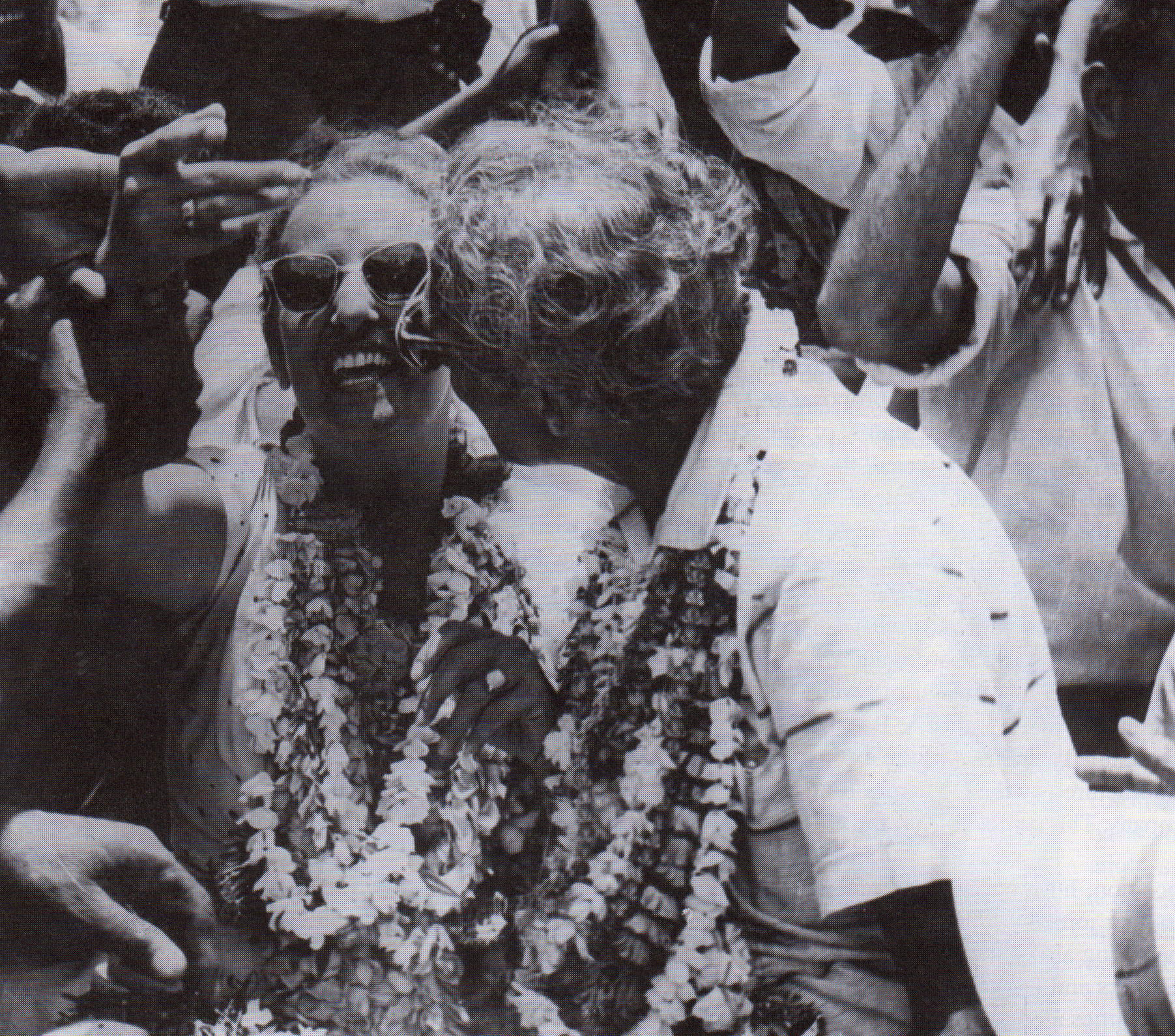 Guyana/US | 2003 | 50 minutes | Color/BW | DVD | Order No. 04819
SYNOPSIS
THUNDER IN GUYANA is the remarkable tale of Janet Jagan, a young woman from Chicago who married Guyanese activist Cheddi Jagan, and set off for the British colony to start a socialist revolution. For more than fifty years, the couple fought tirelessly to liberate the country from colonial rule and exploitation—despite battering by the international press, imprisonment and the intervention of world figures including Winston Churchill and John F. Kennedy. Free and fair elections were instituted in the early 90's, and Janet Jagan was elected president of Guyana in 1997, the first foreign-born and first woman to serve in the role. Historian Suzanne Wasserman (Jagan's cousin) creates a rich historical portrait combining interviews with friends and family, excerpts from Janet's letters, archival photographs and footage, and video captured during Janet's dramatic presidential campaign. The film, with cinematography by Sundance Award winner Debra Granik, illuminates the life of an extraordinary woman and the complex history of the little understood country of Guyana.
PRESS
"Highly recommended."
"Fascinating…a little known story in the United States, that deserves telling, highly recommended for public libraries or academic libraries with collections in Latin American studies."
"A noble project, blending an overview of Cold War politics, decolonialism, racial issues, and socialism into a narrative account of a one woman's extraordinary life."
"An amazing story, compellingly told."
"Suzanne Wasserman's film, THUNDER IN GUYANA, offers a useful and intriguing perspective on aspects of Janet Jagan's life and contributions in terms of Guyanese society… the film raises valuable questions about the complications of identity. "
"THUNDER IN GUYANA is a stirring and poignant study of sustained political commitment and its consequences. How an American Jewish woman improbably became the head of state of a decolonizing Latin American nation is the stuff of legend, and director Suzanne Wasserman has made a truly engrossing film that weaves this saga into contemporary history."
"THUNDER IN GUYANA is a moving video tribute that should be seen by anyone interested in learning about anti-colonial struggles, radical ideas and the strength and power of one extraordinary woman to transform the world."
SCREENING HIGHLIGHTS AND AWARDS
Margaret Mead Film Festival
Chicago Latino Film Festival
Gene Siskel Film Center of Chicago
CINE Golden Eagle Award
Boston Jewish Film Festival - Best Documentary Audience Award
Myhelan Indie Film Festival - Best Documentary
IFP/Film Society of Lincoln Center "Independents Night"
San Francisco, Washington, and Montreal Jewish Film Festivals
ABOUT FILMMAKER(S)
Suzanne Wasserman
Suzanne Wasserman (1957- 2017) was a historian and award-winning filmmaker. She had a Ph.D. in American History from New York University. She was the Director of the Gotham Center for New York City History at the City University of New York, Graduate Center. Wasserman lectured and wrote about New York City history, especially the history of the Lower East Side. She published widely on topics such as the Great Depression, Jewish nostalgia, housing, restaurant culture, tourism, pushcart peddling, silent films, 19th century saloons and 21st century street fairs. She was an historical consultant on Ron Howard's, Cinderella Man. She is the co-author of Life on the Lower East Side, 1937-1950: Photographs by Rebecca Lepkoff (Princeton Architectural Press, 2006) which is in its third printing.

Her 2003 award-winning film, Thunder in Guyana, is about her cousin, Janet Jagan, who became President of Guyana in South America. The film premiered at the Walter Reade Theater at Lincoln Center in June, 2003 and aired nationally on PBS as part of the Independent Lens series in 2005 and Global Voices in 2010. Her second film, a short documentary, titled Brooklyn among the Ruins premiered at the Coney Island Film Festival in 2005 and was broadcast on PBS/WNET's series REEL New York in 2006. Her films have been seen at over 50 festivals and other venues. Her third film is a short documentary, Sweatshop Cinderella, about the immigrant writer Anzia Yezierska. Sweatshop Cinderella and Thunder in Guyana are distributed by Women Make Movies.. (3/19)
YOU MIGHT ALSO BE INTERESTED IN
Shopping Cart